Mario Balotelli has been taking history lessons to learn more about Liverpool as a club and city, reveals Brendan Rodgers
Italian has been seeking to learn about the past strikers who were a success at Anfield in the hope he settles quicker at his new club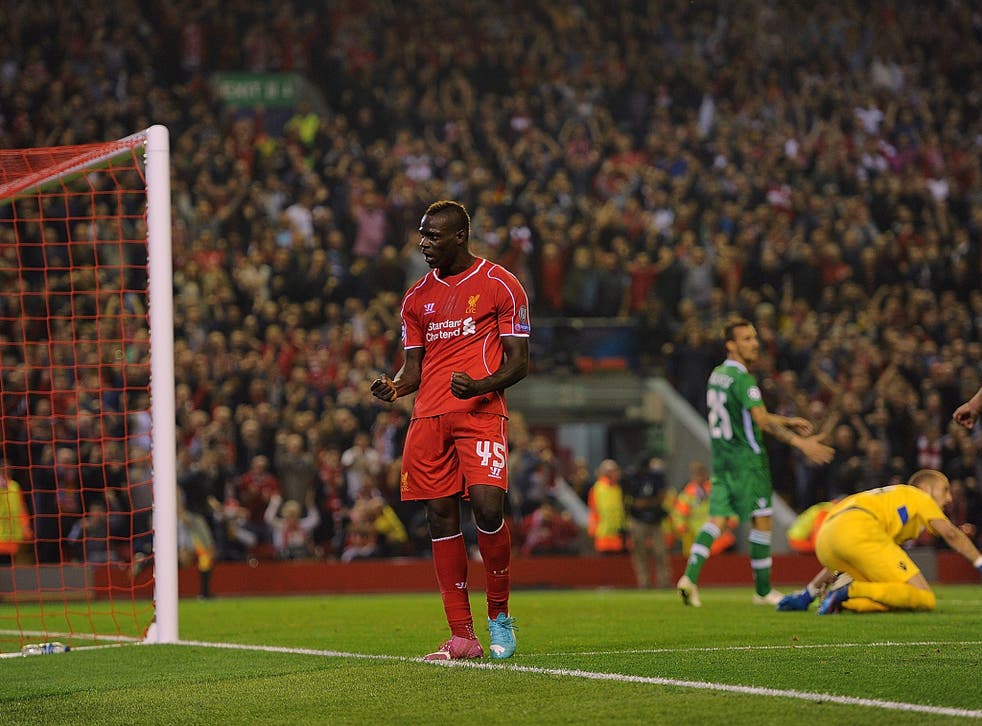 First, he agreed to join Liverpool for £16m to become the newest Kop hero. Then he decided to quote Anfield legend Bill Shankly, and he followed that up with scoring his first goal for the club in the 2-1 win against Ludogorests in the Reds' Champions league return. But now, Mario Balotelli has taking extra measures to learn about the history of Liverpool and their strikers' past.
Having returned to England following a stint with AC Milan, Balotelli finally got the burden off his back of landing his first goal in Tuesday's last-gasp victory, courtesy of a Steven Gerrard penalty.
Ever known for his controversial and confrontational ways, Balotelli is yet to create a talking point beyond his on-field performances, and he commendably refused to retaliate when kicked not once but twice by Aston Villa defender Philippe Senderos last weekend.
His manager Brendan Rodgers, perhaps lifting the lid on why Balotelli has appeared a much calmer figure at the club, has revealed how the 24-year-old has been delving into the history of the Merseyside club in an effort to settle into the area quicker.
Liverpool 2 Ludogorets 1 player ratings

Show all 11
"He's a boy who has really looked into the history of the club and he understands the great strikers of the past," said Rodgers.
"We have spoken about Suarez and his time here. Remember he's still young, he still wants to learn, he still needs to learn and that's the beauty of it for me.
"When I spoke to him when I first met him he still had this keenness to want to learn and when you see his work against Ludogorets, he put his body on the line and he needs to do more of that.
"I think that will come when he gets fitter and getting into good positions will allow him to score goals.
"But he's well in tune with the history, not only of the club, but of Liverpool."
The Northern Irishman revealed that he has been looking to build up Balotelli's fitness since he arrived at the club, explaining that he always intended to leave the Italian on for the duration of the Champions League Group B encounter.
"I'd always planned to keep him on. I took him off in the other two games, but it's about building up his matches," Rodgers added.
"Against Tottenham it was an hour. Then he has been working well, but he was ill leading up to the Aston Villa game but we needed him.
"So he was up to 70-odd minutes then and he will get fitter with the games.
"The idea was to persist with him. He's a good reference for us and he's improving with each day that he trains.
"It was a brilliant finish, a wonderful technique, and that's what we required at that moment, that bit of Champions League class if you want to call it that and he showed that."
The challenge for Rodgers is not just unlocking the potential that Balotelli undoubtedly has, but containing his short and well-documented temper that many before him haven't been able to do.
Having had public falling-outs with the likes of Jose Mourinho, Cesare Prandelli and Roberto Mancini, the reward for Rodgers should Balotelli prove a success would be that he would certainly claim the bragging rights over his rivals for reining in the hot-headed striker.
It's something that means he's happy to put in the extra man-management with the former Inter Milan and Manchester City star, with the hope that he will begin to flourish under Rodgers' guidance that saw Luis Suarez do the same until he bit Giorgio Chiellini at the World Cup.
"As a coach you'll always have some players who are low maintenance and some who are high maintenance for different reasons," continued Rodgers.
"I'll spend a lot of time with a lot of the players, but he's a good boy and he's prepared to work.
"His work-rate tonight (against Ludogorets) was good, okay the ball's bounced off him a couple of times but we're trying to improve him in the transition so that when he makes a mistake he can go after it.
"I think we can see he's trying to put it in for the team and that's very important because the crowd demand that.
"The players who have been here in the past in that position have been non-stop and he's becoming attuned to that. He's aware of that.
"He scores goals and if he continues to work, everyone knows he's got the quality and he produced it when we needed it tonight."
Join our new commenting forum
Join thought-provoking conversations, follow other Independent readers and see their replies