Mauricio Pochettino pleased with the fire in Tottenham's belly
Manager admits Spurs crossed the line but is happy with the spirit of the players
Matt Gatward Comments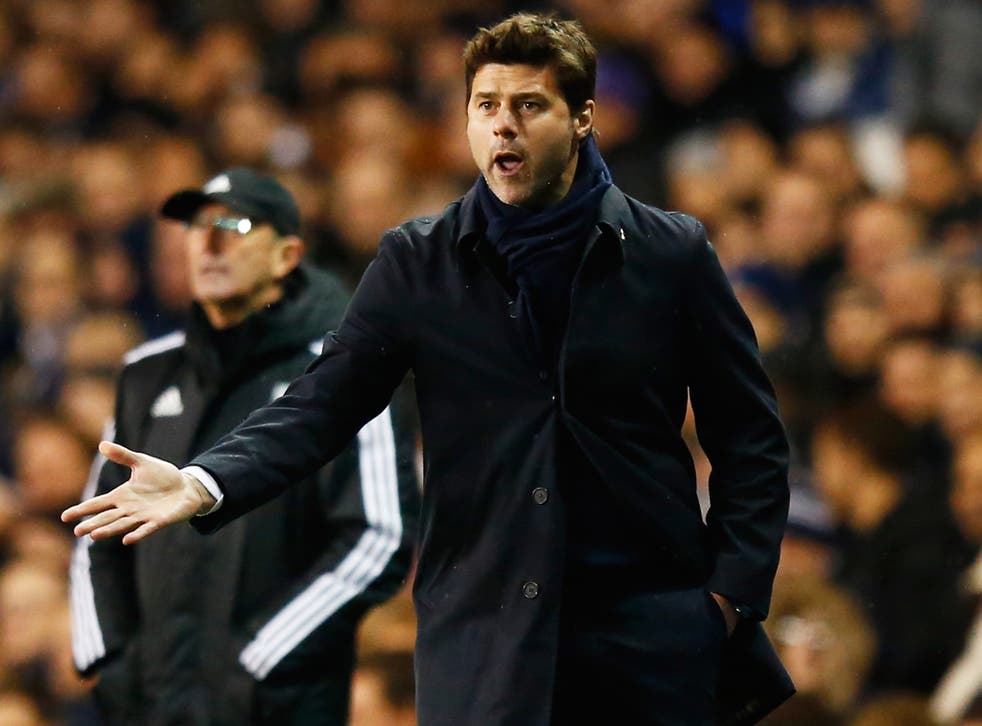 In the wake of the battle of the Bridge involving his Tottenham Hotspur team and Chelsea on Monday night, Mauricio Pochettino has said he is pleased that his side have fighting qualities.
Spurs picked up nine yellow cards in the 2-2 draw at Stamford Bridge that killed his side's title challenge - and Mousa Dembele faces a three-game ban minimum - but the Tottenham manager was far from ashamed by his team's behaviour when asked about the passion they had showed.
"This is good improvement," the manager said. "I hear in the last few years that in the past Tottenham were soft, but now we start to show character. We crossed the line, maybe yes. I'm not stupid, so I know it's important to manage better our energy for the next season and be sure we learn a lot [from this game].
"This season we showed we are not a nice team to play. Not anymore. Our opponents don't like to play against us. We showed passion. Maybe too much passion. But we need to take it in a positive way. We need to manage it in a better way and try to win the title.
Pochettino admitted that these fighting qualities are typical of great teams down the years. "Yes, if you want to win titles and keep your position for a long time in the future you need to show passion. But if you want to be a contender for the Premier League some things like this can happen.
"What happened on the pitch should stay on the pitch. We have a lot of cameras and it's impossible to keep it on the pitch. All the people who play football know this situation can happen. Maybe we agree in theory [that players should be calm] but it's difficult to apply when you run and contest the title. It's difficult.
"I am proud of my players. We show big character. Sometimes we cross the line and if you cross the line you need to pay. It's a good lesson for us for next season."
Pochettino was keen to point out that his Spurs side will learn for next term, not just in terms of their behaviour at the Bridge but also in terms of fighting again for the League. "For us it is a big experience. It was our first experience of fighting to win the league and there are a lot of things to learn from that."
Now the league has gone, for Spurs the aim is to secure second place and not let the season fizzle out. "We have the same motivation for the next two games," Pochettino said. "We want to keep second place.To finish in the top four is fantastic because this was our goal. I remember last season we said our ambition was to reduce the gap to the top four. Now we are in the top four. We feel disappointed because it was a good opportunity to win the league but the way we fight, we can be proud of our players and we will fight next season for the same prize."
The fans may disagree but Pochettino insists finishing above Arsenal for the first time in Arsene Wenger's reign is not important. "I don't think about that. We have our own challenge. It's not our principle challenge to be above Arsenal. We want to play well and win trophies."
Dembele has accepted the violent conduct charge but will seek a personal hearing about the length of the ban. Meanwhile, Pochettino confirmed the club are in talks about playing their Champions League games at Wembley next season.
Register for free to continue reading
Registration is a free and easy way to support our truly independent journalism
By registering, you will also enjoy limited access to Premium articles, exclusive newsletters, commenting, and virtual events with our leading journalists
Already have an account? sign in
Join our new commenting forum
Join thought-provoking conversations, follow other Independent readers and see their replies