Mauricio Pochettino: The natural heir to the 'special one'?
Jose Mourinho should be very wary of his opposite number's tactical nous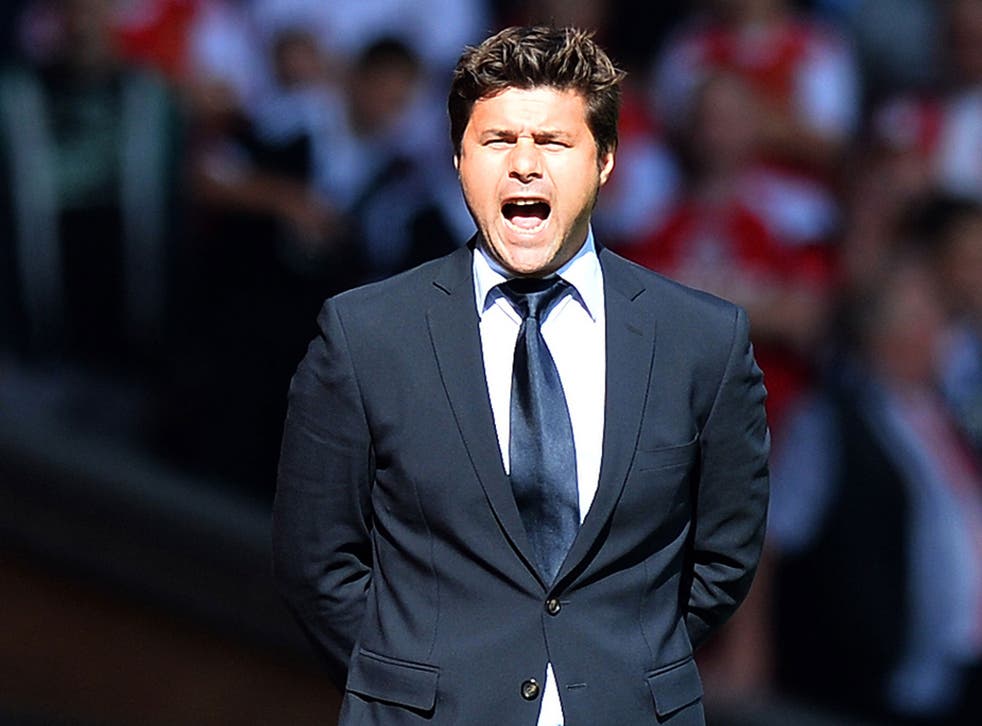 Mauricio Pochettino may not yet have mastered English to the point that he is comfortable speaking it in public, but Jose Mourinho remains all too willing to wield his own words. If not quite a rallying call, the Chelsea manager did indicate a certain readiness on Friday.
Ahead of the visit of an admirably proactive Southampton, Mourinho was asked whether he personally prefers opposition teams to park the bus at Stamford Bridge or push up. The Portuguese made a beckoning gesture with his hand, before making his feelings clear: "I want them to come at us."
Southampton will likely do an awful lot of that today. Mourinho said last week he spent much of the international break analysing all West Ham United's matches in order to prepare for Sam Allardyce's long-ball attacks, but he would have been well served using some of that time to study Pochettino's more refined approach as well.
Southampton will provide Chelsea with a very different challenge than they're used to, and in that a very real test.
Pochettino's willingness to step up to sides of higher status has yielded impressive results. In eight games so far against the six teams that Mourinho has labelled as the best in the league, the Argentine has won four and lost just three. One of those wins was against Chelsea at the end of March. That was a notoriously stormier time for the Blues, but it's not as if Mourinho has completely steadied things yet.
The very fact such a commanding victory over West Ham was immediately followed by a tepid defeat at Basel illustrates that. Chelsea possess their manager's resilience but not yet that old relentlessness.
As such, an awkward Southampton side are more than capable of upsetting Chelsea today.
At the least, Mourinho has a rock-solid record against Pochettino. In four games against the former Espanyol coach at Real Madrid, the Portuguese's side won four, scored 13 and conceded none.
Mourinho points to the disparity in resources between the clubs as a reason why that record is now irrelevant, and it is clear he has a lot of respect for Pochettino. The fact they shared an intense rivalry with Barcelona would have created a natural affinity in Spain, but the Chelsea manager still went on to really praise the "identity" of Southampton.
Many who know the Argentine say he is better equipped than most to eventually emulate Mourinho, even if the exact way a question was phrased forced a laugh from the Portuguese.
"The world is full of special ones, but I was the first!"
Pochettino undeniably has a smooth charisma; his unwillingness to speak English just means it hasn't yet come across. Mourinho denied that is a disadvantage as regards using mind games, and said he understood his counterpart's reluctance – but only while providing what could be perceived as another trick himself by reminding everyone of the great difference between these teams too.
"I think he's in a club where he doesn't need that. I think he has a club profile where his work is not so much being in front of cameras and microphones because this club is not the type, so I think he has like a dream job: good players, good club, big trust, big stability, no pressure.
"Finish fifth or sixth, incredible job. Finish seventh or eighth, good job... he respects the country that's for sure, he loves to be here, I know that, so I don't believe he's not learning."
Whether Mourinho has learned anything from watching Southampton remains to be seen, because such words are unlikely to blunt the visiting side. As against so many superior teams, the Saints will energetically close Chelsea down.
How the home side react will be revealing, and Mourinho may be forced to again play three in defensive midfield, rather than one behind the striker.
It does feel like the kind of match that could be turned by a surprise tactical switch. "A game is about two teams," Mourinho said. "Maybe they think they come to play the game and they can't do it, because we don't allow them to do it, or maybe we think because we are at home we are going to dominate, we are going to make a game only with one direction, and they come here and they don't allow us to do so."
Back at Southampton, Pochettino allowed a glimpse of his full personality on Friday, as he corrected his interpreter for using the word "frustrated" rather than "disappointed" as regards last week's 2-0 defeat to Arsenal, which included Artur Boruc's embarrassing goalkeeping mistake. His side are well capable of leaving Chelsea experiencing both feelings today.
Chelsea v Southampton is on Sky Sports 1 today, kick-off 4.10pm
Pochettino v the big boys
How Southampton have fared against the Premier League's top sides since Mauricio Pochettino's arrival.
P 8 W 4 D 1 L 3 F 11 A 9
30 Jan: Man United 2-1 Southampton,
9 Feb: Southampton 3-1 Man City
18 March: Southampton 3-1 Liverpool,
30 March: Southampton 2-1 Chelsea,
4 May: Tottenham 1-0 Southampton,
21 Sept: Liverpool 0-1 Southampton,
19 Oct: Man United 1-1 Southampton
23 Nov: Arsenal 2-0 Southampton
Register for free to continue reading
Registration is a free and easy way to support our truly independent journalism
By registering, you will also enjoy limited access to Premium articles, exclusive newsletters, commenting, and virtual events with our leading journalists
Already have an account? sign in
Register for free to continue reading
Registration is a free and easy way to support our truly independent journalism
By registering, you will also enjoy limited access to Premium articles, exclusive newsletters, commenting, and virtual events with our leading journalists
Already have an account? sign in
Join our new commenting forum
Join thought-provoking conversations, follow other Independent readers and see their replies