Arsenal 2 Bournemouth 0: Mesut Ozil compared to Dennis Bergkamp after inspiring Gunners' victory
Arsene Wenger praises the German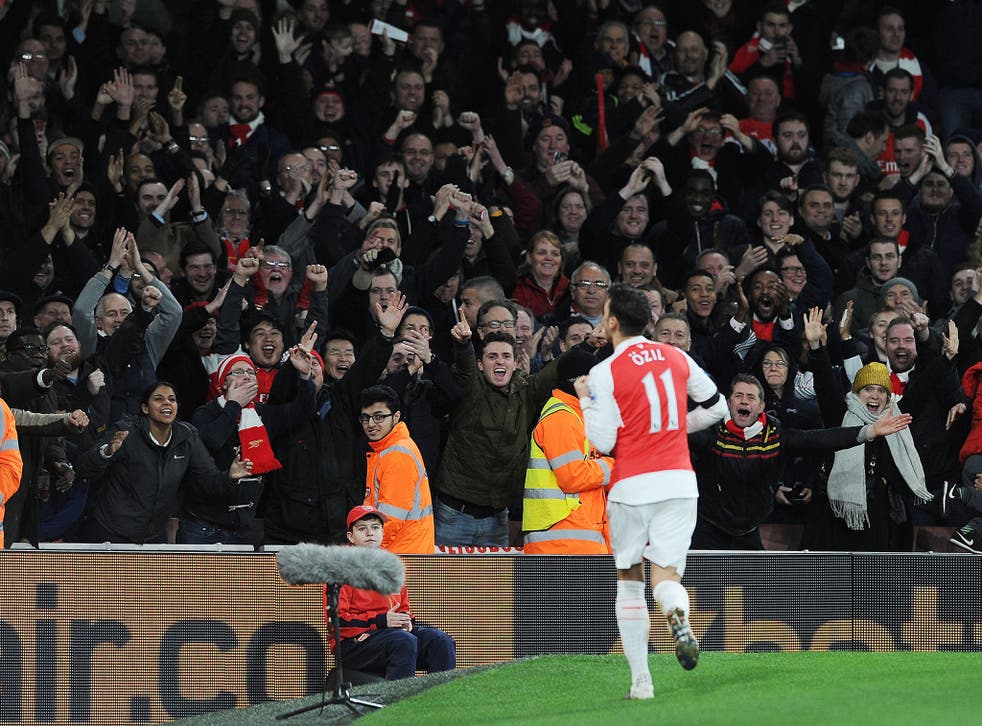 Arsene Wenger compared Mesut Ozil with Arsenal great Dennis Bergkamp after the German playmaker inspired a 2-0 Barclays Premier League victory over Bournemouth.
Ozil provided the assist for Gabriel's opener before showing an exquisite touch when combining with Olivier Giroud to score the second as the Gunners recovered from their 4-0 rout at Southampton to move above Leicester into first place.
Arsenal's most influential figure is also the dominant force in this season's Premier League and a gushing Wenger acclaimed him as "exceptional".
When asked if Ozil is currently the best player in the competition, Wenger replied: "Look at the numbers on the assists and they speak for him.
"Yes he reminds me of Bergkamp. Bergkamp was more of a goalscorer than him and Ozil is more about assists, but now Ozil is becoming more of a goalscorer, so they are really comparable.
"I have seen a few good games from Ozil. What's important is that he's convincing everyone that he's not just a very talented player, but someone who is ready to work very hard for the team.
"Overall he is the complete player. I've not seen many players of his quality. He's an exceptional player and you have to give me credit - I always defended that point of view even when people were sceptical.
"What's important is that he becomes as good as he can be, and he is on the way to doing that. At the moment he's absolutely fantastic.
"Mesut was the focal point of our team against Bournemouth because we had a new midfield again. He was the guy who gave reassurance with his technical security and fluidity. He gives the team confidence."
Keeper Petr Cech set a new Premier League record for clean sheets of 170 games after denying Bournemouth, moving above David James to write his name in the history books.
"Petr can be very proud because it's a remarkable achievement. People don't realise how much commitment, focus and consistency is behind that," Wenger said.
"On top of that he's a remarkably gifted goalkeeper. Of course, he's comparable with David Seaman."
Wenger was pleased with Arsenal's response after they were humbled at St Mary's.
"You can't go from the start of the season to the end without experiencing disappointment at some stage. Southampton was a big one," he said.
"It's all down to how well you respond and that's what was at stake in this game."
Arsenal ratings vs Bournemouth

Show all 11
Bournemouth boss Eddie Howe could only admire Ozil's performance.
"Ozil is a difficult man to mark because he drifts and he roams. To man mark him would be incredibly difficult for any one player," Howe said.
"I didn't enjoy watching his performance because I'm the manager of the opposing team, but from a football point of view you have to respect what he delivered because it was of a very high standard.
"The goal he scored was typical Arsenal, it was a great goal and there wasn't a great deal we could do with that. He's an exceptional player."
PA
Register for free to continue reading
Registration is a free and easy way to support our truly independent journalism
By registering, you will also enjoy limited access to Premium articles, exclusive newsletters, commenting, and virtual events with our leading journalists
Already have an account? sign in
Register for free to continue reading
Registration is a free and easy way to support our truly independent journalism
By registering, you will also enjoy limited access to Premium articles, exclusive newsletters, commenting, and virtual events with our leading journalists
Already have an account? sign in
Join our new commenting forum
Join thought-provoking conversations, follow other Independent readers and see their replies