Mikel Arteta queries scheduling of Arsenal's crucial showdown with Manchester City
Arsenal captain believes three games in six days will test powers of recovery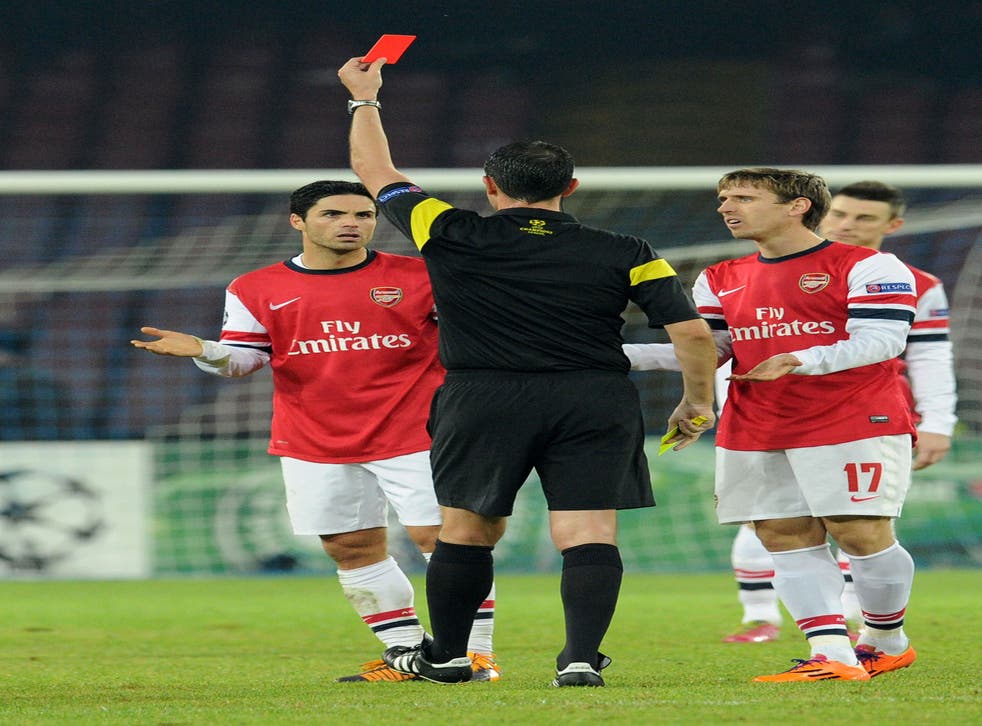 The Arsenal captain Mikel Arteta has become the latest figure from the club to question the Premier League for insisting that the leaders play their crucial game at fourth-placed Manchester City at 12.45pm Saturday, giving the team just two clear days' rest following their defeat to Napoli.
Arsenal returned overnight from Naples, arriving in London in the early hours of Thursday having lost 2-0 at the San Paolo stadium and finishing second in the Champions League Group F. Manager Arsène Wenger, who has been critical for some time of the scheduling of the City game, joked after the Napoli tie that if he was delayed any longer at the stadium the club flight would be better served going direct to Manchester.
Under Premier League regulations, the clubs agree that a minimum of 48 hours is required between games and the league is within its rights to schedule the fixture, at the Etihad Stadium, as planned; it will be broadcast live on BT Sport. Chelsea also played in the Champions League on Wednesday night, but they were at home and will face Crystal Palace at Stamford Bridge at 3pm.
Arteta, who was sent off in the defeat to Napoli, said: "The mood is fine, the recovery time is very tight. I don't understand why we play Sunday afternoon [against Everton], Wednesday evening, get back at 4am [Thursday] and then play again on Saturday morning in Manchester. There's nothing we can do – just recover well. It's a big game and we want to win it.
"[The next few days] will just be about recovery. It's not ideal. We will have a late warm-down, try to get our legs back for Friday. Travel on Friday and be as well prepared as we can. They will be ready for us because they rested seven or eight players in Munich [on Tuesday night].
"I think we have different options to play, you could see [against Napoli] that we changed the team a bit again. We have to be ready, no excuses. We want to win there and we have to be prepared. We know it can be a big statement if we get a good result there. That's what we want. Recover and think about the next game."
The game against City is the first that Arsenal have been obliged to play on a Saturday following a Champions League away fixture in the week. The City match was scheduled before the Champions League group-stage draw was made.
Last season Arsenal were second only to Manchester United in TV appearances and picked up £11.5m in payments.
Arteta described his sending-off, for two yellow cards picked up in the second half, as "a joke". It means he will miss the first leg of the last-16 game. "Two fouls in the game and two yellow cards – I'm very disappointed because obviously you miss the next game and you put your team in a difficult position. I think it was harsh and very unfair."
The club have launched an investigation into why supporters were delayed getting into the Napoli stadium because buses designated to take them in safely failed to leave for the ground on time. There were also a few incidents of attacks on the 700 Arsenal fans who made the trip to Naples.
Join our new commenting forum
Join thought-provoking conversations, follow other Independent readers and see their replies