My current Arsenal team works harder than the Invincibles, says Arsène Wenger
Jack Pitt-Brooke
Saturday 15 December 2012 00:00 Comments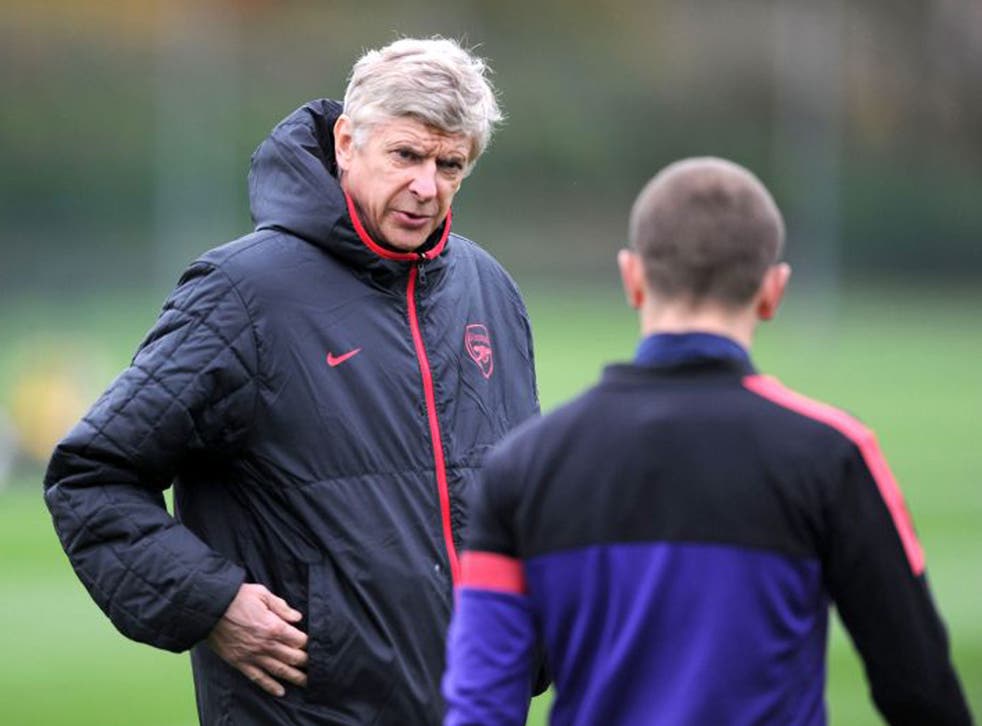 Arsène Wenger insisted that his current under-performing Arsenal squad works harder than even his title-winning sides of the past.
Three days after a full-strength Arsenal team was knocked out of the Capital One Cup by League Two Bradford City, Wenger launched an impassioned of his players, saying a lack of effort or focus was not the problem.
Asked whether the players hurt as much he evidently does, he said: "They do, don't worry. You think they don't care and they go home and think they had a fantastic game? They do care."
Despite the apparent lack of commitment at times on the pitch, Wenger said the players' effort stood out. "I have had groups who had fantastic results who were less serious than these players, believe me. Players who were less focused than this team. Of course these players are hurting."
Arsenal under Wenger won the Premier League in 1998, 2002 and 2004 – with the unbeaten "Invincibles" – but currently sit seventh in the Premier League. Wenger, who said again that he was "responsible for the results", explained this season's shortfall was the result of a changing side.
"The difference is that we have created a new team. Some players have come in, some players have come back from injuries and we have to show now until the end of the season that we have the quality that I think we have."
Many of Arsenal's recent buys are not performing but Wenger again defended the squad, saying that Gervinho was a "good player" who was fulfilling his potential, despite his glaring miss against Bradford. When it was put to Wenger that he had spent £11m on the Ivorian, though, the manager was quick to point out that he actually only cost £8m.
There is inevitable pressure for Wenger to spend next month. "We will buy Lionel Messi in January," Wenger joked, "and we will surprise you." He was more serious, though, in denying any enthusiasm for heavy investment from the Uzbek billionaire and Arsenal shareholder, Alisher Usmanov, to fund purchases. "Look, I've always said the same, which is that we want to produce the money from our own resources."
Continual qualification for the Champions League remains central to Arsenal's approach, and Wenger is very proud of it. "We have qualified for the knockout stages for 13 years on the trot. When I listen to you, it must be a mistake there − why is this team in this spot? It sounds like we should be in a Championship spot. No other [English] team has done that in the Champions League. This season, at this moment, we are not happy. But we will turn it around before the end of the season."
Wenger insisted that his whole staff were together, despite disagreements with Steve Bould revealed this week. "We are a united staff team," he said.
There was no question for Wenger that he remains the right man for the club. "My job is to be determined and to give importance to what is important. What is important is I love football, I love this club and I give my best for this club."
Abou Diaby is making "slow progress" from injury and will "certainly not" play again this year.
Register for free to continue reading
Registration is a free and easy way to support our truly independent journalism
By registering, you will also enjoy limited access to Premium articles, exclusive newsletters, commenting, and virtual events with our leading journalists
Already have an account? sign in
Join our new commenting forum
Join thought-provoking conversations, follow other Independent readers and see their replies