New double act of Luis Suarez and Daniel Sturridge can inspire Liverpool
Liverpool 5 Norwich City 0: The Suarez and Sturridge show promises great things for Rodgers after Norwich brushed aside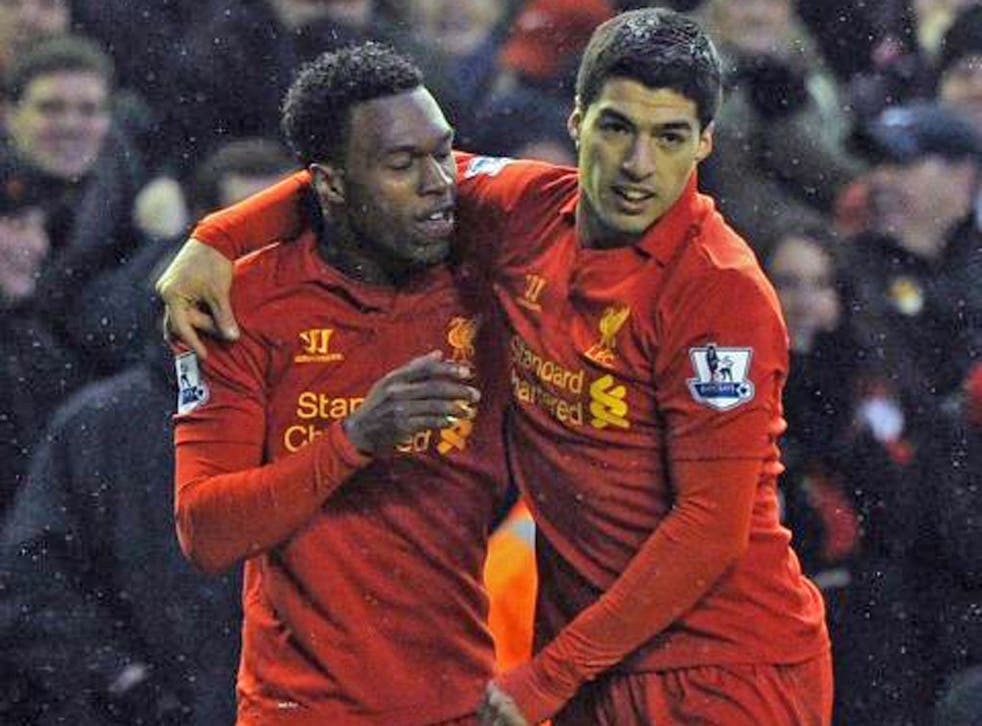 "A breath of fresh air" was how the former Liverpool captain Tommy Smith, writing in his weekend Liverpool Echo column, described Daniel Sturridge's scoring turn as a substitute at Manchester United eight days ago. Smith voiced the hope that a club with a history of fine striking tandems – from St John and Hunt via Keegan and Toshack to Dalglish and Rush – might have found another, and this hope had real substance by the end of Sturridge's home debut, when the manner of his interplay with Luis Suarez suggested the days when it seemed the Uruguayan was single-handedly dragging Liverpool out of mediocrity were over.
Never mind a breath of fresh air, Norwich were caught in the eye of a storm. Suarez – himself a one-man tornado at times – was typically at the heart of Liverpool's best work but the presence of an able accomplice in Sturridge, this month's £12m recruit from Chelsea, suggests Rodgers has just added a significant piece to the jigsaw. If Suarez could reach January as the Premier League's second-highest striker without any high-class support – "Luis has been trying to do two jobs himself for the first half of the season" was Steven Gerrard's reflection – it seems reasonable to suggest he can do even more damage alongside a fellow mobile frontman.
Saturday was the first time the pair had started together and Rodgers was rightly optimistic that their combination will flourish. "This is a model we are trying to develop and create, which is about fluidity and mobility," he said, "and when you have mobile players with intelligent movement it shifts defenders and creates the sort of space that Luis thrives in. He's a player who is great on the move, but in order to be on the move you need the team and the ball to be moving. Once you do that you open up more spaces, and Luis has flourished with that, his game flourishes on that movement."
Where frustration was Anfield's F-word of choice for much of last season, when Liverpool won just six of 19 home league fixtures, "flow" and "fluidity" were the ones rolling off Rodgers' tongue on Saturday and there was no more encouraging moment than the second goal, when Sturridge dummied a forward ball by Lucas and Suarez surged through to score his 20th goal this season. Liverpool captain Gerrard spoke of the "instant understanding between these two players" when he appeared on Sky's Goals on Sunday yesterday, though it was the "sensational" Suarez for whom he reserved particular praise. "He did a turn yesterday in front of the away supporters [which took out defender Michael Turner]. I don't know how he did it, it was just mind-blowing. It was incredible. He uses every blade of grass, even close to the lines in the opposition area – parts of the pitch that you don't even run on. He uses everything. He turns and twists, he's impossible to mark."
Gerrard described Suarez as "probably the best player I've played with" but went on to admit that Liverpool may need Champions League football to keep him at Anfield. "I think he's gone on record recently and said that he's really happy and comfortable here, and hopefully we can put a fight on from now until the end of the season to finish fourth, and make the decision for him. But Luis Suarez deserves to be in the Champions League, and I think everyone has to admit that."
Talk of Champions League qualification may not be as far-fetched as it might have seemed a few months ago, given that Saturday's victory lifted Liverpool within three points of fifth-placed Everton. That said, as Gerrard admitted, their next two league assignments, at Arsenal and Manchester City, will provide a better gauge of their prospects, given their failure to beat any side above them this term. "If we can get three points in one of those fixtures, it'll give us a big boost."
As for sorry Norwich, they are still looking for a boost in the shape of a new striker of their own, having seen a bid rejected for Celtic's Gary Hooper. "It's never that easy," said the Norwich manager, Chris Hughton. "It's about trying to bring the right player in, a player that's going to benefit what we are about and add to our squad." A problem Liverpool appear to have solved.
Goals: Liverpool Henderson 26, Suarez 36, Sturridge 59, Gerrard 66, R Bennett og 74. Substitutions: Liverpool Borini 6 (Sturridge, 69), Sterling 6 (Lucas, 69), Allen (Henderson, 77). Norwich Hoolahan 5 (E Bennett, 65), Pilkington (Snodgrass, 86).
Bookings: Liverpool Johnson. Norwich Snodgrass. Man of the match Suarez. Match rating 7/10. Possession: Liverpool 68%. Norwich 32%. Attempts on target: Liverpool 9. Norwich 1. Referee M Oliver (Northumberland). Att 44,901.
Rebuilding Fortress Anfield
* Last season Liverpool won just six home league games, drawing nine.
* They had to wait until 20 October for their first home league win this season, against Reading, but have now won six of their last eight.
* Liverpool have won their last three home games with an aggregate score of 12-0.
* Liverpool have kept clean sheets in five out of their last six Premier League home matches.
* The club have picked up eight more points at home (21), than away (13) in the league this season.
Join our new commenting forum
Join thought-provoking conversations, follow other Independent readers and see their replies