Newcastle's Isaac Hayden on visiting a foodbank: 'We've got mansions yet up the road people are queuing for food'
Exclusive interview: The 22-year-old is a regular helper at Newcastle West End Food Bank but is still overwhelmed at the realities facing the community on his doorstep in 2017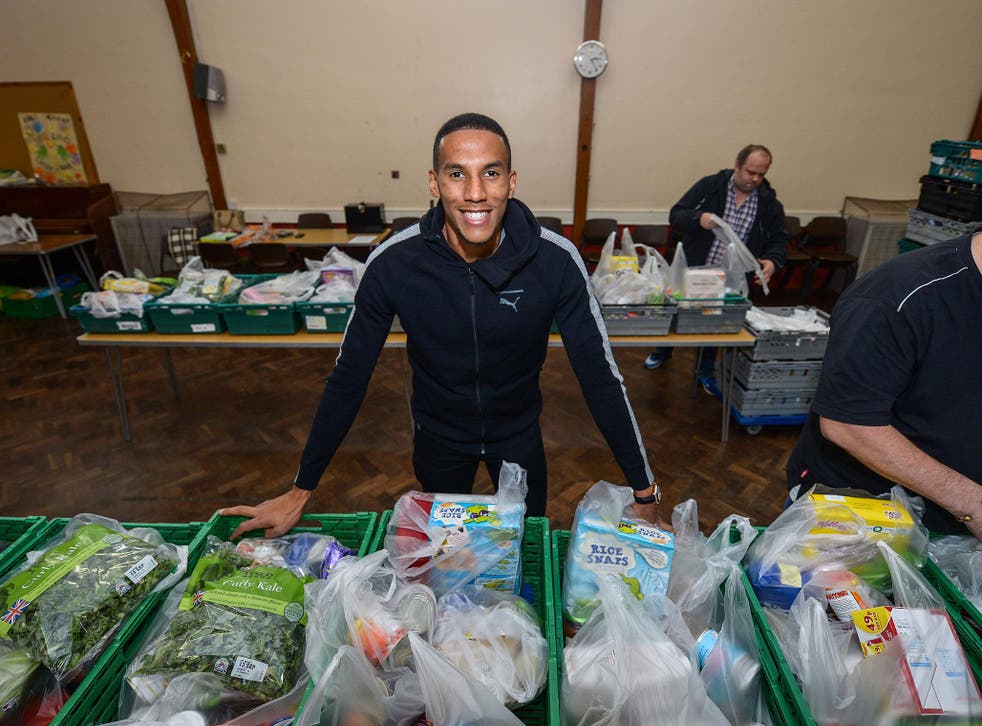 The queue stretches out of the door, splitting the church hall and the church, up at the top of the West Road, from inside to outside, but the weather is being kinder to those who wait, patiently and silently, than life has.
It is a sunny day. That is at least something. There, stand around 15 people, waiting in line, lads and lasses, some with weathered faces.
Through the door and around the corner sit Christine and Jeanette, at a small table, and they will fill in the green voucher that determines how a family exists for the next week.
It is 2017. There will be a need to remember that for the next two hours. It is 2017, and the queue, in the west end of the city of Newcastle, is for food.
"Does your grandma speak English?" asks Christine, to a young boy of about 12, who stands, whilst his grandmother sits. The young boy translates. "You're asking for food for your grandma?" he is asked. Nothing in these two hours feels real. "Yes," he replies, solemnly.
Jeanette and Christine patiently go through the green forms.
'Main cause of crisis' is in bold. There can be only one crisis box ticked. "Benefit change or benefit delay are responsible for 60 per cent of the people we feed," says Michael Nixon. Michael is the chief executive of the charity that runs the Newcastle Foodbanks. He does not look like a chief executive - no hint of a suit or a tie - and nor does he sound like one.
"Fifteen per cent of people who come here are on zero hour contracts. They are the working poor. Those in debt account for 11 per cent."
As Michael talks, people are working and moving food. In front of us is a stage with the curtains closed. Instead of an audience are two tables filled with green boxes, each containing clear carrier bags packed with food; Baxters cream of tomato soup, Everyday value baked beans, kale, tea bags, pasta, rice crispies. All sorts. All donated.
A 22-year-old man is wearing black tracksuit bottoms, trainers and a hoody, and he holds a bag in his left hand and a voucher in his right. He is preparing a food box for one of those stood in the queue, and who now sit in a room behind the stage, drinking cups of tea and biscuits, and laughing. The laughter will grow as the afternoon ticks on. It is warm and friendly and James, a 48-year-old man, will tell me later, how much that means in his life.
The 22-year-old man meanwhile, carefully goes through the food in front of him.
"I'm putting all sorts in the bag," he says. "Cans of beans, cans of soup, cereal, bread. It's just the basics really, isn't it? The people don't want the extravagant things. It's about making sure people are surviving, not badly struggling, which they really are." The 22-year-old man is Isaac Hayden. The Newcastle United midfielder has helped at a Newcastle foodbank before. "Both times I've felt overwhelmed," he says.
Overwhelmed.
That is the emotion that fills the day. How did it feel when you first came to a foodbank, I ask the young footballer. He blows out his cheeks. "Phwww, it's hard to describe. The first time hit me a lot harder. Coming again it still hits you that I'm putting things I buy on a daily basis without thinking about into a bag.
"It is crazy. It's sad it happens in the 21st century, in 2017, but it's a reality and we have to help people in the community. It's a difficult scenario to come into, when you're so used to things being at the click of a finger. It's a different world. It definitely makes you appreciate the life I am able to give my family.
"It's not demoralising because you know you're helping them out and just giving them food, but it's a weird situation. It's kind of like….it's just so humbling."
Hayden takes his slip and his bag full of food and puts them into a green box. Then he walks over to the front of the stage. There, stacked around three foot in height, are crates full of bread and sausage rolls and scones.
"Those come from Greggs, from five thirty yesterday," adds Nixon. "Warburton's bake 100 loaves a day. We have to find £10,000 worth of food every week. Funding comes from the general public."
Help also now comes from Newcastle United, who have match day collections. "Forty per cent of our food used to come from the south-east," he says. "Now, because of the football club's intervention, that is not the case."
Hayden has finished filling his box and he walks past the stage, through the doors and into the common room that is increasingly filled with people talking and laughing. He passes it over and his hand is held and patted as he does so. "Thank you," says James.
Hayden, head down, walks past the kitchen serving tea, through to the stage, and starts filling his next bag. "It's amazing to see, as soon as you give the box, the smile on their faces," he adds. "It's Christmas, you can't help but smile yourself, maybe not on the outside, but inside you think, 'Oh wow, okay he's got a smile on his face, if he's got a smile on his face, why am I feeling sad about a bad day at training, or a bad Saturday afternoon?'
"I mean you can't help but have admiration for them. You don't know everybody's individual story but everyone is different and you never judge anyone that's in this situation."
The clock ticks towards four o'clock, when the foodbank doors at the Church of the Venerable Bede will close. A couple shuffle off with the two bagfuls that will keep them going for the next few days. It is the north-east, and it will be cold soon.
"You put the heating on and you think about food last," adds James. "Life was harder before the foodbank. It has been brilliant, just to sit and talk with people. It's not easy coming the first time. That was hard."
It is not easy to ask if people are ashamed the first time they enter a foodbank. "They come in tears," adds Nixon. "They are embarrassed. Within three or four months, 90 per cent of people have got over their problems. We see 1000 people a month, 450 of them are children."
We are around a mile and half from St James' Park. It feels like we are in a different century.
"I get my haircut at the top of the West Road with the barbers up there," says Hayden. "It's an area I've been around quite a bit. As I said, it's crazy, you've got Ponteland and Darras Hall four miles away and it's one long straight road really, and you're sitting there thinking, 'How is it we've got all these massive mansions yet three or four miles up the road people are queuing for food?'
"You get in your car and you think, 'I'm going to go home now.' Then you see the big TV and the missus is going, 'What do you want for dinner?' And I'm like, 'What have you got? What are the options?' And then she reels it off and I've just given a bag of food to someone who has no option.
"You don't just forget it. You don't just do it and then it's gone out of your mind. It is always going to be there."
Like everyone else who steps foot inside a foodbank, he will wrestle with the same incomprehensible thought; that this is 2017, and this is England.
To donate to the Newcastle West End Food Bank, please visit https://newcastlewestend.foodbank.org.uk/
Join our new commenting forum
Join thought-provoking conversations, follow other Independent readers and see their replies