Newcastle midfielder Hatem Ben Arfa is 'blessed with magic in feet' says Alan Pardew
Newcastle United 2 Bolton Wanderers 0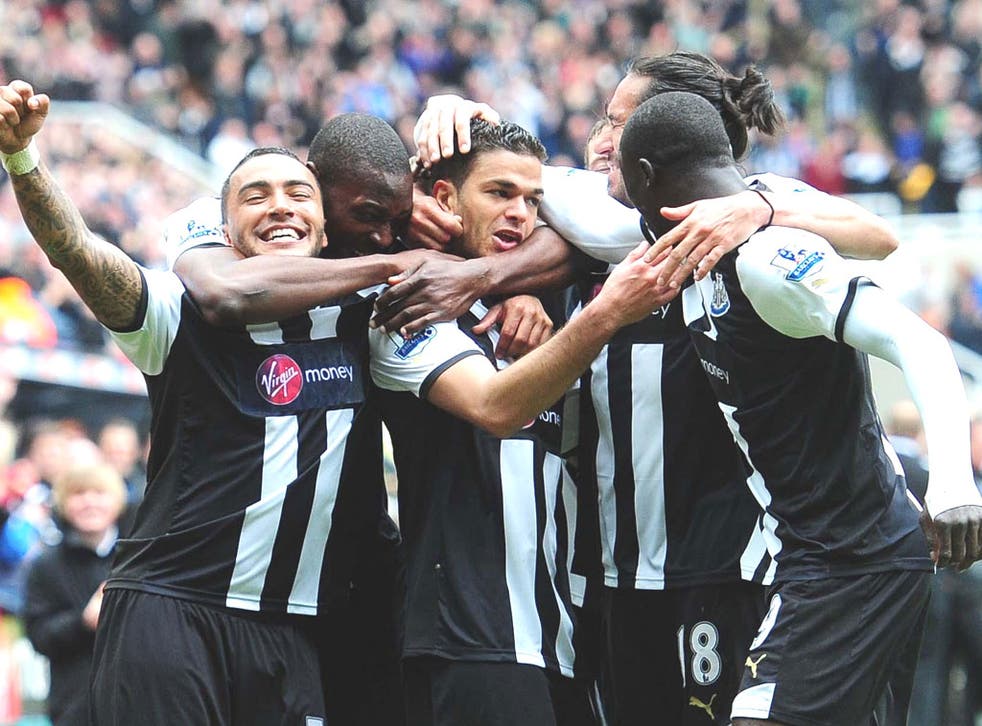 There will be a debate to be had in 10 years' time about how good Hatem Ben Arfa actually was. Only then will it be known whether the depth of desire inside this majestic footballer matched the God-given gift inside his feet.
It is a question that Alan Pardew has bravely asked of a player who is seldom described in print with words other than mercurial and temperamental. That those tags are starting to fade suggests that Pardew has tapped into a reservoir that might make the £5m Newcastle paid Marseilles in 2011 seem ridiculously cheap. It has become clear ever since Ben Arfa arrived at Newcastle, initially as a loanee, that simple was not part of his vocabulary. A cruel leg-break curtailed his trajectory in 2010, but what has returned this season, hardened by some chastising from Pardew, is a player with the capability to do things on a football pitch that few others can.
Certainly in the Premier League, there is at best a select handful who possess such a delicate touch, such speed of foot and originality of footballing thought. His goal yesterday in the 74th minute, which is where this has been leading, was a thing of genuine beauty. That this was a game of attrition elevated it even higher. What truly great players do is to seize a football match with such a grip that they take it away from everyone else. Tim Krul had a very good game yesterday, making two key saves, and Bolton's work-rate and belief suggest they have a good chance of survival.
But when Yohan Cabaye slipped a pass to Ben Arfa, who was on the very edge of the centre circle inside his own half, approximately 60 yards from goal, something wonderful happened, a moment those here will never forget, and this game became his. With the most deft of touches with the inside of his left foot, Ben Arfa completely bamboozled Sam Ricketts. That alone was a moment of quality but what followed took everyone inside St James' Park from their seats, and that is now a hallmark of this uniquely talented little footballer.
Latching on to his own flick, Ben Arfa almost teased Mark Davies into the futile challenge that suddenly suggested the Bolton defence was in serious danger. That he took the ball onto his right foot (not his natural side) to protect it from the Bolton midfielder was an element that only became apparent in repeated watching. When a player of such artistry gets up a head of steam, defenders lose their assuredness. Thus, David Wheater half pulled out of his challenge but much of that was down to the subtlety of the flick which very slightly lifted the ball from the ground, a point that Pardew later drew specific reference to.
By now he was on the edge of the Bolton penalty area and it was inevitable that he would pass Tim Ream to set up a one on one with Adam Bogdan. Here, Ben Arfa opened his body slightly and almost poked the ball into the bottom corner of the net with his left foot. In that moment, everybody inside this famous old football ground had a piece of their breath taken away.
"There is magic in his feet," said Pardew. "It is his world when he is on the ball. Not many players in this division can score goals like that. It was very clever. There are not many blessed with that kind of talent."
It was chastening for Bolton, who then conceded a further goal in the 83rd minute, when Papiss Cissé stabbed home a neat cross from Shola Ameobi. Owen Coyle had much to lament after his side had played so well, and the probability the second goal was off-side added to them. Newcastle moved level with Tottenham on points with this win. Pardew admitted for the first the Champions League is a possibility. There is indeed much to be left breathless about with regards to Newcastle United at the moment.
Match facts
Newcastle: KRUL 7/10, SIMPSON 6, WILLIAMSON 6, COLOCCINI 7, SANTON 7, BEN ARFA 9, CABAYE 7, PERCH 5, GUTIERREZ 7, BA 6, CISSE 8
Bolton: BOGDAN 6, RICKETTS 6, REAM 6, WHEATER 7, STEINSSON 6, PETROV 7, PRATLEY 7, REO-COKER 7, M DAVIES 5, EAGLES 7, K DAVIES 7
Scorers. Newcastle: Ben Arfa 74, Cissé 83
Substitutes: Newcastle Ferguson 7 (Perch, 46), Shola Ameobi 6 (Ba, 64), R Taylor (Ben Arfa, 85). Bolton Miyaichi (Eagles, 78), Ngog (K Davies, 78), Klasnic (Pratley, 82).
Booked: Newcastle Gutierrez . Bolton Reo-Coker.
Man of the match Ben Arfa. Match rating 6/10.
Possession: Newcastle 55% Bolton 45%.
Attempts on target: Newcastle 4 Bolton 6.
Referee M Jones (Cheshire).
Attendance 52,264.
Join our new commenting forum
Join thought-provoking conversations, follow other Independent readers and see their replies