Newcastle relegation battle: Papiss Cisse return boosts survival hopes at St James' Park
Lack of fire-power has contributed to dreadful form on Tyneside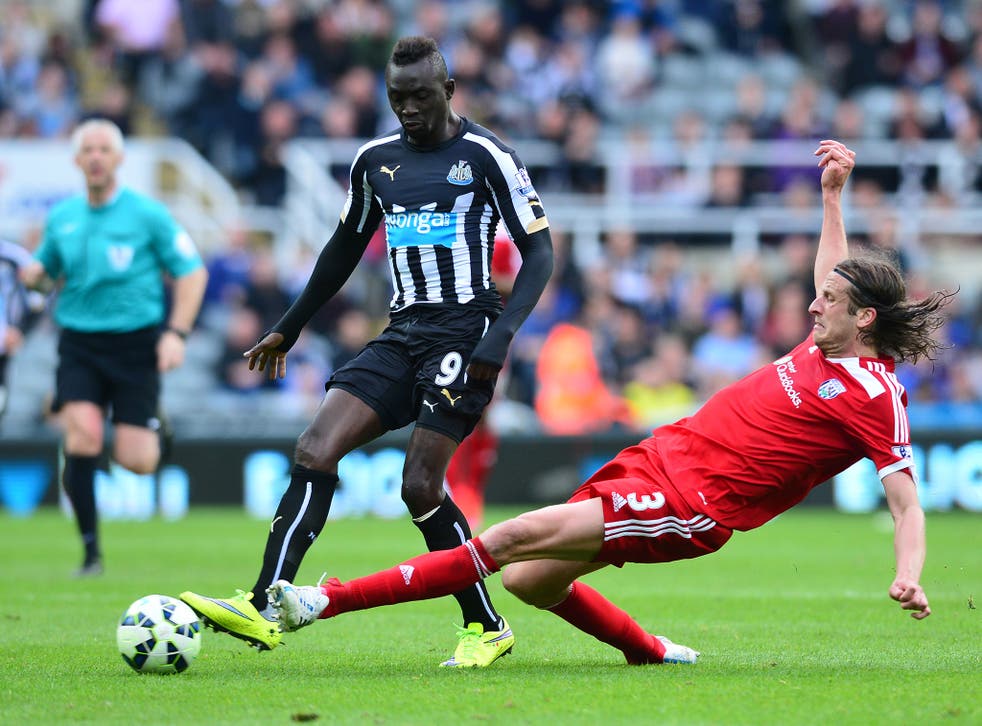 Claims of a burgeoning team spirit at Newcastle are easily smothered by the recent memory of temporary head coaches waving bits of paper written by previously mute captains after losing eight successive games. But something stirred inside the dressing room last week.
Whether it will be enough to keep a desperate football club in the Premier League remains to be seen. The true value of a point against West Bromwich Albion will be determined in a fortnight, but potentially the 1-1 draw and the return of Papiss Cissé, one of only two recognised goalscorers at Newcastle, felt significant.
The size of the rot inflicted by the eight-game losing sequence, the worst the club has ever experienced, is difficult to quantify. It led to meetings and recriminations. Football was once more lost.
Playing two out-and-out strikers was always the most likely route to safety, but then ignoring the team has been the single biggest, repeated problem of owner Mike Ashley's reign.
For nine minutes on Saturday, following Albion striker Victor Anichebe's 32nd-minute goal from yet another set piece, Newcastle fell into the bottom three. It was a rough nine minutes at a club that has lost a section of its support to boycotts.
Then Ayoze Perez scored a clever goal, his seventh of the season since his £2m move last summer from Tenerife. The cloud that has enveloped St James' Park lifted a bit.
The return of Cissé, coming on as a 69th-minute substitute after serving a seven-match suspension for spitting, was a further boost. Cissé, who did not start on Saturday as a result of a knee problem, has scored 11 goals this season. Goodness knows where Newcastle would be without him and Perez.
"It is very hard for [manager] John [Carver] because he works very hard at his job," said Cissé. "I am not very happy to have just got one point, but it was important for him to get something out of the game.
"We all need to win, and if you see John on the bench or on the training ground, you see how important it is for him to have something good. It was positive to get one point... because the team have been losing every game. The players have been sticking together and now we know we have to do something to save the team.
"It was not an easy game to play because West Brom stayed back a lot and weren't really trying to play. That didn't make it easy for us, but to get one point is positive because when you have lost eight games in a row, you cannot go on like that. There was a lot of desire in the team, and now we need to keep on going. Maybe next week, if we do that, we will win the game."
The victory of another team – Burnley at Hull – could be the most significant of Newcastle's season. That meant it was a good point for them, moving them two points above Steve Bruce's team.
Cissé will give them a goal threat next week at Queen's Park Rangers, whose relegation implies an easier afternoon.
"It is not just my job to keep us safe," said Cissé. "But I know that my team needs me and now I am here, hopefully I can play in the next two games. It has been really hard having to watch what has been going on. For half of the time, I have been in Paris because I stayed there to recover from my injury. It has been very hard because it is not easy to see your team losing every week. You know the people well, and you know how hard it must be for them. But they have good, strong heads."
Debatable, but it still felt like a big point.
Join our new commenting forum
Join thought-provoking conversations, follow other Independent readers and see their replies