Nicklas Bendtner: 'Idiotic' Arsenal striker accused of drunken rant at a taxi driver in Denmark, calling him a 'fat little pig'
Incident occurred while the Gunners were playing Bayern Munich on Tuesday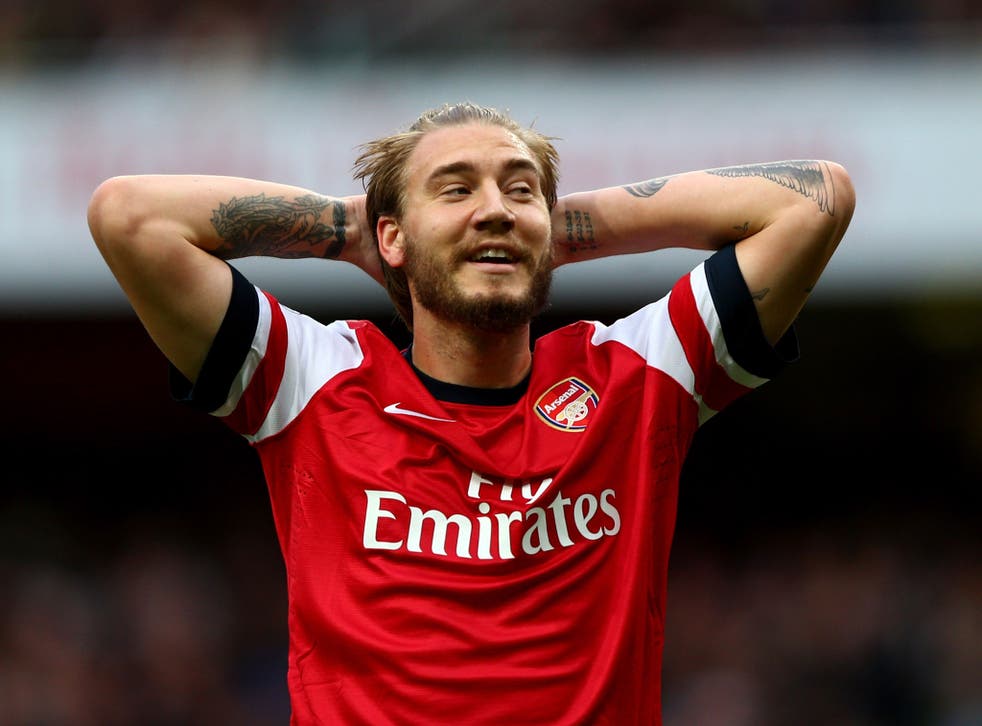 Nicklas Bendtner has been accused of a drunken outburst at a taxi driver in his native Denmark - while Arsenal drew 1-1 at Bayern Munich in the Champions League last-16 on Tuesday night, a result which knocked them out of the competition.
Bendtner, who seemed destined to leave the north London club over the summer having been out on loan for the past two seasons, reportedly "ran amok" in Denmark's Norrebro district.
The 26-year-old striker is accused of calling the taxi driver a "fat little pig" before launching into an expletive-laden tirade.
He is also alleged to have unbuttoned his trousers and rubbed his body against the side of the cab during his rant.
The unnamed taxi driver said Bendtner threatened him, after he had asked the striker and his friends to get out of the cab due to their raucous behaviour: "He said that if he was not so well known, he would have smashed me and then called me 'You little fat pig'," he told Danish tabloid, BT.
Bendtner, who is currently side lined with a knee injury, has made 14 appearances for the club this season, scoring two goals. He is third down the pecking order behind Yaya Sanogo and Olivier Giroud to lead the line for Arsene Wenger's side.
The alleged incident was apparently confirmed by the taxi firm's boss.
Thomas Peterson, CEO of Amager Obro Taxi said the company would not report the matter to the police as there was no "assault" but "just a case of a passenger who has behaved like an idiot".
The Denmark striker has found himself in trouble before over revealing his underwear.
At Euro 2012 he was banned for one match and fined £80,000 after he lowered his shorts to reveal the logo of a betting company emblazoned across his pants.
Bendtner's agents Q9 sports and his PR representative Elisa Lykke both declined to comment when contacted.
Join our new commenting forum
Join thought-provoking conversations, follow other Independent readers and see their replies