Paolo Di Canio hits back at 'charlatan' jibe by claiming Martin O'Neill 'is not very big' following Sunderland exit
Di Canio was sacked by the Black Cats after five games this season and has responded to O'Neill's jibes by admitting he can teach the Northern Irishman a thing or two
Jack de Menezes
Friday 15 November 2013 10:22 Comments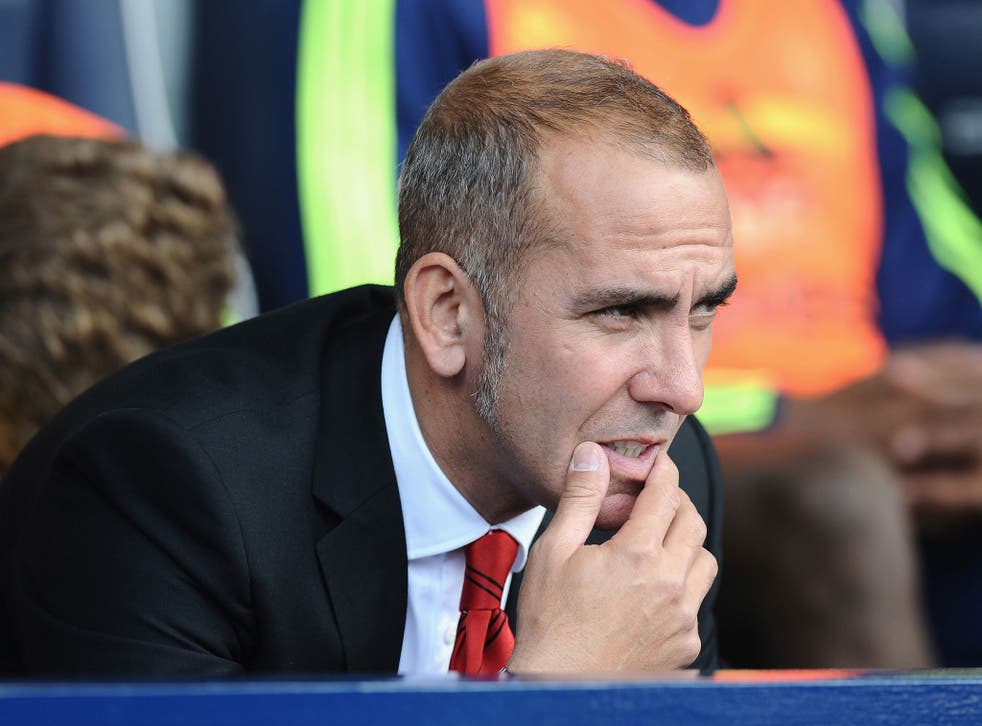 Paolo Di Canio has wasted little time in hitting back at his Sunderland predecessor Martin O'Neill for his "charlatan" comment by claiming the Northern Irishman "is not very big".
O'Neill, who was confirmed as the new Republic of Ireland manager alongside another former Black Cats boss Roy Keane, has responded to Di Canio's claims that the squad he inherited in April were lacking in fitness.
The 61-year-old said "Paolo Di Canio? That managerial charlatan – absolutely, yes.
"Paolo stepped in there and basically, as weeks ran on, he ran out of excuses. I had a wry smile to myself."
However, Di Canio has claimed that O'Neill doesn't know the meaning of the word charlatan, and that he would be happy to teach him the definition even though he is not English.
"I don't know if he knows the meaning of this word charlatan," claimed the Italian in an interview with Sky Sports. "Probably I can teach him, even if I am not English.
"I respect the opinion of manager Martin O'Neill but the fact that he spoke after six months, not straight away, that proves what kind of level he is. He is not very big.
"A charlatan is a manager who spends £40m to be a top 10 club and then sees the club sink into the relegation zone."
Di Canio also took the opportunity to hit out once more at the fitness levels of the players at the Stadium of Light, having guided them to Premier League survival last season before being sacked after just five games of the current campaign.
"The fitness levels were pathetic," he said. "I had players who told me they had cramps from driving the car.
"I had three players with injuries in the calf after 20 minutes of a game. Six different players with problems means they were not fit."
Having been dismissed after a 3-0 defeat to West Brom in September, rumours emerged that a training ground bust-up between the Di Canio and his players had paved the way for his exit, but he remains adamant that no such thing happened and it was just a difference of opinions at a regular post-game analyst meeting.
"It never happened," he said. "There was a typical meeting, as there was after every game to see the clips and analyse the game.
"Maybe there was opinion but this happens in every good family."
Despite the 45-year-old experiencing the highs and lowest of the lows that the Premier League has to offer, he remains undeterred in his efforts to become a managerial success in England.
Di Canio also accepts that he may have to drop down a division in order to re-build his career off the pitch, but is determined to manage on these shores once again and not in mainland Europe.
"I was too good, my level was too high," he claimed. "What doesn't kill me makes me stronger. I can't wait to have another chance with the right people. I feel a better manager than before.
"Even if I have requests from around Europe I say no. There is no space for me in England at the moment but I will wait.
"It would be stupid for a chairman not to call me. Even if it's at a Championship club with a project."
Oxford Dictionary definition of a charlatan:
A person falsely claiming to have a special knowledge or skill.
Paolo Di Canio's definition of a charlatan:
A manager who spends £40m to be a top 10 club and then sees the club sink into the relegation zone.
Register for free to continue reading
Registration is a free and easy way to support our truly independent journalism
By registering, you will also enjoy limited access to Premium articles, exclusive newsletters, commenting, and virtual events with our leading journalists
Already have an account? sign in
Register for free to continue reading
Registration is a free and easy way to support our truly independent journalism
By registering, you will also enjoy limited access to Premium articles, exclusive newsletters, commenting, and virtual events with our leading journalists
Already have an account? sign in
Join our new commenting forum
Join thought-provoking conversations, follow other Independent readers and see their replies