Paul Scholes: Manchester City were so good against Liverpool I felt like turning the television off
But they have never got close in the Champions League and this is the year that they have to make the step
Paul Scholes
Thursday 28 August 2014 09:31 Comments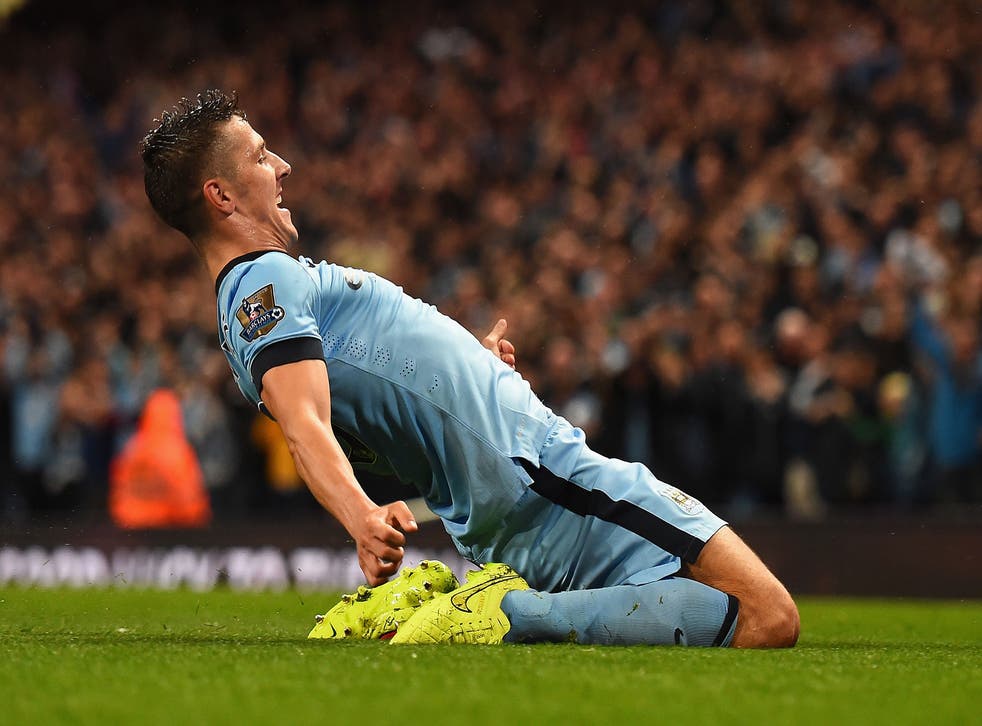 Watching Manchester City on Monday night, the scale of the club's ambitions was clear for anyone to see. They do not just want to be champions of England; this is a squad built to win the Champions League, too.
I hardly need to say that I am a Manchester United man to my bones. As a kid I was at Oldham Athletic before joining United but I can safely say that I am one of those Manchester footballers who has never had any affiliation to City: not a trial, not a training session, nothing. I am a United man and, as a result, there were moments watching City on Monday night when they were so good I felt like turning the telly off. But I can acknowledge a very good team when I see one.
City were sensational at times against Liverpool. All good sides have a mixture of qualities and City have the guile of Samir Nasri and David Silva combined with the pace and power of Yaya Touré. Alongside Touré is Fernando, a variation on Fernandinho, whom I also like. Stevan Jovetic was my tip in this column to be the breakthrough player of the season and he has started well.
Perhaps the most daunting aspect of it all was when Jovetic scored his second and the camera panned over to the bench. The substitutes in shot were Sergio Aguero, Fernandinho and Jesus Navas – it reminded me what an incredible squad Manuel Pellegrini has at his disposal. There are 22 proper, top-class footballers at that club, and they can compete with the very best in Europe.
People ask which great teams this current City side remind me of. I think they are different from what we have seen in the past. When the likes of Nasri and Silva keep the ball they are capable of playing the possession game, as Barcelona did at their best. The best United teams that I played in were different. We were more about passing the ball forward and getting players in attacking positions. City have that capability, too.
So far, they have never got close in the Champions League and this is the year that they have to make the step. They have to show that they can win the league and in Europe, too. To strengthen, they have bought another centre-half, Eliaquim Mangala, which they desperately needed, and Fernando.
Over the three years that City have been in the Champions League, it has struck me that the home crowd at the Etihad Stadium could have done more to get behind their team. It feels to me that some of the City supporters are still getting used to the level of footballers they are watching and the quality of the opposition coming to their ground.
I guess much of that is down to the places that City fans have had to watch their team play in the last 20 years. When you've followed your team to clubs like Lincoln City, Walsall and Macclesfield Town, for league fixtures, it is perhaps only natural that when Barcelona or Real Madrid or Bayern Munich are in town, you watch open-mouthed. But it won't help their side.
What City need to do is turn the Etihad into a hostile environment for away teams. At its best, Old Trafford on a midweek European night gave United's players a real advantage. It is the same at Anfield. The City fans need to get to terms with the fact that they are now part of the elite and create an atmosphere that makes it difficult for away teams.
Of course City can win the league. I tipped Chelsea at the start of the season and I am sticking to that prediction although I think it will be close. City can win the Champions League, too. The money from Abu Dhabi is obviously what has driven them from mediocrity to the position they are in, but it doesn't buy a ready-made team. I admire their manager, Pellegrini. The club is obviously run well from the top.
I would be fascinated to know what Pellegrini does behind the scenes. He is not like Roberto Mancini who spent most of his time on the touchline shouting at anyone within earshot. He stands back and watches and, like the rest of us, admires the good football. He does not get involved in much controversy away from the pitch.
If there is a weakness in City then perhaps it is in defence, although Martin Demichelis has improved a lot since he first arrived. You do wonder how they would fare if Vincent Kompany picked up another injury because they rely so much on him, and we haven't seen anything of Mangala yet. Even so, you only had to see how Jovetic has developed into a powerful, strong striker to recognise that this is a club that has so many different top-quality options.
Register for free to continue reading
Registration is a free and easy way to support our truly independent journalism
By registering, you will also enjoy limited access to Premium articles, exclusive newsletters, commenting, and virtual events with our leading journalists
Already have an account? sign in
Join our new commenting forum
Join thought-provoking conversations, follow other Independent readers and see their replies