Pep Guardiola leaves no stone unturned as he implements strict fitness regime - including no pizza
The Spaniard, who has succeeded Manuel Pellegrini as manager at City following three seasons in charge of Bayern Munich, has already changed the squad's diet and banned pizza at the club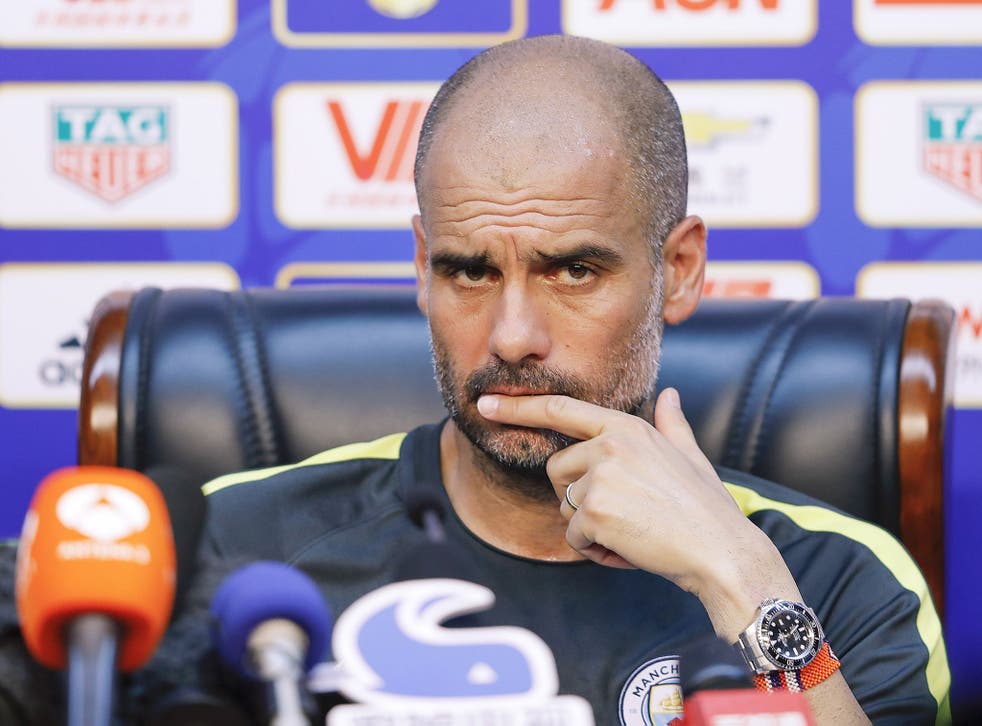 Pep Guardiola has imposed a strict fitness regime at Manchester City that includes players being forced to train away from the first-team if they fail to adhere to the manager's weight regulations at the Etihad Stadium.
The Spaniard, who has succeeded Manuel Pellegrini as manager at City following three seasons in charge of Bayern Munich, has already changed the squad's diet and banned pizza at the club.
But French defender Gael Clichy insists that Guardiola's attention to detail can transform City's prospects and ensure he has a lasting impact on English football similar to that made by Arsene Wenger during his 20 years at Arsenal.
Speaking of Guardiola's attention to detail, Clichy admits that no stone has been left unturned by the new manager, whose squad is currently in China as they prepare to face Borussia Dortmund in Shenzhen on Thursday following the cancellation of Monday's friendly against Manchester United.
"Everything (has been covered by Guardiola,)" Clichy said. "On the field, outside the field, every detail counts.
"For example, you often hear managers say being healthy is really important, but with him, if you're weight is too high, you're not training with the team.
"That is the first thing, and you can hear it a lot, but for my part it's the first time any manager has really done it.
"So we have a few players who are not training with the team yet.
"It's funny, but we play football and it's a job and you have to take responsibility for what you do on the field.
"Of course you have quality, but you have to know that if your weight is 60 kilos and you are on 70 kilos, then you cannot play football because you're going to get injured and get your team in trouble. That's important.
"All those details are not going to make us win the league, the Champions League, the FA Cup or the Capital One Cup, but we're going to go in the right direction to try hard and compete for these competitions."
Clichy admits he has no qualms over Guardiola's determination to overhaul City's way of working, down to informing the players what they can and cannot eat.
"He cut out some juice and of course pizza and all the heavy food is not allowed," Clichy said. "It's a normal thing, but some people think 'that's normal, it should be like this.'
"But in truth, it's not always like this and I know because I've been playing football for a long time. It's really refreshing and very exciting.
"You don't have success without being focused on details. He's been a player also which makes a big difference.
"He's young, so I think he understands how football is going with the new generation coming though.
"He told us: 'we are going to be friends for all the pre-season and I know that when I have the starting XI for Sunderland (on the opening day), some players are going to be upset and from that moment then I don't know what to expect.'
"It's normal that if you don't play you're not happy, but he's just telling you and he knows what's going to happen.
"He just wants us to trust him, he wants to trust us and I think it's the right way to start a relationship.
"That's not the reason we're going to win things. The reason we're going to win things, if we do, is by working hard and he's making sure we are working hard. It's only a few weeks into pre-season but I'm pretty sure it's going to be a good year."
Guardiola has arrived at City with the reputation as one of the most forward-thinking and innovative coaches in world football.
The former Barcelona manager's record of success – he won three successive Bundesliga titles with Bayern Munich after winning two Champions League with Barcelona – ensures he begins life in the Premier League with little to prove.
But after working under Wenger at Arsenal prior to his move to City, Clichy believes that the full impact of Guardiola's stay at the Etihad will be felt beyond the blue half of Manchester.
"I've been lucky because I've trained only a few weeks with Guardiola and I was eight years with Wenger," Clichy said. "There are a lot of similarities between the two, but also so much difference.
"I think in eight or nine years, Guardiola has won pretty much everything and he's changed the way we see football.
"He was probably one of the first to bring the full-backs really high, to put a midfield player as a centre back — you know better than me what he did. It's a step forward.
"Wenger, years ago, brought something back from wherever he was into English football and kind of changed the way people see the game in England.
"I guess the two of them are just great managers, but you could say the same for Ferguson and Mourinho.
Mark Ogden: Mourinho vs. Guardiola is one of the best things to happen in the Premier League
"Every manager has their own philosophy and for sure he's coming with his own ideas and it's quite refreshing for us."
City start the new campaign as favourites to win the Premier League in Guardiola's first season and Clichy admits that his presence has already brought a sharper edge to the players at the club.
"Any manager who comes into a new club brings an energy," Clichy said. "Instead of giving 100 per cent, you give 110 per cent just because it's a new manager and you need to show yourself.
"But of course he's bringing something different, he's bringing something he's been doing with Barcelona and Munich, so it's not guaranteed that we're going to have success.
"It's been really exciting for the last three weeks and I can see that we're going to improve as a team and so many players are going to improve individually and hopefully it will bring success to the club because in the end that's what he's here for.
"Any manager who comes into a new club will bring this thing for the first year at least. That all the players want to play harder and train harder.
"It's just normal, if you have a new boss you just want to impress.
"The fact that you have a new manager bringing something different and of course when you have someone like Guardiola, who has won so many trophies, then you have to adapt and quick."
Register for free to continue reading
Registration is a free and easy way to support our truly independent journalism
By registering, you will also enjoy limited access to Premium articles, exclusive newsletters, commenting, and virtual events with our leading journalists
Already have an account? sign in
Register for free to continue reading
Registration is a free and easy way to support our truly independent journalism
By registering, you will also enjoy limited access to Premium articles, exclusive newsletters, commenting, and virtual events with our leading journalists
Already have an account? sign in
Join our new commenting forum
Join thought-provoking conversations, follow other Independent readers and see their replies