Play, play, play: The no-fear philosophy of Roberto Martinez at Everton
The Goodison manager's formula is unchanged since his early days at Swansea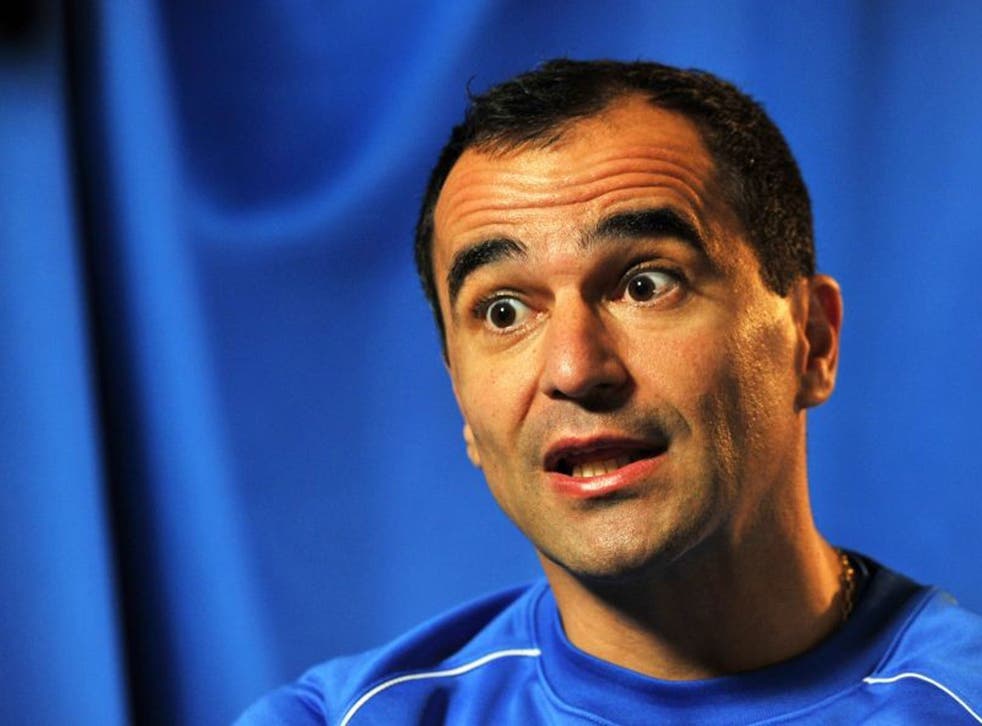 In his 2008 autobiography, Kicking Every Ball, Roberto Martinez recounts how he was the envy of friends at his Spanish primary school thanks to the steady supply of footballs given him by his father, Roberto Snr, coach at their home-town team, CF Balaguer. There is a photo of him smiling as he proudly holds an adidas Tango, and it seems a fitting motif for the methods of the man who has transformed the style of the two teams who meet at the Liberty Stadium today, Swansea City and Everton – in short, cherish that football.
It was Martinez who gave Swansea their famed passing philosophy and who returns there this afternoon with an Everton side he has turned into one of the top flight's most attractive in the six months since arriving from Wigan Athletic. Their impressive draw at Arsenal a fortnight ago showcased this improvement, but it is Steven Pienaar's recollection of Martinez's instructions that day which underlines the positivity that the Spaniard has instilled in a team beaten just once in 16 League outings.
"He came in and told us, 'Listen, you have to get over your fears now – just go out and enjoy the game'," says the South African midfielder. "That was his team talk. He said it was a moment to enjoy, and to play with a smile on our faces. He is so positive and it carries over to the team and makes us more relaxed."
The striking thing about Martinez's early work at fifth-placed Everton is the smoothness of the transition from David Moyes' 11-year reign. "For a few players it was a bit of a shock," says Pienaar, recalling a pre-season where even much of the running was done with a ball. Yet he was also "excited because of the way Wigan played over the last couple of years. They wanted to play the right way, from the back, and for us it was a challenge."
Pienaar spent five seasons under Moyes and says of the change in style: "We tried to play good football last season but we had Felli [Marouane Fellaini] in the team and could find him directly and put teams under pressure high up the pitch. This season we've been more patient. His [Martinez's] philosophy is if you keep the ball, you're not going to work as hard as the other team.
"We worked really hard in pre-season on how to play. A few games didn't go well, and we expected that, and at the start of the season we had three draws. People were [asking], 'Is there any chance we can win a game?', but the trust the manager has in his players is unbelievable. He wants us to go out there and dominate a game. It takes a lot of courage and hard work. To keep the ball is not only passing – you have to move, you have to be fit."
Martinez inherited good players but, Pienaar continues, warrants additional credit for those he has added – not just striker Romelu Lukaku but also midfielders Gareth Barry and James McCarthy, who provide vital defensive support. "Gareth's experience is invaluable – [with] his calmness on the ball, his anticipation in the middle of the park, he's basically the spine of the team. James has surprised me – for his age he's so mature and composed on the ball and his work ethic is unbelievable."
Goodison's current feelgood factor was underlined by Martinez s appearance in a club Christmas video miming along to Morecambe and Wise's Bring Me Sunshine. He brought sunshine to Swansea too, of course, adding a style to predecessor Kenny Jackett's solid foundations, as club captain Garry Monk remembers. "Roberto was the one who started it all off and it's been imprinted now for a number of years," he says.
Martinez was 33 when he took over at Swansea in February 2007, returning to a club he had left as a player the previous summer. By May 2008 they had won the League One title and, moreover, gained a philosophy that has continued through Paulo Sousa, Brendan Rodgers and now Michael Laudrup. How did he do it? "In training everything was with the football, as many touches as possible, as many passes, possession games, everything to do with retaining the ball – not just to retain it but keep it and pass it for a purpose," says Monk of the sessions Martinez put on with Graeme Jones, now his No 2 at Everton.
"Coming in at that level he could afford to experiment a bit," he adds. "He always encouraged us to play, whether we were making mistakes or not – play, play, play, learn from those mistakes." This positive mindset extended to match days. "There was an emphasis on what we did rather than what happened when the opposition had the ball. I am not sure if that has changed but I am sure it wouldn't be too far different because it has brought him success before."
The wish for possession – and Swansea are the Premier League's masters of it – stemmed from Martinez's belief that "if we could have between 60 and 70 per cent of the ball, then nine times out of ten you are more likely win the game".
After seeing Martinez's methods at first hand, Monk is not surprised by his old team-mate's bright start on Merseyside. "Under Moyes they had a very strong mentality and if they can transfer that to the way Roberto wants them to play, that's a strong combination. It is playing without the fear of losing." Like a boy with a new ball.
Swansea v Everton is on Sky Sports 1 today, ko 4pm
Steven Pienaar was speaking at an event to thank Everton in the Community volunteers for their contribution to the charity's life-changing work throughout 2013
Everton and Swansea: Passing analysis 2013-14 (averages per game)
EVERTON/RANK-SWANSEA/RANK
Passes 449.0/6-563.8/1
Pass success % 86.4/6-88.6/2
Possession % 55.2/6-56.5/1
Passes sideways % 36.4/7-40.6/1
Passes long % 16.7/15-15.5/18
Passes forward % 40.8/14-37.7/20
F'd pass success % 75.5/6-78.4/3
Rankings from Prozone Sports are in relation to other Premier League teams
Join our new commenting forum
Join thought-provoking conversations, follow other Independent readers and see their replies