The Independent's journalism is supported by our readers. When you purchase through links on our site, we may earn commission.
Premier League Match Report: Brad Friedel dropped by Andre Villas-Boas as Tottenham beat Aston Villa to clinch fourth straight league victory
Tottenham Hotspur 2 Aston Villa 0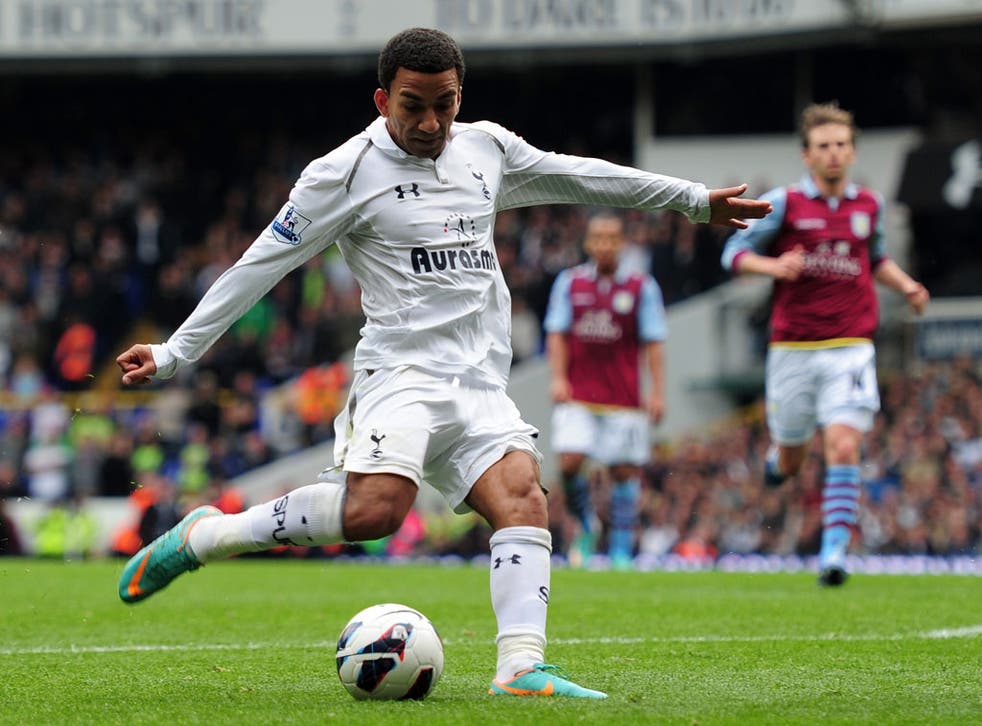 The moulding and refining of Andre Villas-Boas's Tottenham Hotspur team continues.
Two points from three games has suddenly become four straight wins after Spurs beat Aston Villa yesterday. It was a patient, mature performance by the hosts who were unworried by a slow first half and able, eventually, to dismiss Villa with a burst of attacking football.
For the first time in the Premier League, Villas-Boas began with Hugo Lloris in goal. Since he was signed it was merely a matter of time as to when he would usurp Brad Friedel in the league and the Spurs manager decided that the seventh league game of the season was the right moment.
"We have been speaking about it between the staff for the week," said Villas-Boas. "We decided it would be logical if we wanted to get Hugo acquainted with the Premier League-type of games.
"Obviously, the change was not based on performance, Brad has been immense for this football team, we surely respect that." Friedel's run of 310 consecutive league games is over, though, a victim of the relentless progressivism sweeping Tottenham.
Lloris showed the difference between him and Friedel by darting quickly from his line at times, but nearly cost Spurs a goal early in the second half. His poor throw allowed Marc Albrighton to cross for Christian Benteke, but the Belgian headed carelessly wide.
Paul Lambert knew how much that miss cost. "We had a great chance to go 1-0 up," the Villa manager said. "It was a big moment. But he's only a young lad, he was in a position to do it, you saw his disappointment."
It was a show of faith from Lambert picking Benteke ahead of Darren Bent. Lambert is desperate to instil hunger at a club where it has not existed for a while, and perhaps it should not be a surprise to see Bent on the bench along with other senior players such as Shay Given and Charles N'Zogbia.
Lambert insisted, though, that his decision was tactical. "That's the system I played," he said. "If you're playing one up top, Christian gives you a different option because he can get hold of the ball. That was the only reason why we did it."
The players Lambert did pick tried to prove him right. They certainly represented his values of hard work, rigour and ambition. Karim El Ahmadi, Fabian Delph and Brett Holman all worked hard to deny Spurs space while the defence was inspired by the brave, brisk and alert Ron Vlaar, who has replaced Bent as captain. Villa had successfully shut down the first half. The home crowd were silenced and Spurs were limited to shooting from distance.
Two weeks ago another slow first half left Spurs 1-0 down to Queen's Park Rangers. That afternoon they tore into the second half, turning the game and earning an important win. It was the same yesterday. Spurs were much more assertive in the second period, allowing chances, including Benteke's, before scoring the goals that won the game.
The pressure had been building before a lucky bounce put Spurs ahead. A corner, 12 minutes after the re-start, fell to Jermain Defoe, who spun and skewed a shot. It inadvertently hit Steven Caulker's ankle and flew in.
The goal sped Spurs up further, Gareth Bale nearly scored before the second came from another quick break. Mousa Dembélé spread the ball to Aaron Lennon, who was isolated against Joe Bennett. Before the left-back could realise, Lennon whipped a low shot past him and Brad Guzan into the bottom corner. The work was done, and Clint Dempsey's and Bale's chances were the only moments of a comfortable keep-ball session as Spurs rode on up the table.
Join our new commenting forum
Join thought-provoking conversations, follow other Independent readers and see their replies