Premier League predictions: Who will win, which teams will be relegated and how will Leicester perform?
Our sports team make their predictions ahead of the new seaon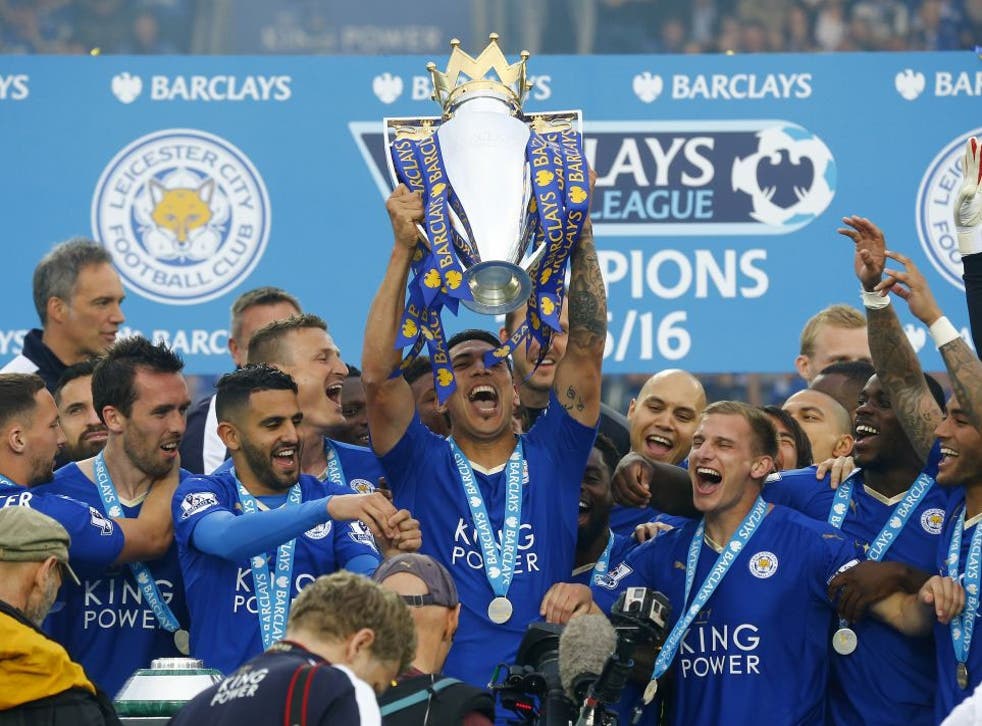 After the unpredictability of last season - and Leicester's historic Premier League title - who knows what we're in store for this time round. It seems anything is possbile these days. Even so, The Independent sports team have racked their brains to cast their predictions for the coming season. Read what we had to say.
Who will win the Premier League?
Mark Ogden (Chief Football Correspondent): Manchester United. It will be nip and tuck between United and Manchester City and the race could go either way, but United have the edge because of Jose Mourinho's Premier League experience. It may take time for Pep Guardiola's methods to sink in at City and that will give Mourinho the advantage.
Jack Pitt-Brooke (Football Correspondent): Manchester City. Very difficult to pick between City and United, but I think that Pep Guardiola will just have the edge on Jose Mourinho. Although if Mourinho discovers his right team early on, and makes some ruthless decisions, United could get the momentum and hold onto it.
Jack de Menezes (Deputy Sports Editor): Manchester United. Under Louis van Gaal, United didn't have that bad a squad, they were just wasted in the Dutchman's system. With Jose Mourinho at the helm, United would certainly push for the top four with the same players, but the introduction on Paul Pogba and Zlatan Ibrahimovic – players that are used to winning – makes them genuine title contenders. City and Chelsea will push them hard, but I don't think the Blues are out of transition yet and John Stones's form last season doesn't suggest he's going to revolutionise City's struggling defence immediately.
Mark Critchley (Sports Reporter): Manchester United. Pep Guardiola's spent the summer laying foundations while Jose Mourinho's had his house built. It feels like this will be a transitional season at the Etihad but their neighbours will be ready from the off.
Samuel Stevens (Sports Reporter): Manchester United. Expect Jose Mourinho to reserve as much affection for the Europa League as he does for Arsene Wenger, concentrating fully on bringing the title back to Old Trafford. The competition is fiercer than ever, of course, but so too is the Portuguese's desire to prove his detractors wrong after last season's debacle at Chelsea.
Samuel Lovett (Sports Reporter): Manchester City. Pep Guardiola has worked his magic across the continent and there's no reason he can't do the same at the Etihad Stadium, despite the unpredictability of the Premier League. Astute, innovative and professional to a tee, Guardiola will revolutionise a side that has traditionally offered so much in the past but delivered very little.
Who will finish in the top four?
MO: Manchester United, Manchester City, Liverpool, Chelsea. Arsenal have not done enough in the transfer market and Spurs will have to cope with the extra demands of the Champions League.
JPB: Manchester City, Manchester United, Liverpool and Chelsea. After the Manchester teams I think Liverpool will be next, because of their proven manager and the lack of European distractions. Chelsea have a great coach too, but still look two players away from having the right squad for him. Arsenal and Spurs to just miss out.
JDM: I expect City to finish second to United and Chelsea third, which leaves a toss-up between Arsenal, Liverpool, Tottenham and Leicester for fourth. I'll go with Arsenal, given they have proven time again that they just do enough to ensure minimum expectations are met and they should also make a couple more signings before the end of the transfer window. Spurs look short in attack and sooner or later the odds suggest Harry Kane won't be there to bail them out, while Liverpool still have too many players that are yet to prove they can flourish under Jurgen Klopp.
MC: Manchester United, Manchester City, Arsenal and Liverpool, though a lot will depend on how Jürgen Klopp's side negotiate their tricky start. Tottenham will run them close, Leicester's resources will be too stretched, Chelsea's defence remains unconvincing.
SS: Aside from United, Manchester City, Chelsea and Liverpool appear best placed to secure Champions League football. Pep Guardiola will not accept anything less while Chelsea and Liverpool will benefit from having no European distractions. Jurgen Klopp has had a full pre-season at Anfield which will likely do his players the world of good.
SL: Manchester City, Chelsea, Tottenham and Manchester United. Guardiola, Mourinho and Conte will make all the difference to their respective clubs - and have already brought in an abundance of top-signings. On the other hand, Mauricio Pochettino has kept faith in his existing squad. Given the quality and promise of their youthful players, Spurs should enjoy another fruitful season.
Manchester United's best XI with Paul Pogba

Show all 11
Who will be relegated?
MO: Hull City, West Bromwich Albion, Sunderland. Hull have had a disastrous summer, West Brom look stale under Tony Pulis and Sunderland lack quality and have lost Sam Allardyce's motivational qualities.
JPB: Hull City look gone already, with no manager, not enough players and no obvious plan. It is very hard to see how they get anywhere near enough pieces in place to prepare them for a 38-point season. Then I think Burnley will come up short again, although they are a more dangerous side than in their last spell in the top flight. Finally, I think Watford may find it hard this season if Walter Mazzarri does not settle quickly, after a modest summer in the transfer market. But I do not have much confidence in David Moyes' Sunderland either.
JDM: This is a difficult one given we all tipped Leicester to go down last season. It could finally be the end for Sunderland's stay in the Premier League, as despite the appointment of David Moyes, if you play with fire too often you'll eventually get burnt. West Bromwich Albion could also be in trouble, and with new owners at the helm I would not be surprised if Tony Pulis walks at some point this season. The final spot is a gimme as Hull City enter the season with barely any players, no manager and just about the worst pre-season you can experience. They're a certainty to finish bottom, so expect them to lift the Premier League trophy next May.
MC: Watford, Sunderland, Hull City. I've a feeling the Pozzos' luck may run out, while David Moyes seems perennially doomed these days. Hull are an obvious choice. I'm hoping Burnley keep out of trouble.
SS: Unless Hull City can get their act together quickly (appointing a manager would be a start), it could be a bleak year for the East Yorkshire outfit. Injuries and a chronic lack of transfer activity should prove their downfall. Another modest transfer window at Burnley will likely cost Sean Dyche's men. West Bromwich Albion could be in for a rough ride too.
SL: Burnley, Watford, Hull. With the KCOM Stadium currently in disarray, Hull's chances look bleak. As for Burnley, their limited resources and lack of quality signings will play against them. But with Watford, I think their time is up. The decision to let Quique Sanchez Flores depart last May unsettled the club and while they've signed a number of promising players, it may not be enough.
Transfer window done deals and rumours
Who will be player of the year?
MO: Kevin De Bruyne – The Belgian midfielder is Manchester City's best player and the key to their title ambitions.
JPB: Kevin De Bruyne has looked fully worth the £55million City spent on him last year, and had he not injured his knee in January then City's season might have gone much better. Now he is working with the best coach in the world, who will build a team which dominates possession and creates chances. If De Bruyne is used in an attacking midfield role, he could be just as dangerous as Paul Pogba, and has he benefit of being already adjusted to Premier League football.
JDM: Paul Pogba. An £89m price tag is a lot to live up to, so it's lucky that Pogba has the ego and the talent to do just that. All eyes will be on him this season, which already gives him the platform to impress, and given that the past two player of the year awards have gone to someone among the Premier League champions, it's likely to be the integral cog in Mourinho's master plan.
MC: Zlatan Ibrahimovic. I've never been totally convinced by him, though he's starting to persuade me that that's more my fault than his. Either way, he's well-placed to stamp his mark on this season.
SS: Philippe Coutinho. An alternative choice, admittedly, but the long-term heir to Luis Suarez's throne as the main man at Liverpool should benefit greatly from the pockets of space created by Klopp's gegenpress system. Nobody doubts the Brazilian's talent but his consistency remains a question mark. The potential to be among the best is there.
SL: Henrikh Mkhitaryan. The 27-year-old is the complete attacking midfielder: his speed will make him a threat in wide positions while his creativity within the final third can provide a solid source of support for Mourinho's forwards. The Armenian will also bring a real sense of urgency to a United counterattack that has looked desperately subdued in recent years.
Who will be top goalscorer?
MO: Sergio Aguero.
JPB: If Sergio Aguero could ever play a full domestic season for Manchester City he would be the best centre-forward in Europe. If he can start 30 Premier League games for City then he should score as many goals. If not, I think that Zlatan Ibrahimovic could get close presuming he edges out Wayne Rooney up front for United.
JDM: Sergio Aguero. Pep Guardiola's style of football should lead to Aguero receiving plenty of opportunities to find the back of the net. If he can maintain his fitness, there's no reason why he can't top the Premier League goalscoring charts for a second time.
MC: Zlatan Ibrahimovic, again. It should be an injury-free Sergio Aguero, just like in every other season he's been here, but one Golden Boot in five years tells its own story.
SS: City's new era is likely to bring with it a glut of goals and Sergio Aguero, the Premier League's best striker, should thrive under Guardiola's tutelage. Despite City's struggles under Manuel Pellegrini, Aguero enjoyed his second-best season in front of goal last term, scoring 24 goals. In a team built in Guardiola's image, he could be lethal.
SL: Harry Kane. Despite enduring a mixed Euro 2016 campaign, the Tottenham forward will pick up from where he left off last May. Assuming Kane has put last season's disappointment behind him, there's no reason he can't recreate the sort of form which proved so intrinsic to his side's 2015/16 title challenge.
What are you looking forward to most?
MO: Burnley proving that money isn't everything by avoiding relegation.
JPB: The prospect of almost all the world's best coaches, competing against each other, will be quite something to behold. A handful of them will have to finish outside the top four so will be fascinating to see how they adjust to that failure.
JDM: Mourinho vs Guardiola. Just wait for this one to take off. The pair simply don't care that much for each other, and while they respect one and other, there will be fireworks when the Manchester derby comes about as well as the Premier League run-in when they go head-to-head for the title.
MC: Seeing which of Jose Mourinho, Pep Guardiola, Arsène Wenger, Jürgen Klopp, Antonio Conte, Mauricio Pochettino and Claudio Ranieri finishes seventh or lower. If they make it to May, of course.
SS: Ronald Koeman's debut season at Everton. The Dutchman has finally landed a job which will afford him with some financial firepower and the Merseysiders could easily be in contention for a European spot this season. With Steve Walsh now installed as director of football, the Toffees have a bright future ahead - if they stick with Koeman.
SL: The war of words that will inevitably ensue now that Mourinho is back. Love or loathe him, the 53-year-old adds a real entertainment factor wherever he goes. It'll be interesting to see which coaches get drawn into his mind games and which ones can keep the moral high ground.
Who will be signing of the season?
MO: Sadio Mane – The £30m buy from Southampton will transform Liverpool with his pace and could score the goals to haul Jurgen Klopp's team into the Champions League.
JPB: How do you improve the winning team? Leicester City may have found the way in Ahmed Musa. The Nigerian forward was electric in pre-season and briefly turned the Community Shield on its head when he came on at Wembley. A clear upgrade on Shinji Okazaki, and should make Leicester even more dangerous on the break.
JDM: Eric Bailly. United needed a defender, and the early signs from Bailly are promising enough to suggest he could be the answer. Yes he cost £30m, yes he is just 22, but he could prove to be a wonderful addition if it means United remain solid at the back for years to come.
MC: Liverpool's Marko Grujic at £4.25m. Easy to see why a few clubs were in for the gangly yet imposing central midfielder. I'd be worried if I were Jordan Henderson.
SS: Sadio Mane's £30m switch to Liverpool is an intriguing one. The road from Southampton to Anfield has been well-trodden in recent years with varying degrees of success but Mane's warp-speed pace will terrorise defences across the Premier League. For the same reason, big things can be expected from Ahmed Musa at Leicester City.
SL: N'Golo Kante will help make all the difference at Stamford Bridge. A proven talent with an industrial work-rate, the Frenchman will tighten up the Chelsea midfield.
Mark Ogden: Mourinho vs. Guardiola is one of the best things to happen in the Premier League
Who will be flop of the season?
MO: West Ham United – Slavin Bilic's team will find it tough at the London Stadium, which lacks the hostility and atmosphere of Upton Park. A difficult season of adjustment lies ahead.
JPB: David Moyes. The pressure will be on at Sunderland after the departure of the popular Sam Allardyce, and unless Moyes shows the same confident character and astute judgement then his Sunderland team could be under real pressure very quickly.
JDM: Arsenal. Arsene Wenger has built steadily over the past three seasons even if it did mean missing out on the title last term. Two FA Cup wins, a fourth place followed by a third place followed by a second place and a talented squad suggests that they should be challenging for – and winning – the title this season. Yet they won't do, and it's also not inconceivable that they could finish outside the top four if they don't make good additions on the next two weeks.
MC: Ashley Williams will not solve Everton's defensive issues. He may even be the cause a few more.
SS: Watford. This may come back to haunt me but it just seems like the Hornets' lives may well be up when it comes to managerial changes. Securing Troy Deeney and Odion Ighalo to new contracts is a massive plus but, while Walter Mazzarri has proven pedigree, sacking managers on an annual basis eventually catches up with the best of them.
SL: Zlatan Ibrahimovic. Despite having already impressed in United's pre-season fixtures, the Swede will eventually run out of steam. At 34 years old, I'd be very impressed if Zlatan can keep up with the intensity and sheer grit of the Premier League for the entirety of the season.
Where will Leicester finish?
MO: Top eight – Leicester have quality and self-belief and can defeat anybody on their day, but it is inevitable that they will suffer a hangover from last season, with Champions League commitments likely to drain resources too.
JPB: Seventh. They are still a very good team, but this season will be very different for two reasons. Opponents know what they are about now, and will not fall into their tactical traps. And the Champions League will be a great memorable thrill, but it will also be a distraction and Leicester do not have the experience to compete on two fronts.
JDM: I think they will suffer from N'Golo Kante's departure given they weren't the sturdiest of defences last season. If they can maintain their levels from last season, they could beat one of Liverpool or Tottenham to sixth, but I think they will end up seventh by a safe margin over the rest of the pack.
MC: Top seven. It's the hivemind's answer but last season has to be an anomaly.
SS: We all got our fingers burnt by Claudio Ranieri's men last season and, judging by some of the pre-season predictions this summer, we could do so again. It would be a remarkable achievement to finish in the top-four, one which should be beyond them in light of their European commitments, but a steady top-eight finish is entirely possible.
SL: A tricky one this. For all their talent and consistency last season, there's no doubt the Foxes' title-winning campaign was boosted by the inadequacies of the traditionally dominant sides. They won't face the same fortune this time round. Champions League football will be a considerable strain on the team too. Nonetheless, the Foxes will still impress given the quality of their squad. 7th.
Join our new commenting forum
Join thought-provoking conversations, follow other Independent readers and see their replies