Premier League half-term report cards: Chelsea top of the class but Swansea and Hull are getting schooled
Time to assess how each club has performed so far this season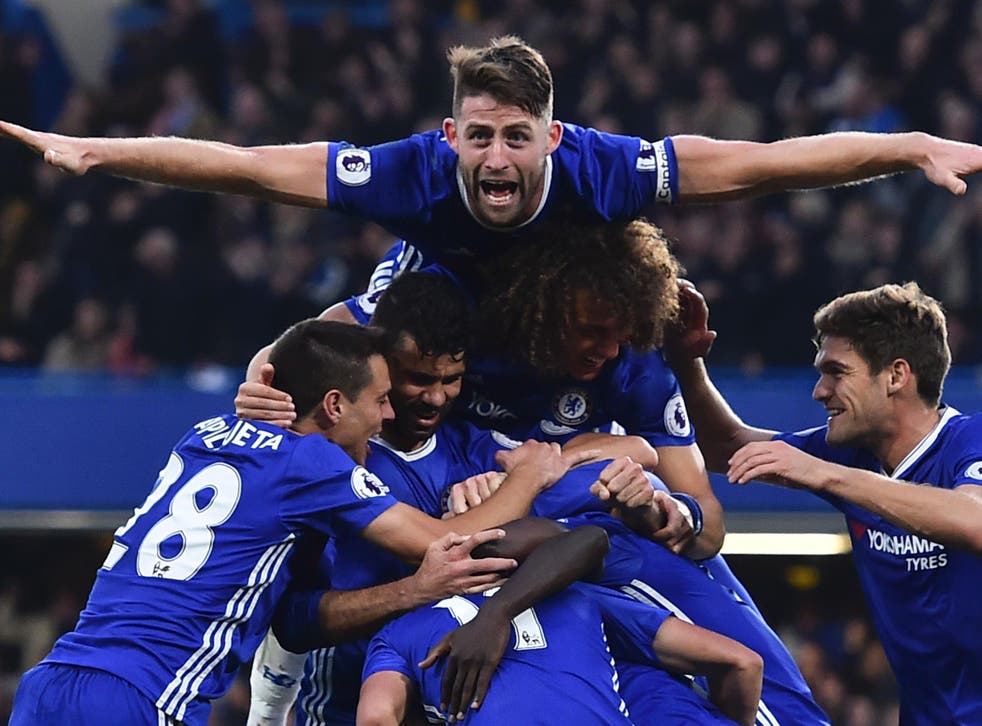 With the half-way point of the Premier League season on the horizon, The Independent have assessed who is heading for prefect and who looks like they may be dropping down a class…
Arsenal
Pre-season expectations put Arsenal second to Manchester City, and given that they have slipped up this season, there's no reason why Arsenal shouldn't be at the top of the Premier League table by the halfway mark. But instead there's an air of familiarity to their campaign, and they head into the New Year fixtures nine points behind Chelsea. The Blues have been impressive, but everyone remembers Arsenal's 3-0 victory over them back in September and they simply haven't built on that result.
Grade: C – Needs to show their will to work to fulfil their potential
Bournemouth
Eddie Howe, one of the class favourites, has his side playing attractive football that has won a lot of fans on the South Coast. The Cherries took centre stage when they beat Liverpool 4-3 at the start of the month, and they are threatening to break into the top 10 with a big enough gap to the relegation zone to feel comfortable. Howe's transfer business remains a concern, but his loyalty to his players cannot be questioned.
Grade: B – Continuing to build on last year and maturing with age
Burnley
Burnley are enjoying the home comforts a bit too much, but it could be for that reason that they stay in the Premier League. The Clarets have the worst record away from home this season, but they've already secured six wins at Turf Moor. Sean Dyche has planned much better to stay in the top flight this time around, and is returning the faith shown in him by the club when they were relegated two years ago.
Grade: B – Prepared well but needs to improve on the road
Chelsea
The chaos under Jose Mourinho last season feels like an eternity ago, as Antonio Conte has brought his own Italian touch to rejuvenate a Premier League-winning side to rise to the top. No European football has helped them, but take nothing away from a side who have set out their stall by shutting out the opposition at the back. The 3-4-3 formation could prove the next big thing in English football, while Diego Costa and Eden Hazard once again look like world beaters. They've finally returned from their year-long summer holiday.
Grade: A+ – Settled down after a difficult year to head the class once again
Crystal Palace
Palace has always looked to be one of the more settled sides in mid-table, but that hasn't been the case this year. They have the worst record across the top four divisions of English football in 2016, and Alan Pardew is no more at Selhurst Park. With Sam Allardyce installed as the new headteacher, Premier League survival should be on the cards, but that's not what the club were aiming for when they brought in record signing Christian Benteke in the summer.
Grade: D – Must do better in 2017 to stay in the class
Everton
After the naïve optimism of the Roberto Martinez era, Everton have taken a dose of pragmatism this year with Ronald Koeman. The football may not be too exciting, not yet at least, but the team have rediscovered some organisation and basic principles again. They started well, with four wins from their first five, before results tanked in the autumn and they were humiliated in a 5-0 defeat at Stamford Bridge.
But when Goodison Park gets behind the team they can still beat anyone, as they showed with a 2-1 second half overwhelming of Arsenal on 13 December. That felt like the old Everton again. Koeman is unlikely to get the team playing brilliant football this season, but a few more games like that and they can aim for a healthy top-half finish. Ademola Lookman should provide an exciting alternative with Yannick Bolasie out with a knee injury.
Grade: B – Solid, if not spectacular
Hull City
Hull started well with two wins, against Leicester City and Swansea City, but it has been all downhill from there. Those wins were enough to confirm Mike Phelan in the job but not enough to clear up the serious issues surrounding the club, its ownership and the chronic lack of investment in the squad. Suddenly Steve Bruce's decision to walk out after taking the team back into the Premier League seems to be far-sighted.
Phelan's side have only won one game since August, and have only managed three draws too. There is, frankly, no reason to believe that they will turn this around. They do not have the skill of Swansea, the firepower of Sunderland, the nous of Crystal Palace, the organisation of Middlesbrough, the unity of Burnley or the speed of Leicester City. Short of a new owner, new manager and new squad in January, they are heading down fast.
Grade D – A lost cause
Leicester City
After defying gravity last season, Leicester are feeling its heavy force this season. They have reverted back to their old bottom-half selves, with the added weight of now being the champions that everyone is desperate to knock off their perch. Throw in the added distraction of Champions League football, which has been going very well, and all the energy has been sapped out of Leicester's league campaign. They have only won four games, against Swansea City, Burnley, Crystal Palace and Manchester City, the last of those because Pep Guardiola had seemingly not noticed the pace in behind that won Leicester the title last season.
Leicester now have the serious task of trying to stay in the Premier League and not be relegated as champions. That sounds absurd but when they are losing games this easily it should not be.
Grade: D – Weighed down under the pressure of success
Liverpool
For the first time since Luis Suarez nearly fired Liverpool to the title single-handedly, it feels as if something special is brewing at Anfield. Jurgen Klopp's team are the most exciting team to watch in the country, the top scorers in the Premier League with 45, six more than Manchester City or Chelsea.
In one third of their league games (six of 18) they have scored four or more goals, perfecting a fluid mobile counter-pressing style which is a joy to watch. It is no longer just about Philippe Coutinho, with Sadio Mane, Roberto Firmino and Adam Lallana setting the tempo in their furious red machine.
The problem, as ever, is at the back. They have only kept five clean sheets, and neither of their goalkeepers is good enough. The 4-3 defeat at Bournemouth was a warning. If anything stops them from winning the league, it will be that.
Grade: A- – Going about their work beautifully
Manchester City
No managerial arrival has been more anticipated in English history than Pep Guardiola, the genius behind Barcelona, showing up at Manchester City this summer. City's season has become an experiment in whether Guardiola's unique methods can work in a league he does not know, with players who do not know him.
It all started so well, with City winning their first 10 games in all competitions, outplaying Manchester United at Old Trafford and looking like certain champions. But in October the wheels came off, as City started dropping points. Two heavy defeats by Chelsea and Leicester City in early December showed a defence and goalkeeper not good enough to cope with the pressure Guardiola's tactics put on it.
City will surely still finish top three, but unlike Liverpool and even Chelsea, they look like a work in progress, dependent on Sergio Aguero and Kevin De Bruyne, while Guardiola gets their team-mates up to speed.
Grade: B – Extra revision of tactics needed
Manchester United
The feel-good factor around Old Trafford failed to last longer than four games as defeat in the Manchester Derby threw United into chaos. Four consecutive home draws dropped them out of any title challenge but a resurgence in recent weeks has seen Jose Mourinho's side keep touch with the top four. Zlatan Ibrahimovic and Paul Pogba are showing their world-class qualities more and more frequently and Michael Carrick has emphasised his importance to the team while anchoring the midfield. The Red Devils have finally starting turning performances into results and are on a run of 11 games unbeaten in all competitions. The defence will be a concern still, with injuries meaning Phil Jones and Marcos Rojo have formed an unlikely, albeit so-far solid, partnership, while the left-back issue needs to be sorted.
Grade: C – Improving, but still below expectations
Middlesbrough
Boro have struggled with form so far this season and have been unable to turn a good victory into anything more. Victor Valdes has impressed in goal and Alvaro Negredo has chipped in with five Premier League goals – although they have only come in three games and Boro will hope for more in the games ahead. Aitor Karanka will be pleased with the how tough his side have made it to beat them this season. Boro have lost eight games, but only Stoke have lost less of the trams in the bottom half of the table. The defeat to Burnley on Boxing Day will hurt but with the side sitting in 15th place, four points above the relegation zone and with plenty of worse teams below them, Boro will be confident they can achieve survival.
Grade: B – On track for achieving their targets
Southampton
Losing Ronald Koeman to Everton was a huge loss considering where he took Saints last season, and it was always going to be a gamble bringing in Premier League rookie Claude Puel. A big win over Everton and impressive draws against Manchester City and Liverpool have seen Southampton mount another European challenge, although Puel will be unimpressed with his side's Europa League showing. Saints exited at the Group Stage in disappointing fashion, but an EFL Cup semi-final in the new year means there is still a chance at silverware this season. Virgil van Dijk and Ryan Bertrand have been two of the stand-out defenders in the league this season while Charlie Austin was in fine goalscoring form prior to his injury at the start of December, which will keep him out for another three months.
Grade: B – Slightly exceeding expectations
Stoke City
Stoke looked like they were still on their holidays in the early stages of the season going – not winning a game until mid-October. Since then they have improved with five wins in seven before the current run of no wins in four. They should be in the top half and, with the money they've spent, be challenging for a European place but consistency is costing them. Stoke sacked Tony Pulis because of the football they were playing, but mainly because they wanted to make the jump from mid-table mediocrity, but so far this season that is all they have been and are therefore underachieving on their own targets. Joe Allen has been particularly impressive for his new club, but Stoke have been on the wrong side of three 4-1 defeats already and that defensive frailty will worry Mark Hughes.
Grade: C- – Must try harder
Sunderland
Eight defeats in their first 10 games left the Black Cats rooted to the bottom of the Premier League table and David Moyes unlikely to see out the season as Sunderland began their annual relegation battle early. However, three wins since then have seen Sunderland rise to the brim of the relegation zone and only two points adrift of fellow strugglers Crystal Palace. Spending next season in the Championship still seems like an inevitability, especially considering they will lose Didier N'Dong to the Africa Cup of Nations but there are signs that Moyes is starting to turn things around at the Stadium of Light. Any injury to Jermain Defoe would likely signal the end of their Premier League life, however and the Black Cats will be relying as much on the poor form of those around them as their own performances if they are to survive.
Grade: D- – Writing on the wall
Swansea
Bob Bradley's recent dismissal says it all: Swansea are in disarray with no real light at the end of the tunnel. The side have managed just three Premier League victories from their opening 18 games and currently sit level on 12 points with Hull at the bottom of the league. Things are looking bleak by all accounts. But the problem ultimately runs deeper than Bradley's mismanagement. The identity and cohesion that once underpinned the Swans has dissipated, with the clubs' new signings struggling to recreate the former togetherness that defined the Welsh outfit. Ashley Williams' departure hit hard leaving the Swans' defence, and general team spirit, precariously unstable while the club's newcomers, including record-signing Borja Baston, have flopped. At this point, relegation looks all-but certain.
Grade: D – Out of sorts and out of hope
Tottenham
Spurs' powerful and domineering performance against Southampton on Tuesday night was a stark reminder of the side's ability. After falling behind to an early Virgil van Dijk goal, the visitors fought back with aplomb and clinically dismantled their opponents to secure all three points. For a side that have struggled mentally at times this season, it was a significant moment for Mauricio Pochettino's players. They proved their mettle and did so in style. Given the excellent recent form of Christian Eriksen, Dele Alli and Danny Rose, there's no reason Spurs cannot go on to cement their place within the league's top four – but consistency and psychological resolve is vital. Their game against Chelsea early in the New Year will undoubtedly confirm whether or not Spurs are now up for the test.
Grade: B – Still up there among the league's elite, despite sporadic set back
Watford
This season's surprise package? Even before the start of the season many critics had the Hornets down for relegation. The decision to sack Quique Sanchez Flores, and replace him with Walter Mazzarri, was met with widespread confusion and branded "crazy" by captain Troy Deeney. But what a revelation Mazzarri has proven to be. Discipline has tightened under the Italian while his old-school approach to the game has helped instil a resilience and grittiness within the Watford team. Their form may have dropped in recent weeks but impressive victories over Everton and Manchester United bears testament to how far the side have come under Mazzarri. As the half-way point approaches, the side sit comfortably in tenth without any concern of relegation.
Grade: B – Proved their critics wrong - but a long way to go still
West Brom
Another club to have thrown up a pleasant Premier League side. The Baggies have developed a reputation as one of the league's toughest teams to beat – and the margins by which they've lost to the big guns certainly testifies to this. The side took league leaders Chelsea to the wire earlier this month, impressing with their defensive set-up as Tony Pulis' tactical nous shone through. The deadlock was eventually broken, with Diego Costa landing the hammer blow, but the Baggies have nevertheless impressed with their spirited and dogged outlook. Such attributes have underpinned the side this season and help to explain why they sit a respectable ninth in the league. Although they too have suffered set-back in recent weeks, West Brom have more than proved their Premier League credentials so far this season.
Grade: B+ – Brought a breath of fresh air to the league
West Ham
It's been one hell of a season so far for West Ham. Relocation, outbreaks of fan violence, even armed robberies. In light of such turbulence it's perhaps understandable that the Hammers struggled for form in the opening months of their campaign. Indeed, heading into December the club had not won in six games and sat rooted to the lower end of the table, just one point above the relegation zone. With talk of Slaven Bilic's dismissal on the cards, fans were in panic mode and close to boiling point. But with three back-to-back victories the ominous clouds hanging over the London Stadium have clear – so much so that manager Slaven Bilic has now set a top-10 finish for his side. Things may be looking up for West Ham but the club still has plenty of obstacles to come. Given the inherent frailties of Bilic's team, the Hammers need to tread steady to avoid slipping back down the league.
Grade: C – By no means out of the woods yet, but certainly on the up
Register for free to continue reading
Registration is a free and easy way to support our truly independent journalism
By registering, you will also enjoy limited access to Premium articles, exclusive newsletters, commenting, and virtual events with our leading journalists
Already have an account? sign in
Register for free to continue reading
Registration is a free and easy way to support our truly independent journalism
By registering, you will also enjoy limited access to Premium articles, exclusive newsletters, commenting, and virtual events with our leading journalists
Already have an account? sign in
Join our new commenting forum
Join thought-provoking conversations, follow other Independent readers and see their replies