When Premier League strikers ruled the world
The early years of the Premier League saw some of the competition's greatest-ever No 9s. Miguel Delaney speaks to some of them to find out why it was such a golden age of goalscoring Comments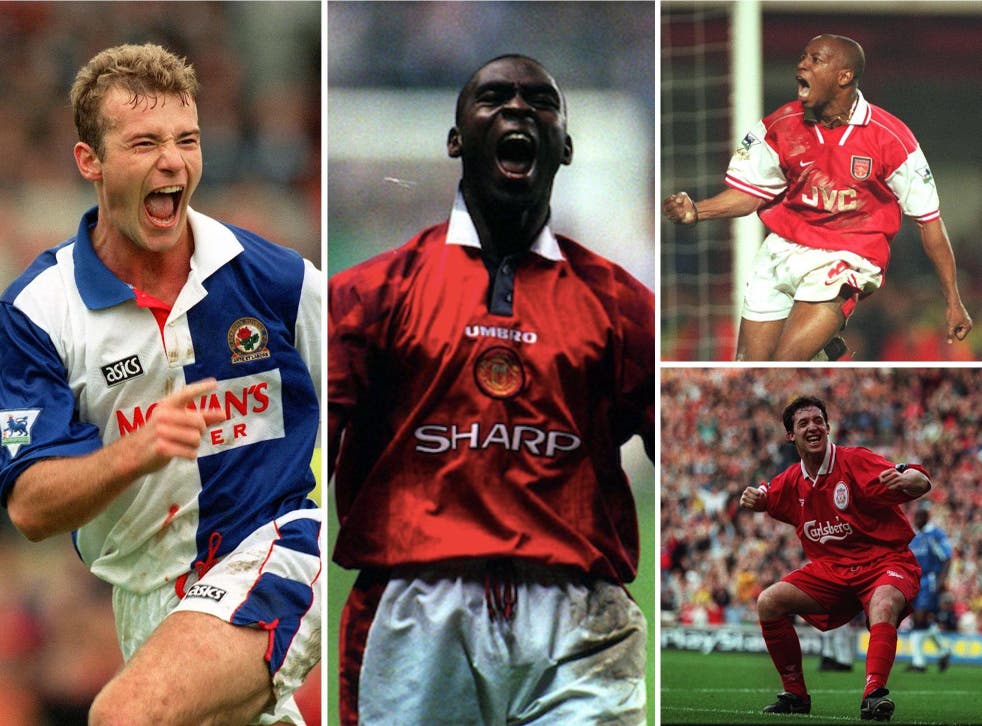 When Ian Wright would come back into the dressing room after a game, there was always one question he'd ask first.
"Who else scored this week, then?"
Les Ferdinand, like pretty much every premium striker of the era, was the exact same. So were the answers. They were almost always the same.
"It was always 'Ian Wright has scored' or 'Alan Shearer has scored' or 'Robbie Fowler has scored," Ferdinand tells The Independent. "You'd have one but Shearer would have two. You would think about it a lot. It was a friendly rivalry, to make sure you stayed among that elite band of centre-forwards."
There has probably never been an elite band of centre-forwards like that of the mid-90s in the Premier League. It was a genuine golden age, that certainly gave Terry Venables a golden generation of strikers to pick from for Euro 96.
Those mere names - to go with Andy Cole, Stan Collymore and Teddy Sheringham - say enough. The numbers say even more. They also go beyond leading the Premier League scoring charts or the "100 club", as well as so many Sporcle quizes. The seasons from 1992 to 1997 saw a core of high-level strikers consistently reach a higher rate of goals-per-game than at any other point in the Premier League. The peak was probably 1995-96, when Shearer hit 0.88, Fowler 0.74 and Ferdinand 0.68.
This speaks to the height of an era, but also how football has evolved.
Nothing, however, says as much as the images of these greats scoring their goals.
Strikers of the 90s

Show all 9
The impressive variety and range only deepens the impression. They weren't just scoring goals every week, but filling highlight reels too.
There was the purity of Shearer's finishing, as he'd smash so many goals into the very top corner. There was the power of Ferdinand, as he'd head in so many David Ginola and Keith Gillespie crosses. There was the live-wire ingenuity of Wright, as he'd clip a chip over a goalkeeper. There was the audacity of Fowler, the poise of Sheringham, the ranging penetration of Collymore and the precision finishes of Cole.
It was all so good to watch, in so many different ways.
"Shearer was a bit of everything," Wright tells the The Independent. "Les was power and pace. I was slighter than those two, so a little bit sharper around the box. I'd like to think I scored different goals to them lot as well."
Those differences all became so gloriously apparent, however, because of one key common strand to the era.
"The centre-forward was the focal point of the team," Ferdinand says. "The whole team worked off him, in a way you just don't get now."
It is why the high quality of that generation were both a consequence of coincidence and also cultural conditioning. That was what the game trained towards, and what the strikers grew up with. The number-nine was one of the number-one traits of English football.
"I played Sunday morning football and stayed up front," Wright explains. "Now, the emphasis is on the defensive midfielder, the number-10 and the wingers cutting in - rather than what it was then. That was defending and then getting the ball to the wings or to the front men, he lays it off, or the other one goes. You were also up front with a partner, so you could do more, and there were a lot more crosses into the box. The forwards were there to score."
All of this is signified by one other single figure beyond just goals. It is the percentage of headed goals.
That peak season for strikers of 1995-96 was also the peak season for that classic number-nine finish. A massive 24.2% of goals from forwards were headers. That is the highest in Premier League history, but naturally close to the norm for the period, of just over 20%.
"Even Robbie Fowler," Ferdinand says. "If you go back and look at the headed goals he scored, they're plentiful."
The image is immediately conjured of Fowler's diving header against Aston Villa.
Such goals are no longer plentiful.
The figure for the 2019-20 season and last season is 13.9%, a significant drop that comes from a long decline.
That reflects an evolution in the game over the same time, that points to why that mid-90s period was a peak for a strikers, that doesn't look likely to be replicated.
It was really a much more basic game, much less sophisticated. You only have to look at a classic matches of the era like Liverpool 3-4 Newcastle United, where Fowler and Ferdinand exchanged classic strikers' finishes. There were so many more speculative punts, so many more crosses.
That looser structure gave forwards more freedom, but also meant there was more pressure on them to come up with the goods - or come up with something different.
"My first instinct when the ball came to me was 'how can I beat the guy, how can I turn to go at him?'" Wright says. "That's what it felt like to me. Whereas now, it seems a massive chess game. If you listen to people like Pep Guardiola, talking about 'you do this in this quadrant of the field', I don't know how I'd get on with that.
"We were often saving our energy for when we got the ball."
That freedom of movement for forwards also created a lot of movement in another way: transfers. This generation were inevitably on something of a carousel. It was naturally set off by the dominant team of the era, Manchester United. Sir Alex Ferguson at different points wanted all of these players, bar Fowler, and that was just because he was at Liverpool.
The United manager's thinking also pointed to the beginning of a shift. As his side became increasingly dominant, Ferguson realised opposition teams were defending differently against them, and much deeper. He felt he needed a more mobile striker with quicker feet than the ageing Mark Hughes, which is why he was for a long stretch deliberating over Wright, Ferdinand, Shearer and then - for a variety of reasons - a straight choice between Cole and Collymore.
Ferguson famously went for Cole in January 1995, in a move was genuinely sensational at the time, and caused some seismic shocks. It meant Newcastle signed Ferdinand from QPR that summer, while Collymore instead went from Nottingham Forest to Liverpool.
All were of course record-breaking British fees or among the highest in the game. That was the value of the role, and the premium on the fee. Glenn Hoddle was willing to pay a similar price to bring Wright to Chelsea, when the Arsenal striker was disgruntled with Bruce Rioch's abrasive management.
Arsene Wenger arrived and changed that, amid wider changes in the game, that would eventually change the role.
The peak of that transfer pursuit also came at the end of 1995-96, as Manchester United and Newcastle United went for Shearer.
"I can't imagine what he would have done with that Man United side," Wright says. "As a striker, they were the team you would have loved to play with, the amount of chances they created. He was phenomenal, a hunger for scoring like I've never seen."
He was never seen in a Man United jersey. Shearer instead went from Blackburn Rovers to Newcastle, in a move that curiously put two of the great strikers of the era together. Ferdinand had to give up his number-nine shirt, although not without some persuading.
It was typical Kevin Keegan to have two of them, although still untypical for the time.
The ultimate move of this era of strikers also proved one of the last moves of the era, and this doesn't feel a coincidence. The end of that 1996-97 season saw a truly distinctive forward like Michael Owen arrive, and also start to alter the role.
"It was felt me and Al couldn't function together, but we proved people wrong," Ferdinand says. "Unfortunately we weren't allowed ply our trade together for longer.
"It's funny, because that was when the role changed. The emergence of Leo Messi and Cristiano Ronaldo obviously accelerated this much later, but you could already see less of that out-and-out centre-forward.
"They were no longer focal points that played through the middle. They'd play left, right and through the centre. You've still got Harry Kane, and Tammy Abraham, who do it all, but you don't see many. Even Thierry Henry, a great forward, but one who rarely headed the ball."
The trend has almost gone full circle - literally, in terms of the ball coming back out of the box. The majority of top scorers are now forwards who arrive in the area to finish, rather than those who stay up there. More are representative of the Mo Salah style than the Kane style.
"This is why Salah and Mane score so much, when they don't really qualify as strikers," Wright says. "They arrive in the box or come from the wing. You're getting more players from different areas of the pitch.
"Look at Henry, his favourite position was coming from the left. They've gradually changed the structure of teams, and the role of strikers.
"Sometimes I'm doing Match of the Day and there's no one in the box. Because - remember - the centre-forward is sometimes coming back to link. If the midfielder doesn't go by him, then there's no one going past him, so if the ball does go wide, it's back into midfield. There's no one up there."
The strikers of that era were regularly up there, and up at the top of the Premier League's scoring ranks.
They were scoring every week, in a way we might never quite see again.
Register for free to continue reading
Registration is a free and easy way to support our truly independent journalism
By registering, you will also enjoy limited access to Premium articles, exclusive newsletters, commenting, and virtual events with our leading journalists
Already have an account? sign in
Join our new commenting forum
Join thought-provoking conversations, follow other Independent readers and see their replies