QPR relegated: Chris Ramsey admits 'bad eggs' took the team down
Coach alludes to dressing-room issues as Rangers are relegated after 6-0 thrashing by City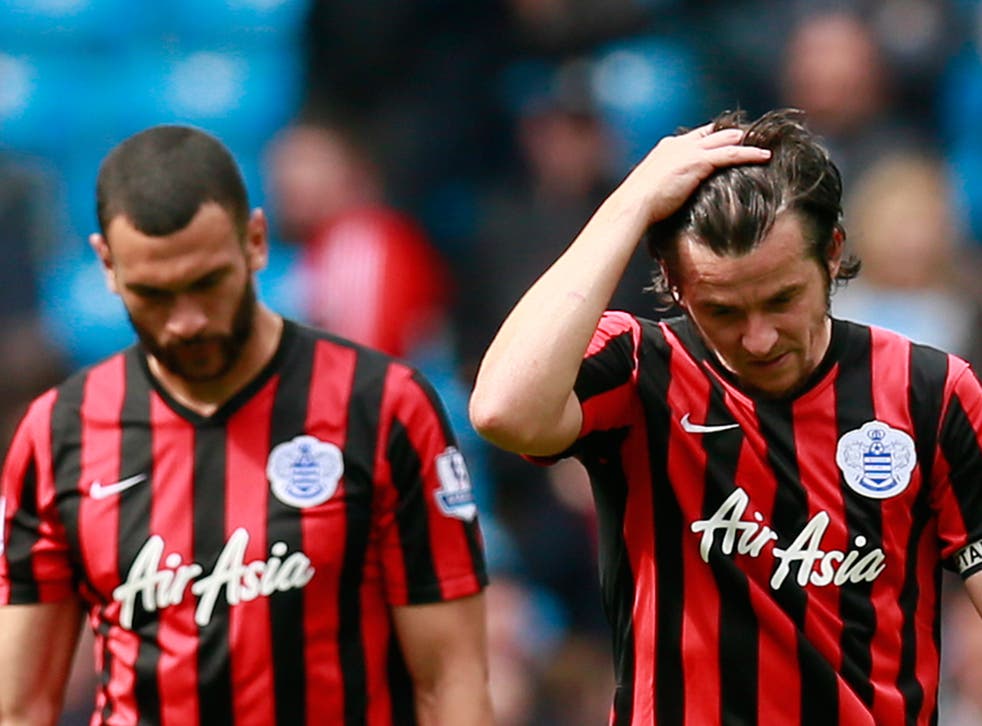 Queen's Park Rangers head coach Chris Ramsey has admitted there were "bad eggs" in his squad after his side were relegated in desperately feckless fashion, by losing 6-0 at Manchester City.
Rangers midfielder Joey Barton said before the game that "one or two bad eggs have spoiled it" this season and "if it had been done my way, they would have been out of the building straight away".
Ramsey did not deny this after his side's pitiful afternoon, on which Sergio Aguero scored a hat-trick. "I think every club will have bad eggs and there will be people that are bad eggs," he said. "What Joey alluded to, there were people that could have helped us who haven't helped us. I don't want to expand on that."
Barton apologised for what he said had been an "embarrassing" performance and admitted that the club, two points adrift at the bottom, had not deserved to stay up. "Sorry to all the fans who have spent their hard-earned money supporting us up and down the country all season," he wrote on Twitter.
Manchester City 6 QPR 0 player ratings

Show all 22
Ramsey, who insisted he did not want "to put any bombs in place at this stage," said that the mess he had inherited – including a possible £60m Football League fine – did not "scare me off" and that he wanted to be retained as manager for next season. Though a fine for breaking financial fair play rules could send the club into freefall, Ramsey expressed faith in owner Tony Fernandes.
"I think the owners will save us from going over the edge," he said. "It is well documented about our wage bill. From a financial point of view, the club is in a position to readjust its finances. And have a more realistic wage bill for where we will be – which is the Championship."
Join our new commenting forum
Join thought-provoking conversations, follow other Independent readers and see their replies