Rafael Benitez appointed Newcastle United manager: 'I know it's a risk but I'm not scared'
Magpie's latest manager, who has 10 games to prove himself the saviour of St James' Park, says the struggling club knew they had to do something different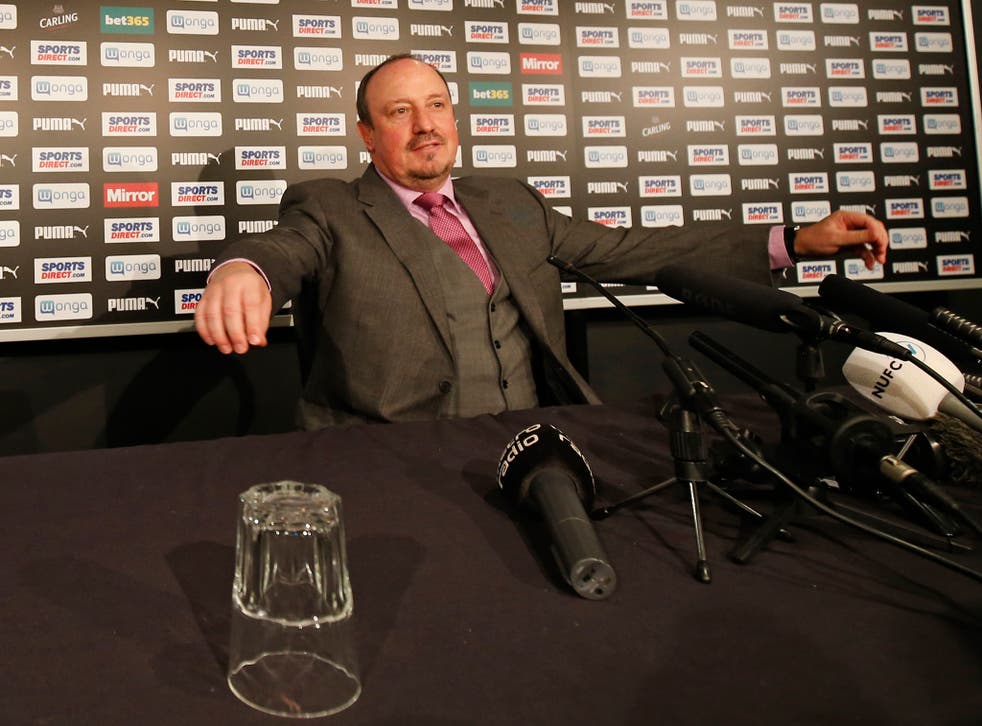 A few yards from two hastily erected "Welcome, Rafa!" posters beside the club shop, Rafael Benitez was formally unveiled on Saturday afternoon as Newcastle United's 13th manager of the 21st century. A few dozen fans gathered outside the Milburn Reception at St James' Park, while inside Benitez smiled, shook hands and answered convincingly.
Watching on was Bob Moncur, the last Newcastle captain to lift a significant trophy – in 1969. Nine weeks ago Benitez was manager of Real Madrid.
It would be wrong to speak of euphoria, but the switch to sunshine from the gloom of the previous Saturday afternoon, when Steve McClaren watched his disappearing players lose 3-1 against Bournemouth, was clear. Benitez, 55, may have confirmed the break clause in the three-year contract he signed on Friday but he gave the confident impression that the clause will be an irrelevance because Newcastle will avoid relegation.
No one mentioned the term "interim", which so irritated Benitez at Chelsea. That was a very different sort of challenge to this one, but there was a determination to be positive: "You can smell football in Liverpool," Benitez said, "and it is the same here."
His task at Liverpool, though, was to win the League and cups, whereas at Newcastle it's about avoiding relegation. "Scared is not the word," Benitez said. "I know that it is a difficult situation but believe me, I've done the maths. It is positive."
As he spoke, however, Norwich City were gaining a vital point against Manchester City. Realistically, Benitez has 10 games to finish above Norwich and Sunderland.
Benitez also revealed that he will be joining the club's football board alongside the managing director, Lee Charnley, chief scout Graham Carr and Moncur, but he was keen not to get hung up on structure. He repeatedly stressed "the next 10 games", beginning at League leaders Leicester on Monday night. The summer would be the time to address "control" of transfers and managerial authority, issues which derailed McClaren.
It is obvious though, that while Benitez said he has not yet spoken to owner Mike Ashley, he thinks he will have the mandate to shape the club in a way that McClaren and his predecessors, Alan Pardew and Chris Hughton, could not.
"If I am here, it is because they trust me and want to listen to me," Benitez said, "I don't see a big issue. Lee Charnley knows from experience that something has to be a little different; I am not someone who wants to control everything."
For Benitez, a European Cup winner with Liverpool, a Premier League relegation scrap is a novelty. And, as he said, "a risk". But having spoken to the likes of Alan Shearer, Peter Beardsley and Kenny Dalglish, Benitez has been told he can be "a hero" if he proves to be the manager who secures silverware at St James' again.
Sports Quotes of the Year 2015

Show all 27
"I am taking a risk in terms of this year, but I feel the potential of the club is so massive that if it goes as I expect, we will have a very good team next season," he said. Other men have sat on the same podium and made similar claims.
There are some encouraging signs. Previously "injured" Newcastle players have apparently declared themselves fit enough to train again – when they might not have done had McClaren remained in charge – and there is a shift in mood around the club.
But football will always return to the reality of the pitch. Newcastle have lost 16 of their 28 Premier League matches this season, and in some recent defeats the application has been dubious. There was a real sense that certain players had stopped listening to McClaren, and it was telling that Benitez stressed: "They have to believe in what you say and, after, they have to follow you."
Benitez must also know, or have been told, that he is entering a club where the atmosphere has for some time been far from clubbable. Scan supporter opinion and it is seething with frustration at what they feel is underdeveloped potential.
"Joyless" is a common description. The former Newcastle player and captain Brian Kilcline was at St James' on Wednesday and said: "It's not a happy club at the minute. They need something from somewhere." One local paper described the squad as "not fit for purpose in the Premier League", and twice in the past six months BBC Newcastle have called Newcastle United "rotten from top to bottom".
Had he been at St James' on Friday night, Benitez would have witnessed the latest home defeat, the U-21s losing 4-1 to West Ham. Across the first team, U-21s and U-18s, Newcastle have played 78 games this season, won 18 and lost 46. A fortnight ago the U-21 manager, Beardsley, had to deny there is a "losing culture". There seemed to be grumbling everywhere. As things soured, one defender went down the Goodison Park tunnel after a 3-0 defeat shouting: "No one gives a fuck."
McClaren tried to pull things around but he was hamstrung by the recruitment policy and by a culture that saw him and his assistant, Paul Simpson, receive a fierce rebuke in November after Simpson gave an interview to local radio. While some said McClaren's press conferences were scripted, they were in fact restricted.
The outgoing manager will have noted the incoming manager's words.
Welcome, Rafa!
Join our new commenting forum
Join thought-provoking conversations, follow other Independent readers and see their replies