Reading's Adam Le Fondre puts Manchester United loyalties aside
United travel to Reading this weekend
Ben Rumsby
Friday 30 November 2012 14:28 Comments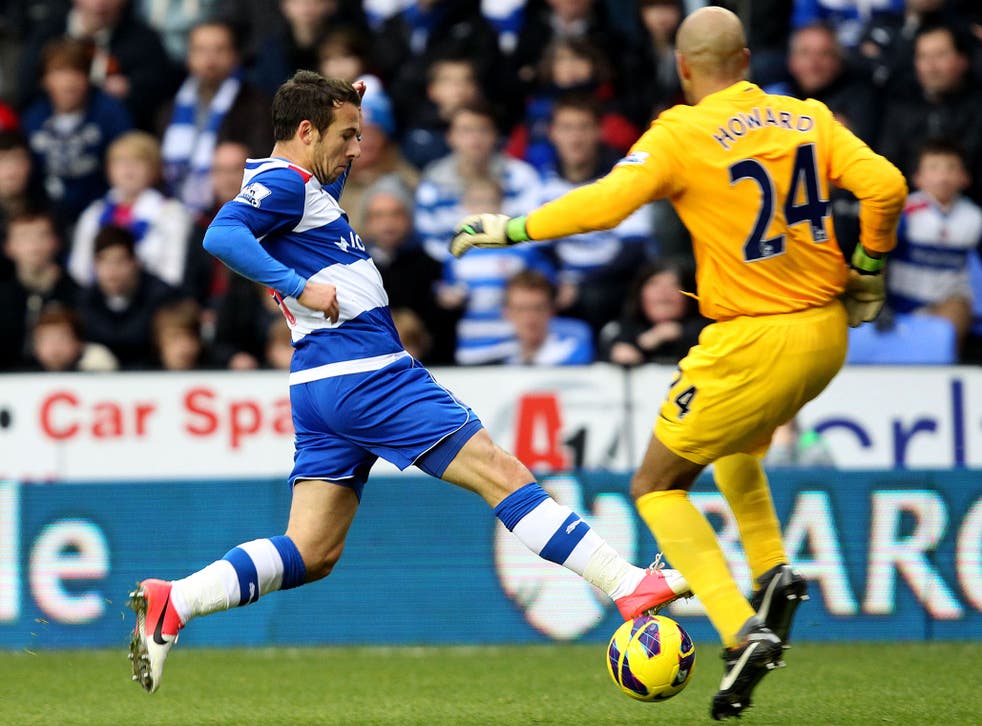 Adam Le Fondre is ready to risk a family feud by helping Reading beat the club he grew up idolising.
Lifelong Manchester United fan Le Fondre admitted taking on the team he still supports was "fairytale" stuff for a player who was plying his trade in npower League Two as recently as last year.
But the former Stockport, Rochdale and Rotherham striker insisted he would have no qualms scoring the goal that denied United top spot in the Barclays Premier League tomorrow if it helped Reading in their bid to beat the drop.
Le Fondre was raised as a United fan and, asked about the prospect of scoring, said: "I don't think my dad will be pleased."
The same could not be said for his dad's brother, whose family all follow champions Manchester City, the team which stands to profit from any Reading victory this weekend.
"It's going to be a great occasion for me personally and, obviously, for my family as well," Le Fondre added.
"My dad loves United. He used to go to all the games.
"He used to travel away from home. I think he even went to a few of the European games."
Le Fondre's father passed on the United bug to his children, who grew up idolising the side who went on to dominate English football for the next two decades.
Players like Brian McClair and Eric Cantona were Le Fondre's early heroes and tomorrow's game at the Madejski Stadium gives him the chance to take on their modern counterparts Wayne Rooney, Robin van Persie and Javier Hernandez.
"You look at Rooney and Van Persie, they're two at the top of their game - world-class strikers," said Le Fondre, who admitted he would not be able to resist souvenir-hunting tomorrow.
"But I'm not here to swap shirts," he added.
"I'm here to win the three points and that's the main thing."
Reading have struggled to do that since winning the npower Championship last season, with just one Premier League victory to their name.
But the man whose goals secured that solitary win against Everton insisted he had taken the step up in his stride.
Le Fondre, who has struck three times this season, said: "Personally, I've found it a little bit easier in the Premier League.
"I've probably had more chances in the Premier League than I did in the Championship when I first went and made the step up."
That step up came at the beginning of last season, when Reading boss Brian McDermott took a chance on a lower-league striker.
"To come from where I've come from and achieve what I've achieved in a short space of time, it seems strange for me and almost like fairytale stuff," Le Fondre said.
Reading have not beaten the visitors for almost 86 years but Le Fondre was confident history could be made against a side who have looked vulnerable this season, despite leading the table.
"If we play to our full potential and implement our game plan on United, I think they'll struggle against us," the 25-year-old said.
"If we get right in their faces and stop them playing, like we did to Everton in the second half, I think they'll have a real problem."
Would his father really be that upset if that happened?
"He's just buzzing that I'm in the Premier League," Le Fondre said of the man who gave up watching United regularly to coach his young sons' teams.
"He's just so proud of me and I'm obviously proud for my dad as well because he's helped me become the player that I am today.
"Without him, I wouldn't have got here."
PA
Register for free to continue reading
Registration is a free and easy way to support our truly independent journalism
By registering, you will also enjoy limited access to Premium articles, exclusive newsletters, commenting, and virtual events with our leading journalists
Already have an account? sign in
Join our new commenting forum
Join thought-provoking conversations, follow other Independent readers and see their replies