Roberto Martinez is like a younger me – I hope Wigan stay up, says Arsenal manager Arsene Wenger
Arsenal manager admits he would be 'sad' if Wigan go down but knows his side must win tonight
Jack Pitt-Brooke
Tuesday 14 May 2013 11:45 Comments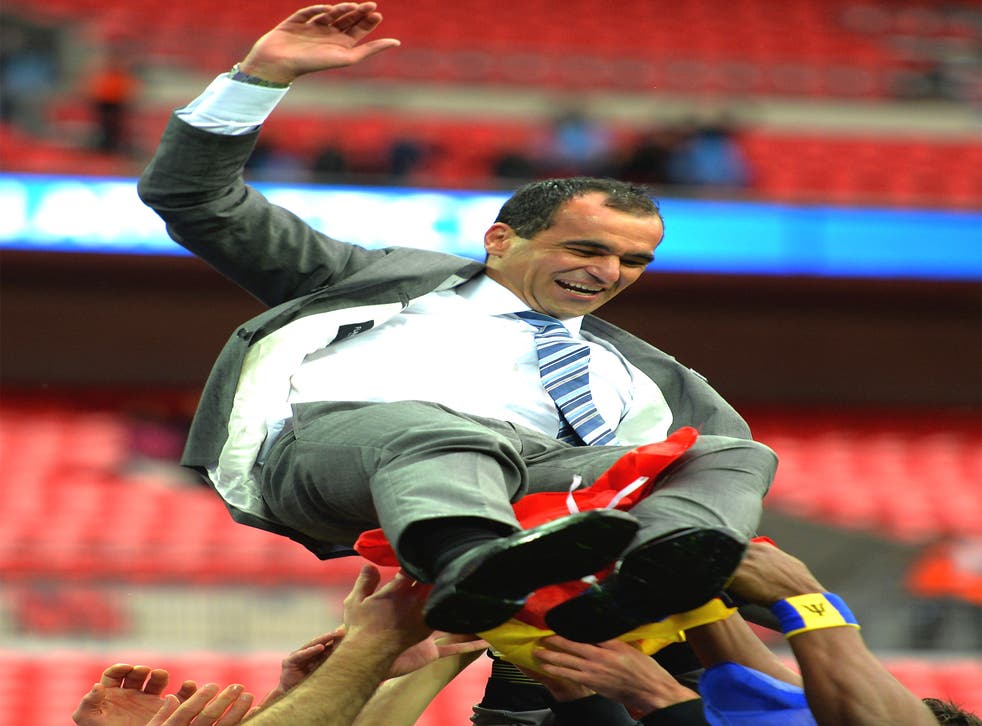 Arsène Wenger sees something of his younger self in Roberto Martinez and said it would be "sad" if Wigan Athletic are relegated, as they surely will be if they do not beat Arsenal on Tuesday night.
Arsenal and Wigan are both desperate for victory at the Emirates tonight for very different reasons. A draw would give Tottenham Hotspur the advantage over the Gunners in the race for fourth while also leaving Wigan needing a goal-difference miracle to stay up.
But having kept lowly Wigan in the Premier League for so long, and having won the FA Cup on Saturday, the 39-year-old Martinez has earned the admiration of the Arsenal manger. When asked whether he saw similarities with a young Wenger, the Frenchman agreed. "I don't remember – it is a long time ago – but the dedication, certainly yes."
Like Wenger, Martinez has based his approach around a commitment to attractive football and imaginative scouting. "Martinez has a positive philosophy. Above all, what you want is that he tries to play good football," added Wenger, who predicted he could go much further in the game. "That for me, is a good basis to go forward and move higher up. He looks to master the situations well."
While Wigan's game is no longer unique to them, Wenger praised their recruitment too. "More and more teams play that kind of football now. Swansea has joined in as well so all the teams play good football, Norwich plays good football," he said.
"That in the Premier League is now common but Wigan, what they have done as well is always discover players. You have to give them credit for that. With a small budget they find very good players and that's sad of course if they go."
After outplaying Manchester City to win the FA Cup final through Ben Watson's late goal on Saturday, Wigan will give Arsenal a real test tonight. Wenger said: "The level of energy they have shown on Saturday is absolutely huge, the transitional play they have done is absolutely fantastic, the speed from defence they've shown on Saturday was fantastic.
"It is a surprise that they are in the position that they are in because they have produced a remarkable game on Saturday and they played absolutely remarkably well on both flanks.
"They defended very well and they kept Man City very quiet for a big part of the game." Wenger acknowledged that Wigan's unpredictability could make for a difficult evening for his side. "You could see on Saturday they have quality and they played a remarkable game," he said. "We want to be at our best in a game of that importance." Arsenal come into this game in good form, having won nine of their last 12 Premier League games. "We are on a great run, a remarkable run," Wenger said. "We have a good spirit, a good understanding within the squad, so let's just continue to play."
Presuming that Tottenham beat Sunderland on Sunday, Arsenal need maximum points from their last two games to come fourth.
"They are important games but that is what you want to play for," Wenger said. "Two months ago we had no chance to be where we are today so we can only be happy with what we have done. Two months ago our destiny was not in our hands. Today it is, so we have done very well, so now let's finish the job and continue to play like we have been doing and take the points."
Points of order: what the teams need
An Arsenal win would mean Spurs would have to better Arsenal's result on Sunday. A draw would require Arsenal to win at Newcastle and Spurs only draw against Sunderland. A loss means Arsenal must win and hope Spurs lose. Wigan need a win to give them a chance of survival. A draw would require an 11-goal swing on Sunderland on the final day.
Register for free to continue reading
Registration is a free and easy way to support our truly independent journalism
By registering, you will also enjoy limited access to Premium articles, exclusive newsletters, commenting, and virtual events with our leading journalists
Already have an account? sign in
Register for free to continue reading
Registration is a free and easy way to support our truly independent journalism
By registering, you will also enjoy limited access to Premium articles, exclusive newsletters, commenting, and virtual events with our leading journalists
Already have an account? sign in
Join our new commenting forum
Join thought-provoking conversations, follow other Independent readers and see their replies