Should Liverpool have had Luis Suarez sent off as well as Jordan Henderson in win over Manchester City?
Referee Mark Clattenburg penalised Suarez for a clear dive when he clashed with Martin Demichelis but chose not to show him a match-ending second yellow card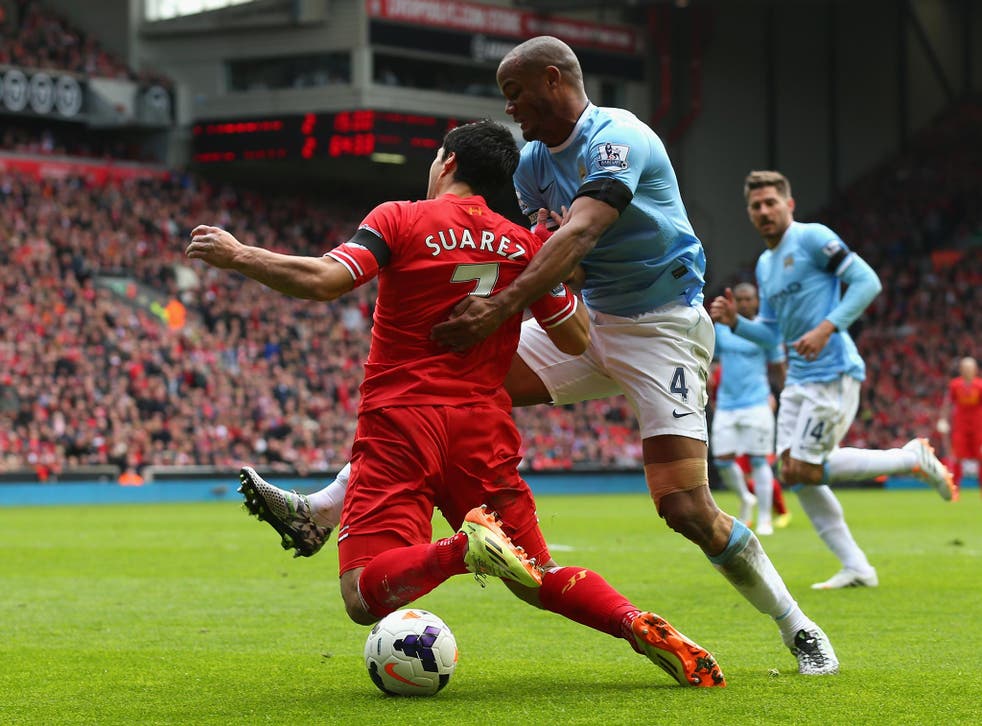 Were Liverpool lucky to finish with 10 men? Jordan Henderson was shown a straight red card for lunging in on Samir Nasri after he lost control of the ball, and the studs-up tackle probably warranted the punishment given by Mark Clattenburg.
But there is an argument that Henderson's dismissal should've reduced the Reds to nine men after Clattenburg refused to book striker Luis Suarez for what appeared to be a clear dive in the second half. Suarez had already been shown a yellow before the break for a late and dangerous tackle on Martin Demichelis, and when the two clashed again shortly after, the Uruguayan threw himself to the floor in a theatrical fashion.
Demichelis was having none of it, and much to his relief neither was Clattenburg, prompting a fierce argument between the two players and the referee. When Demichelis argued that Suarez should be shown a second yellow and consequentially sent off for a dive, Clattenburg warned the defender that he would be shown a yellow card himself if he continued to protest the decision, with Suarez receiving the same response when he appealed for a free-kick just outside the area.
The incident is of course not the first time that Suarez has been the centre of a diving row, having had previous incidents as recent as last month when he won a penalty after colliding with Aston Villa goalkeeper Brad Guzan – although that decision was far more open to debate than Sunday's one.
Liverpool: The latest match pictures

Show all 50
Suarez did not help matters further when he tangled with Vincent Kompany in the area shortly after the Demichelis incident, and once again theatrically threw himself to the ground when Clattenburg might have considered to award a spot-kick to the home side.
Having been in scintillating form throughout this season – Suarez leads the Premier League goalscoring charts with 29 goals this term – the Uruguayan was back to his controversial worse as he could have easily picked up three of four yellow cards on the day.
The match was a tough one for Clattenburg, who could have awarded Liverpool a penalty for Pablo Zabaleta's recovering tackle on Daniel Sturridge, where the right-back took out the England international with his follow-through after knocking the ball out for a corner.
City could've had a penalty of their own when Mamadou Sakho launched a clumsy challenge in the area on striker Edin Dzeko after half an hour, tripping up the Bosnian forward as he tried to get on to the end of a long ball into the box. Dzeko tried to stay on his feet before choosing to go down, and like Suarez his theatrical dramatics probably swayed Clattenburg's decision not to award a penalty to the visitors.
Luckily for Suarez and Liverpool's title charge, he avoided a red card and any retrospective action that could've ruled him out for the season run-in, where the Reds will be looking to convert their two-point lead at the top into a first top-flight success in 24 years.
Register for free to continue reading
Registration is a free and easy way to support our truly independent journalism
By registering, you will also enjoy limited access to Premium articles, exclusive newsletters, commenting, and virtual events with our leading journalists
Already have an account? sign in
Register for free to continue reading
Registration is a free and easy way to support our truly independent journalism
By registering, you will also enjoy limited access to Premium articles, exclusive newsletters, commenting, and virtual events with our leading journalists
Already have an account? sign in
Join our new commenting forum
Join thought-provoking conversations, follow other Independent readers and see their replies