Southampton vs Everton: Ronald Koeman unconcerned by prospect of St Mary's boo boys
Koeman left the Saints in the summer for Goodison Park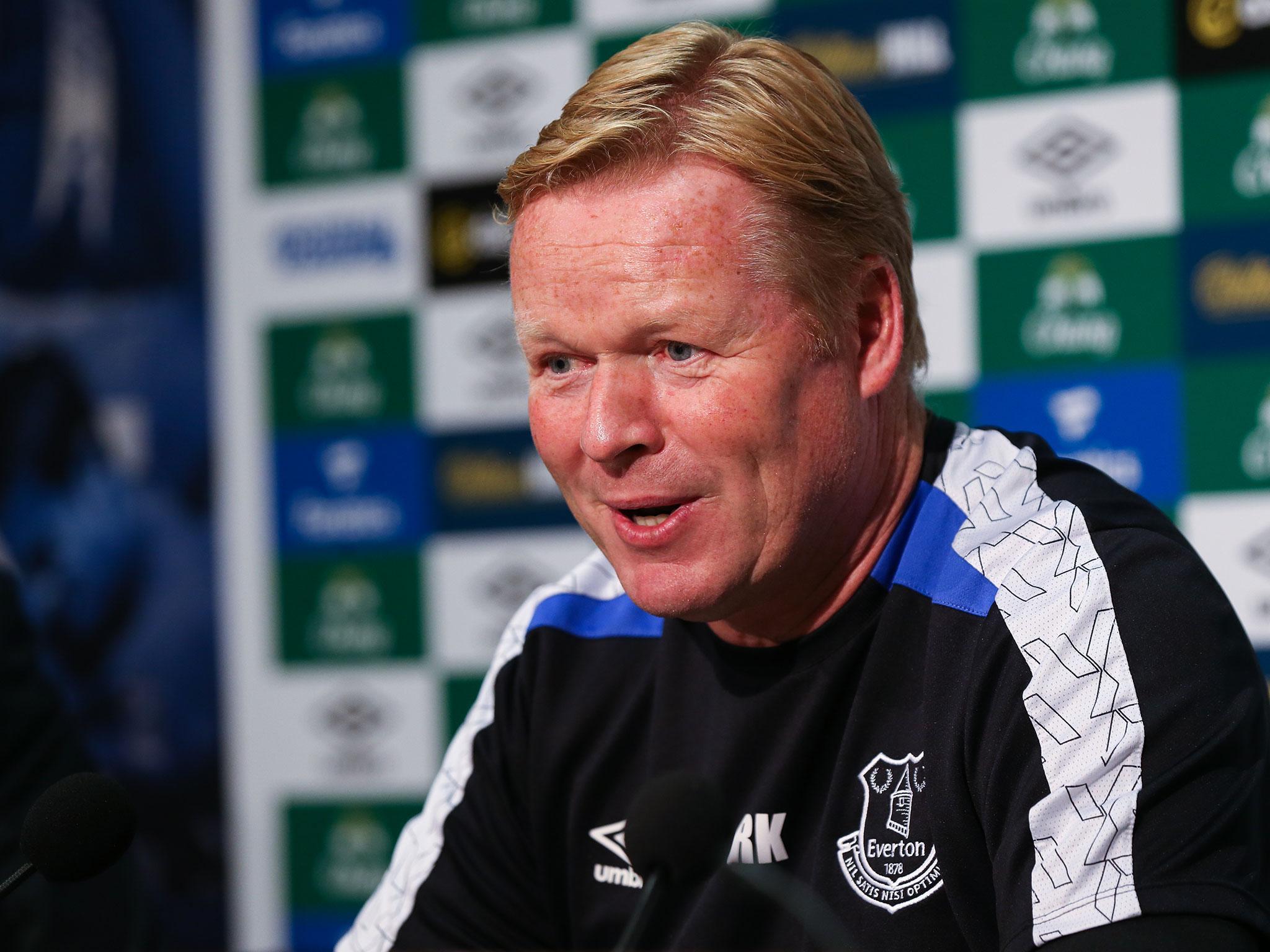 "Why should I lose sleep over what will happen on Sunday? No, I am concentrated on my job. If they whistle, they whistle and I can't change that."
It was no surprise to hear Ronald Koeman unruffled by the prospect of a few boos on his return to Southampton on Sunday afternoon. For a man acquainted with football's biggest atmospheres – a European champion with the Netherlands, Barcelona and PSV Eindhoven – a hostile reception from the St Mary's faithful will be water off a duck's back.
Yet on his return to his home of the last two seasons, a more pertinent question might concern the mood of the Everton supporters five months into his Goodison Park tenure. Everton were booed off at half-time last weekend, when only an 89th-minute Seamus Coleman equaliser spared them from a home defeat against Swansea City.
After a bright opening month, they head to the south coast on a run of one win in eight matches and it seems fair to say that some Evertonians are still struggling to warm to the highest-paid manager in their club's history. After Roberto Martinez's ceaseless sugar-coating, their club has a new figurehead who is quite the opposite. Koeman's detached, cool demeanour led one seasoned Goodison observer this week to recall the dichotomy between Bill Shankly and Harry Catterick – the frosty figure who built two title-winning Everton sides in the 60s – as he compared the Dutchman with Jürgen Klopp across the park at Liverpool.
Where David Moyes won fans with his "People's club" comment in his first press conference, Koeman's best-remembered quote so far was his line that Romelu Lukaku's career will be unfulfilled if he spent it entirely at Everton. The black-and-white headlines that followed did not make for good PR, though Koeman sought to elaborate on the layers of meaning behind that statement on Friday when he said: "What we need to show to the players is even now is there is a big future in Everton to stay [for], and to get European football is the next step to make the club interesting. Everybody knows we'll try [that], and to win important titles. We know it is a project but the project starts and everybody will see what will happen in two years."
For the "project", read the refreshed ambition brought by Farhad Moshiri's arrival as Everton's major shareholder, with the promise of a new stadium and a financial muscle not seen at Goodison in decades. This is what brought him to Merseyside after steering Southampton into Europe. "I was always part of high expectations in my own career as a player and also a manager," he said. "Of course Southampton was different. They understand if you sell players, it is difficult to get good players in. You need time. You see the difference between Everton and Southampton. That is the reason why I finally made my decision to go to Everton."
"It is also about the history, the expectations," he added. "They saw a lot of success at Everton and you can't compare that with a club like Southampton."
It is not an easy job facing Koeman. Right now seventh-placed Everton are the fourth-best team in the northwest, never mind the country, but Neville Southall, goalkeeper in the club's last title-winning team 30 seasons ago, is impressed by the Dutchman's attempts to effect change. "They haven't got a winning mentality still but Koeman is trying to instil a high tempo and also a work ethic that wasn't there with Roberto," he said.
"Because he doesn't shout and scream and seems a bit more detached, people think he's a little bit colder but he makes changes in games, he is quite a positive fellow. I think he's looked at the attitude and the attitude at times is weak. Ross Barkley, for example, is a great player 85 per cent of the time but he wants him to be a great player 100 per cent of the time. He is fighting the old regime and they were quite set in their ways under Roberto, which was quite relaxed."
Koeman hinted at this himself when expressing his frustration at the dismal first-half display against Swansea – evidence that his efforts to instil a pressing game have yielded mixed results so far. "I can't argue about the level of training or the level of intensity they put into the training," he said. "But when the referee blows his whistle we need to show what we want."
Another thing Koeman wants is fewer mistakes from his captain, Phil Jagielka, who pulled back Gylfi Sigurdsson to concede Swansea's penalty last weekend. "He was involved in three penalties, two against [Manchester] City and then one last weekend," said Koeman, that candour coming through once more. "He's a national team player and he needs to improve and he needs to be an important player with Ashley [Williams] as the two centre-backs at the moment. We have competition but he needs to give his standard, his level of performance like everybody in the team."
Koeman is never afraid to make his point off the pitch. On it, three of them at St Mary's would be very welcome for a team with home games looming against Manchester United, Arsenal and Liverpool between now and Christmas.
Join our commenting forum
Join thought-provoking conversations, follow other Independent readers and see their replies