Steve Gerrard: Everton are like Stoke, all they do is play the ball long
We were only team in derby trying to play, says Liverpool captain, but stats suggest otherwise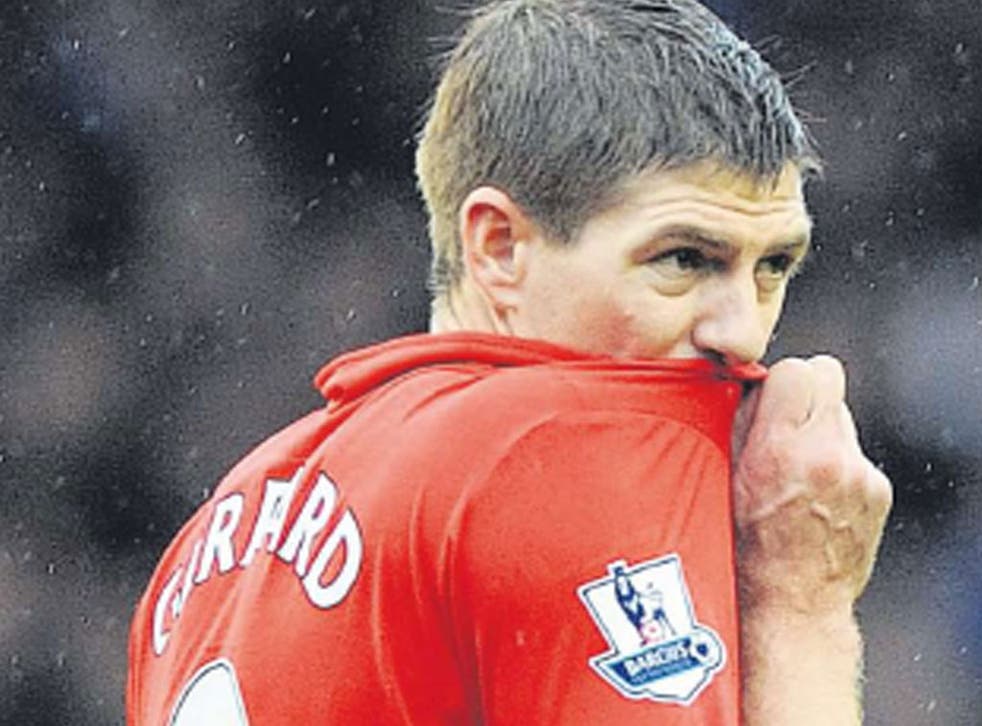 Hanging from the away section in Sunday's Merseyside derby was a banner bearing the message "Solidarity has no colours", recalling Everton's recent tribute to the Hillsborough families' fight for justice.
Any sense of fellowship stopped there, however, and another controversy-tinged match concluded with the Liverpool captain, Steven Gerrard, not just bemoaning the refereeing decision that cost Luis Suarez an injury-time winning goal but also accusing Everton of playing like Stoke City.
Suarez may have usurped Gerrard as public enemy No 1 among the blue half of Merseyside, but Liverpool's captain did his bit to reclaim his old status after Sunday's 2-2 draw when he said: "There was only one team who came into the derby trying to play football. Everton are effective because they have some big physical lads in the team and are very direct. They are effective. But the only team who tried to play football was us.
"I thought we stood up to a team that are very similar to Stoke. Every single time they get the ball at the goalkeeper it comes in long."
Liverpool manager Brendan Rodgers suggested something similar when explaining how Everton's "long, direct pressure" had prompted his decision to send on a third centre-back, the 6ft 5in Sebastian Coates, at half-time. Yet that does not tell the whole story.
Any team with Leighton Baines' set-piece delivery and Marouane Fellaini's height will carry an aerial threat and will also concede a fair few free-kicks – Everton have committed more fouls than any team in this season's Premier League – but on Sunday the home side's best player was actually the diminutive Leon Osman. Moreover, their biggest attacking threat came down the left side through Kevin Mirallas – at least until Suarez stamped on his foot and he had to withdraw injured.
Indeed, a statistical breakdown of the match shows that Everton managed 359 accurate passes to Liverpool's 257 and produced twice as many crosses (34 to 17), most of them low, driven balls from the left by Mirallas or Baines. They also had more possession, more chances and committed fewer fouls.
Gerrard was on more solid ground when praising Liverpool's Raheem Sterling, who shone in his first derby match at 17. Even in the final minute, he was jinking through the Everton defence and setting up a last-gasp chance for Suarez. Had he shown more composure earlier in the match he would have capped his performance with a goal when clean through, and Gerrard said: "I thought Sterling was fantastic. He has been a revelation for us. To be 17 years of age away in a derby in a cauldron in an atmosphere like this against a big, physical long-ball team, I thought he was outstanding."
Gerrard also had a dig at Phil Neville for the slow-motion first-half dive that earned him a booking. "If David Moyes is a real man and a real manager, which I think he is, then he will be speaking to Phil Neville about it," he said. As it turns out, both Neville and Moyes had already expressed regret – something yet to be heard from Liverpool on the subject of Suarez's diving.
Dubious derby claim: Sunday's Merseyside derby statistics
Everton Liverpool
17 Fouls committed 19
0 Headed goals 1
47 Long passes attempted 47
19 Long passes completed 21
100 Passes in final third 63
34 Total crosses 17
57% Possession 43%
Register for free to continue reading
Registration is a free and easy way to support our truly independent journalism
By registering, you will also enjoy limited access to Premium articles, exclusive newsletters, commenting, and virtual events with our leading journalists
Already have an account? sign in
Register for free to continue reading
Registration is a free and easy way to support our truly independent journalism
By registering, you will also enjoy limited access to Premium articles, exclusive newsletters, commenting, and virtual events with our leading journalists
Already have an account? sign in
Join our new commenting forum
Join thought-provoking conversations, follow other Independent readers and see their replies