Steve McClaren: Newcastle boss involved in training ground row with journalist
'I'm not the problem Steve, you're the problem, not me. Don't you dare suggest I have an agenda against you'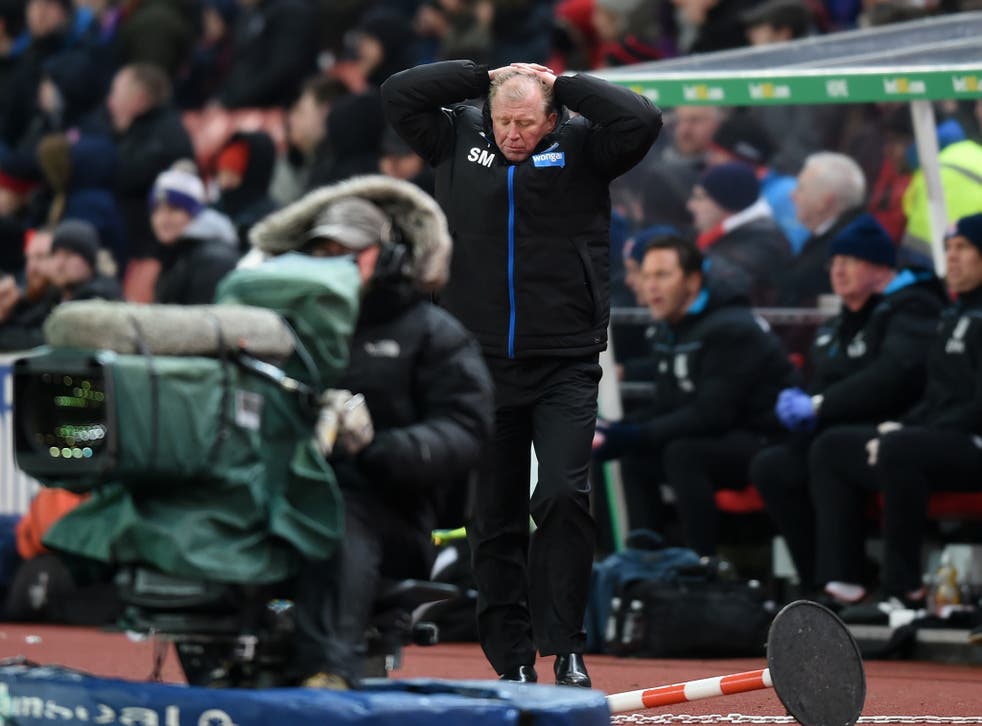 The Newcastle manager Steve McClaren was involved in a stunning row with a journalist during a press conference at the club's training ground on Friday afternoon.
McClaren had reacted to claims, published in The Daily Mail, that he will lose his job if Newcastle lose at home to Bournemouth by suggesting that the report was only written because the club dismissed the writer from a role at the club five years ago.
The journalist then launched a scathing attack on the former England head coach as he left the press conference, saying: "Is this your latest excuse Steve?
"I'm not the problem Steve, you're the problem, not me. Don't you dare suggest I have an agenda against you. Walk away Steve, smile and grin again. He's been out of his depth since the minute he walked in."
Newcastle sit second bottom of the Premier League following their sixth successive defeat away from St James' Park, at Stoke on Wednesday. They are now embroiled in a struggle with Sunderland and Norwich to stay up and speculation has mounted on the importance of the game with Bournemouth.
Tension is mounting in the North-east about whether Newcastle's players have the fight to drag the club to safety.
McClaren, when asked about his future, had said: "It's done by a journalist who for the last 18 months has written nothing but negative things about Newcastle, a journalist who used to work at this club and who four or five years ago was released from this club."
Newcastle have lost just one of their last six home games, in contrast to their abysmal away form.
McClaren, was asked if the players are still playing for him after the defeat at Stoke.
"Absolutely, absolutely," he said. "We asked for a reaction after the Chelsea game in the 18 days, and I think at Stoke – it's fine margins winning football matches and losing football matches - but we asked for spirit and fight and for 95 minutes to stay in the game.
"A lot of people questioned the players as well and did they know the situation. I think you saw from the performance on Wednesday, yes they do care, and I know that from what they do on the training field, what is in the dressing room.
"We know the predicament we are in – only we can get out of it. We said we are in a fight. It started on Wednesday, we continue it against Bournemouth."
Join our new commenting forum
Join thought-provoking conversations, follow other Independent readers and see their replies