Steven Gerrard hits back at Chelsea fans despite standing ovation from home supporters
Mourinho insisted there was no chance of him finally signing Gerrard on loan next January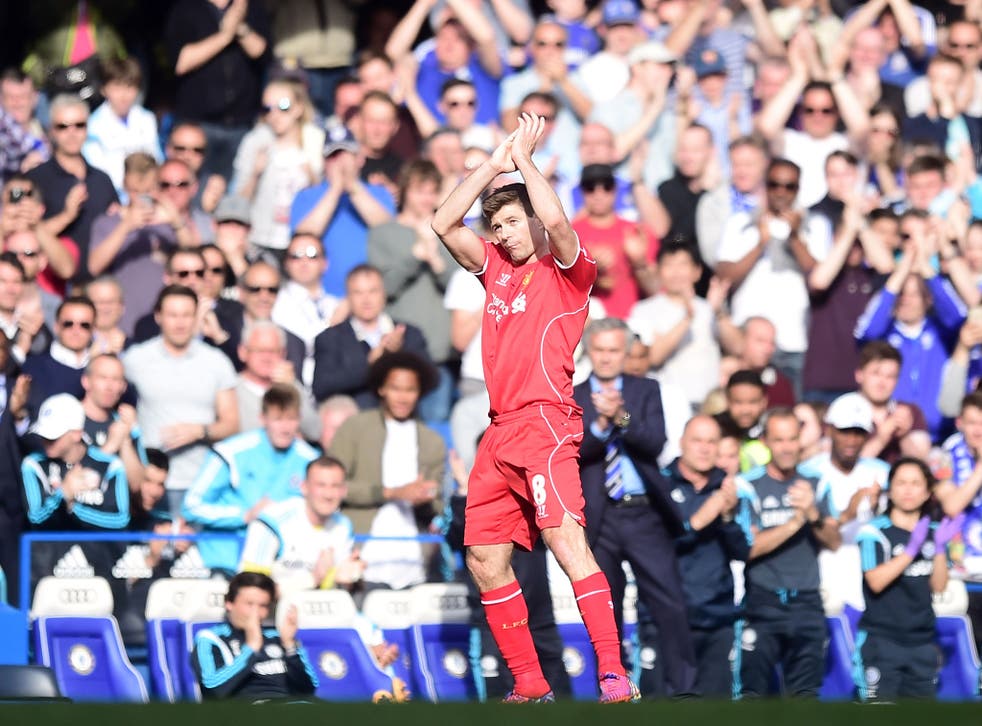 Steven Gerrard received a standing ovation from the home fans when he was substituted at Stamford Bridge yesterday, but said the gesture did not make up for being mercilessly taunted by the Chelsea support throughout the 1-1 draw.
The Liverpool captain slipped over in the game against Chelsea at Anfield last season – an act that all but ended Liverpool's title challenge – and yesterday the home fans reminded him of the fact repeatedly.
Gerrard, who will leave Anfield this summer to join Los Angeles Galaxy, was substituted with 11 minutes to go and was applauded off. However, he did not thank the Chelsea fans afterwards.
"I think Chelsea fans have showed respect for me for a couple of seconds but they have slaughtered me all game," Gerrard said, before adding acerbically: "It was nice of them to turn up for once."
Manchester City 6 QPR 0 player ratings

Show all 22
Chelsea manager Jose Mourinho led the standing ovation and afterwards told the Liverpool captain that Chelsea's "negative song" about him was a sign of respect.
Mourinho has been making clear for days just how much he respects Gerrard and last night, after the 1-1 draw, he did it again. He said he was "very happy" that the Chelsea fans had applauded Gerrard off and that their taunting him showed how much they admired him.
"The negative song only shows respect, nothing other than respect," Mourinho said. "It is like a negative song, to a 'dear enemy'. The applause was special. Stamford Bridge was special. Steve gets that for almost two decades, every week when he plays at Anfield. To get that in an away stadium is a fantastic way for him to feel. Probably every club, every stadium respects him a lot."
Mourinho insisted there was no chance, though, of him finally signing Gerrard on loan next January. "He was clear, it would be impossible for him to score a goal against Liverpool. He was very clear."
After an even game at Stamford Bridge, Mourinho was pleased with Chelsea's performance, especially that of 19-year-old Ruben Loftus-Cheek, making his first Premier League start.
"I think he did well," said Mourinho, who replaced the teenager with Nemanja Matic after an hour. "But I also think it's better for him to play 60 minutes and leave the pitch in good condition than stay on when it would have been difficult for him to cope with the speed of the game in the second half. But a fantastic experience for him, to feel the intensity and the speed of the game."
There was more promise for next season as Mourinho voiced his hope that Oscar could develop as much next year as Eden Hazard has this campaign. "Fundamental will be to keep my players and try and get the best out of them," Mourinho said about his plans for the summer. "People like Oscar, who has never had a pre-season in his life, playing Olympic games or tournaments. Now he is not going to the Copa America and I have a feeling, next year, he could have the same evolution as Hazard had this season."
Brendan Rodgers spoke of the importance of finding the "right acquisitions" for Liverpool this summer, especially with Gerrard leaving. "He is irreplaceable really, but we need to find a solution one way or the other," Rodgers said. The manager praised his team, though, for an "outstanding" second-half performance and said that Cesc Fabregas should have been sent off in the first minute after a high, late tackle on Raheem Sterling.
Register for free to continue reading
Registration is a free and easy way to support our truly independent journalism
By registering, you will also enjoy limited access to Premium articles, exclusive newsletters, commenting, and virtual events with our leading journalists
Already have an account? sign in
Register for free to continue reading
Registration is a free and easy way to support our truly independent journalism
By registering, you will also enjoy limited access to Premium articles, exclusive newsletters, commenting, and virtual events with our leading journalists
Already have an account? sign in
Join our new commenting forum
Join thought-provoking conversations, follow other Independent readers and see their replies