Steven Gerrard bowing out with a whimper after underestimating the MLS and no Liverpool return in sight
Gerrard's career could end this weekend if LA Galaxy are knocked out of the MLS play-offs, but it would be a terribly sad way for an iconic Premier League figure to bring the curtain down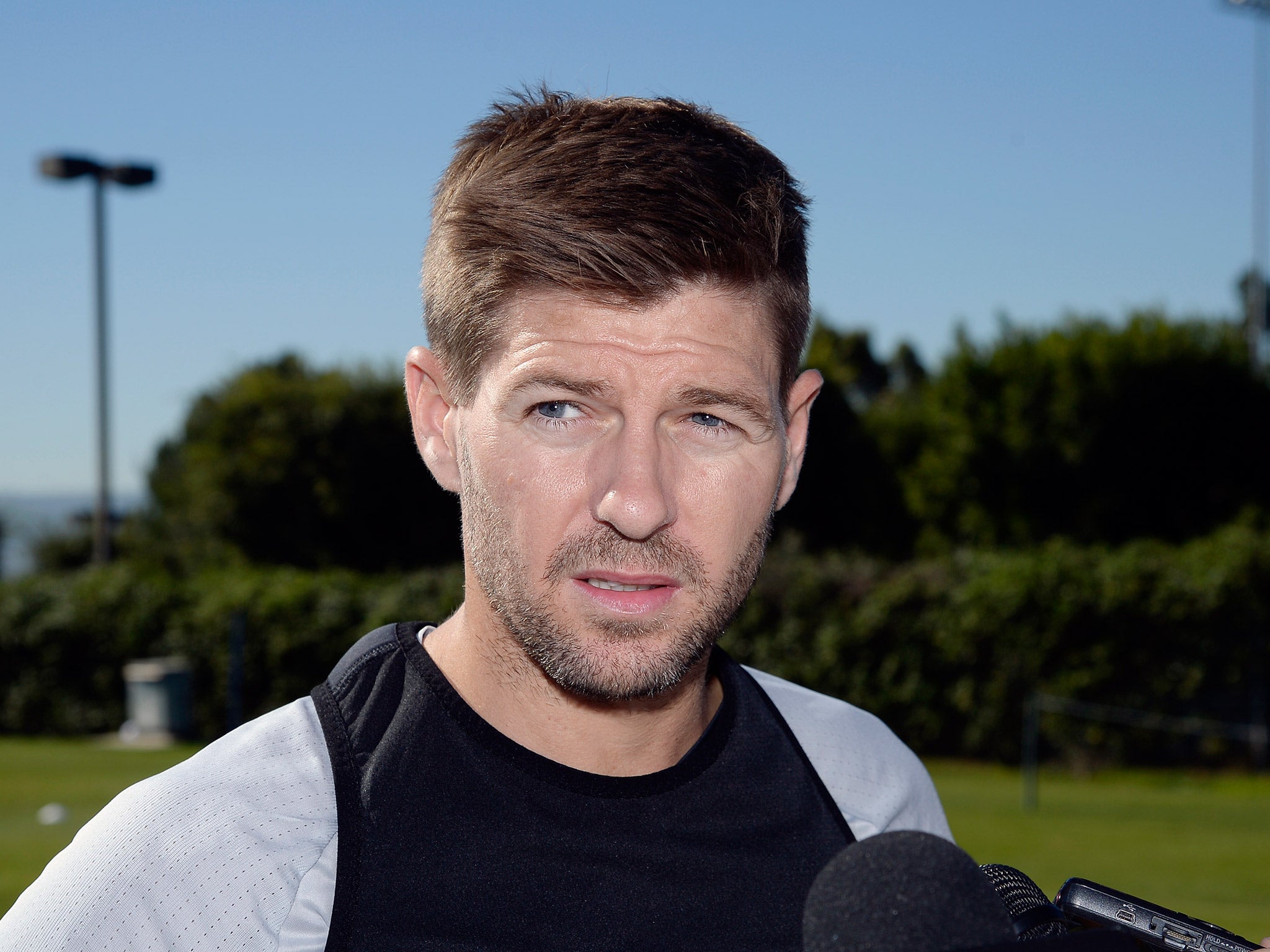 Blink and you might miss it, but Steven Gerrard's glittering career may reach its end on Sunday in the distinctly unglamorous surroundings of Dick's Sporting Goods Park, on the outskirts of Denver in a place called Commerce City.
Speak to some people in Los Angeles, however, and they would suggest that the former England captain's career actually ended a good 18 months ago when he scored on his farewell appearance for Liverpool during a 6-1 defeat against Stoke City at the Britannia Stadium in May 2015.
That would be a harsh summation of Gerrard's two seasons in Major League Soccer (MLS) with LA Galaxy, but the statistics do little to suggest that life in California has been an American dream for the 36-year-old.
Gerrard managed just 15 senior appearances in his first season at the StubHub Center and 23 this year, with a mere five goals amassed in two campaigns.
He was an unused substitute during the MLS Cup Play-Off quarter-final first-leg against Colorado Rapids on Sunday, when a 1-0 victory for the home side secured a narrow advantage ahead of Sunday's second-leg in the foothills of the Rocky Mountains, and has not registered any minutes on the pitch since suffering an injury against FC Dallas on October 2.
But with his contract with Bruce Arena's team just about to expire at the end of this MLS season, the curtain may fall on Gerrard's career this weekend if Colorado overturn their first-leg deficit and progress to the semi-finals at Galaxy's expense.

He may not even make it off the bench, which would be a terrible way for one of the Premier League's greatest players to go out.
It will go down as one of the anomalies of the Premier League era that Gerrard was never able to secure a league winners' medal, but do not be fooled into believing that he was anything but an iconic figure and a player wholly deserving of his legendary status.
But he, and a whole raft of current Premier League players, have now discovered the achievements in the Premier League count for nothing in the MLS.
David Beckham earned the respect of the American sporting public with his contribution to the MLS during his five years with Galaxy – he was only 32 when he made the move from Real Madrid in 2007 – while Robbie Keane and Bradley Wright-Phillips have also enhanced their reputations in the States.
But it has taken Frank Lampard a good year to win over the sceptics in New York by producing stunning form for New York City this season with 12 goals in 19 games after a miserable first year with the club.
Lampard has thrown everything at the MLS and fought to redeem himself after the turbulence of his first year, when his delayed arrival from Manchester City angered supporters before he even arrived.
But while Lampard has silenced the doubters, Gerrard has given them too much ammunition by failing to display the same commitment to the cause.
Gerrard trains with new LA Galaxy team-mates
By returning to Liverpool to help overcome his recent injury, he left himself exposed to questions as to why he would travel half the world from a wonderful climate and world-class medical facilities in Los Angeles, and spent 12 hours on a plane, when he could have returned to fitness just as quickly, if not more so, in Malibu.
Gerrard has admitted to having been taken aback by the physical demands of the MLS – a league populated by more fit and hungry youngsters than thirty-something veterans these days – but any Premier League player who has experienced facing MLS teams on pre-season tours would already have been aware of the intensity and high energy of opponents from San Jose, Houston, Salt Lake City, Chicago and the like.
Steven Gerrard's first day back at Liverpool - in pictures
Show all 7
It seems that Gerrard mistook the MLS for the dinosaur's graveyard it once was, rather than the league it has become.
LA FC, the franchise due to enter the MLS in 2018, has already delivered a mission statement which insists that the club will not go down the route of hiring European has-beens simply to raise their profile.
That philosophy is becoming a common theme in the MLS, which is why Alexi Lalas, the former Galaxy and United States defender, claimed Wayne Rooney would be 'stealing money' if he was to leave Manchester United for the MLS anytime soon.
Sources close to Rooney, in his defence, have insisted that neither the player nor his advisors have spoken to any MLS franchise about a move from Old Trafford and it is unlikely that any could yet afford his salary or likely transfer fee.
But as Gerrard has discovered, the MLS no longer offers a halfway house to retirement.
So when his contract expires, that may well be it. There may not even be the possibility of another year in the States.
Brendan Rodgers may fancy taking Gerrard to Celtic, but there will be no return to Liverpool and the options available to Beckham – AC Milan and Paris Saint-Germain – are also non-starters for Gerrard.
Dick's Sporting Goods Park in Commerce City is no place to end such a stellar career, but it is only a twenty minute drive to Denver Airport, so at least Gerrard can be out of there and on a flight home before they even switch off the floodlights.
Don't let United's downfall overshadow Burnley's rise
It has been somewhat lost beneath the avalanche of negativity directed at Jose Mourinho and Manchester United this weekend, but Sean Dyche and Burnley deserve acclaim for their efforts this season.
Securing a draw at Old Trafford, their first since the 1960s, was one thing, but it was no flash in the pan.
Already this season, Burnley have taken six points off Liverpool and Everton and were only denied a point at home to Arsenal by Laurent Koscielny's hand-ball goal deep into stoppage time at Turf Moor.
United, it seems, were merely Burnley's latest victim rather than the first so-called heavyweight to fail to knock them down.
Balotelli serves up a slice of humble pie
Seven weeks ago in this column, I suggested that Nice had lost control of their senses by handing Mario Balotelli a career lifeline in Ligue 1 following his disastrous two years at Liverpool.
I also claimed that Balotelli, so often the problem rather than the solution at his previous clubs, would never change and that Nice would suffer the consequences.
Ok, Mario, it appears I was wrong. Spectacularly so.
Balotelli has now scored seven goals in seven games on the Cote d'Azur and Nice sit six points clear of the pack at the top of Ligue 1.
At 26, perhaps the penny has finally dropped for Balotelli. So from this point on, what can possibly go wrong?
Join our commenting forum
Join thought-provoking conversations, follow other Independent readers and see their replies