Steven Gerrard set for amazing return to Liverpool after holding talks with Jurgen Klopp
The former captain could even return to Anfield in a playing role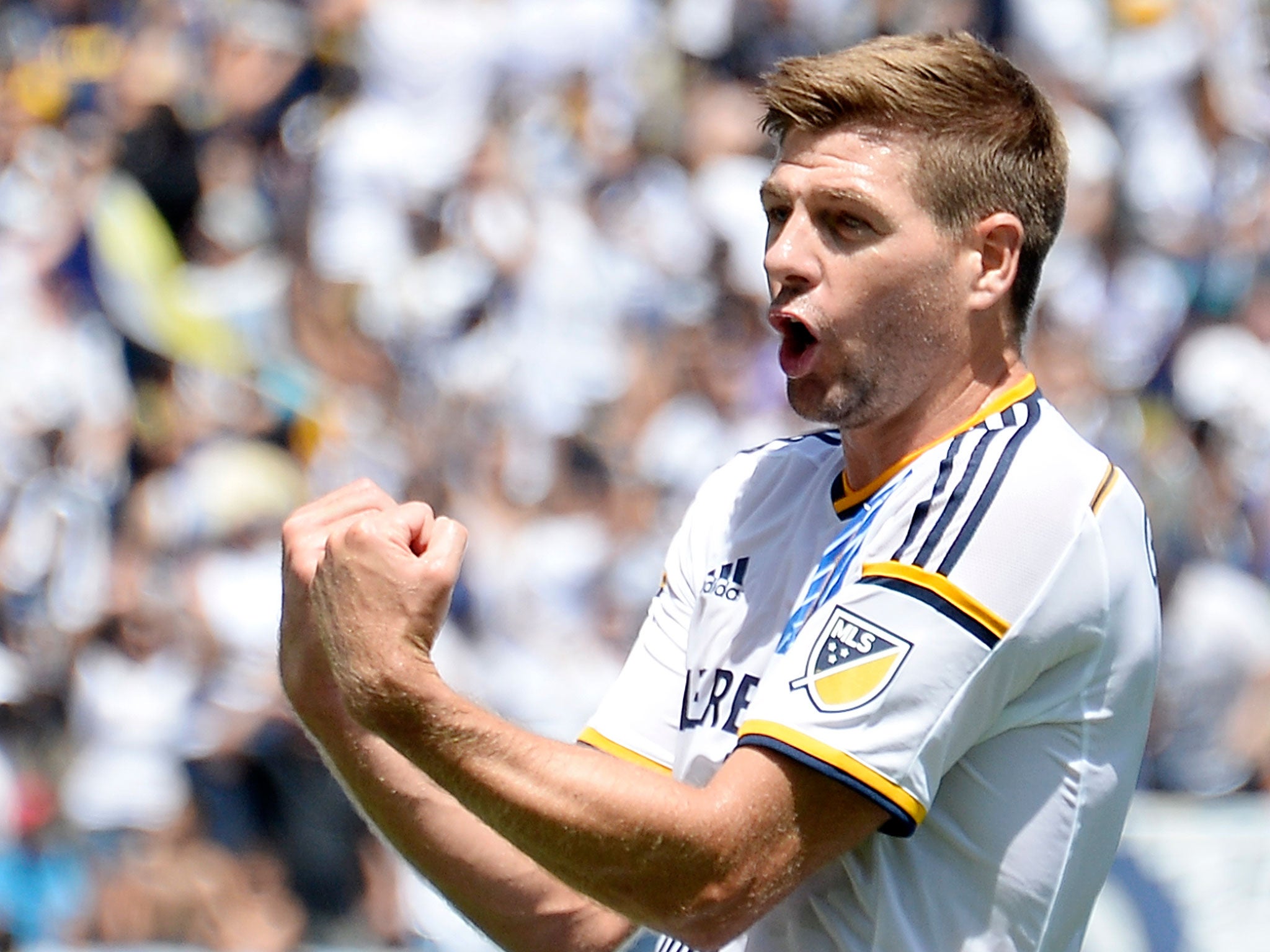 Steven Gerrard is in line for a sensational return to Liverpool following discussions with the club's manager, Jürgen Klopp, The Independent can reveal.
Klopp has spoken to the former captain several times on the telephone since arriving at Anfield last month. The manager is now convinced that Gerrard's presence will help define the standards of professionalism he expects around Melwood, Liverpool's training ground.
Although Klopp has so far only debated the possibility of Gerrard training with Liverpool until 15 January when he is due back in the United States to rejoin Los Angeles Galaxy for pre-season, there is a chance of a formal playing agreement being brokered. However, that possibility is made complicated by Galaxy's probable demands for a transfer fee, as Gerrard has another year left on his contract with the Major League Soccer club.
Galaxy are currently not willing to sanction a loan deal similar to the one afforded to David Beckham, who went to Milan twice in his five years at the club.
Gerrard is scheduled to land in London on Wednesday morning following an overnight flight from California. His MLS season finished in disappointment last week when Galaxy were eliminated in the competition's play-offs by Seattle Sounders.
Gerrard scored twice in 14 appearances for Galaxy, having joined halfway through the 2015 campaign. Before returning to England he met with the club's coach, Bruce Arena, on Monday and they discussed his future, with potential targets in the transfer market being high on the agenda.
Gerrard, 35, will take advice from friends, family and trusted colleagues within football before deciding whether it is appropriate to get involved at Liverpool again, even if it is just for training.
Jurgen Klopp's best quotes
Show all 11
While he sees the American experience as beneficial, and he enjoys the lifestyle, he has missed Liverpool acutely as well as the cut and thrust of the Premier League – a level at which he believes he can still have an impact.
Steven Gerrard unveiled at LA Galaxy
Gerrard is expected to attend Liverpool's home match with Crystal Palace on Sunday and should meet Klopp in person for the first time early next week when the pair will try and plot the way forward.
Klopp has operated with three central midfielders in each of his five games in charge of Liverpool. He appreciates that if he is to achieve a top-four Premier League finish, while making progress in the FA and League Cups as well as the Europa League, he will need increased depth in his squad.
Alternatively, a rather more straightforward training agreement between player and club might allow Gerrard to help with coaching and Klopp is still considering whether he needs a former player to supplement his staff after the departure of Gary McAllister, who served briefly under Brendan Rodgers.
One person who is unlikely to be joining Liverpool is David Wagner, who announced his departure from Klopp's former club Borussia Dortmund on Monday, where he was the Under-23 team manager. Klopp is godfather to the German-born former US international's daughter while Wagner was best man when Klopp remarried in 2005. Wagner has firm offers from at least two Bundesliga clubs but is said to want to take time selecting his next move.
Join our commenting forum
Join thought-provoking conversations, follow other Independent readers and see their replies