Fabio Borini grabs a late leveler for Sunderland but restless support turn on David Moyes for the first time
Sunderland 2 West Ham 2: Wahbi Khazri and Fabio Borini twice dragged Sunderland back into this game but even so, their Premier League fate appears to be sealed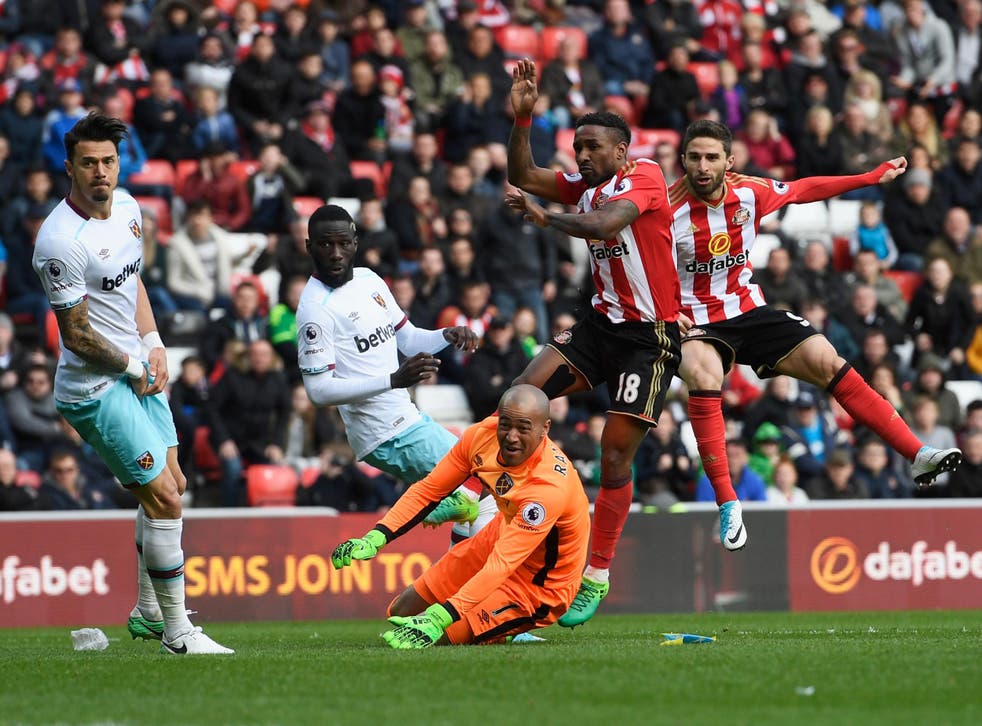 Sunderland cling ever more tenuously to their Premier League lives, a nine year stay on the brink of ending, and their support turned on David Moyes for the first time as relegation came closer.
It is one for the mathematicians only now - nine points from fourth bottom Hull City and safety but with a game in hand.
At least they scored, twice, through the recalled Wahbi Khazri and Fabio Borini, but each time was to cancel out a goal from West Ham, first through Andre Ayew and then james Collins.
A point does little for Moyes, and his miserable afternoon contained jeers from the home support whenever he went anywhere near his technical area.
It was yet another afternoon to forget for the Sunderland manager; his dire reign at the Stadium of Light has yielded just five league victories. It is hard to see where another will come from. His bleak mood in August, the lowering (yet further) of expectations set the tone for the most miserable of seasons on Wearside.
When, in the 20th minute, he ventured into his technical area for the first time yesterday, there were jeers and catcalls and those Sunderland supporters in the South Stand turned their venom on their moribund manager.
'We want Moyes out,' came the chant. He was mocked whenever he stood up and in the second half, there was a prolonged chant of a song that includes the unforgettable line 'David Moyes had a dream, to f*** our football team,' and ends with 'Championship football, it's on its way back.'
There can be no doubt about that, surely. Not now, not in a game when Sunderland actually showed a modicum of fight and created some chances.
Moyes insisted he would not be affected by the support turning against him.
'The manager is not doing well and they are entitled to take their frustration on somebody,' he said. 'It's the manager and I have no issue with that, none at all. I just remember to myself I have the third or fourth best win record in the Premier league.
'I thought we played well today. We tried to get after them right away. Credit to the lads for fighting back. I was disappointed with both goals but not with the way we played. We passed it better.'
That a performance with fight coincided with the return of Wahbi Khazri did little for Moyes either. Khazri has become persona non grata this season, despite his impact when signed last January by Sam Allardyce.
There has been suggestion that his attitude towards training and fitness has not been good enough. His appearance yesterday made a difference, a rare attacking presence to go with the perennially isolated Jermain Defoe.
The goal that came, Sunderland's first in eight matches, was fortuitous in the extreme, and debatable, given the presence of Victor Anichebe and his close proximity to the West Ham keeper Darren Randolph contentious, but Khazri's 26th minute, left wing corner at least went into the opposition's goal.
It had been January 14 when that had last happened, and typically it was Defoe, and the game against Stoke was already lost when the Stadium of Light had last seen a home goal.
They trailed by that point. It took just five minutes for West Ham to go ahead, Andy Carroll's mishit left footed volley flying into the path of Andr Ayew, who took a touch and prodded the ball past Jordan Pickford.
It felt like yet another one of those days, but Sunderland found a bit of energy, and John O'Shea headed straight at Randolph from a Khazri free-kick. The equaliser came through the recalled Khazri and then Billy Jones shot wide in the 36th minute. Ayew missed a similar to the chance he had scored for the visitors, again from Carroll, when he shot over.
Khazri then shot low to Randolph's right, on the stroke of half-time.
There was a hint of optimism, but that went after just 90 seconds of the second half, when Sunderland's defenders decided to ignore the run of James Collins, who powered a Robert Snodgrass corner past Pickford.
Sunderland rallied surprisingly, but everyone of this horrendous campaign was best captured in the 71st minute, when Defoe and Khazri linked well to create a fine chance that Didier Ndong smashed over the bar from 12 yards.
There would still come an equaliser, when Borini smashed in a shot and set forth to celebrate in front of Moyes. Byram received a red card for a second yellow, a foul of Adnan Januzaj. It was not his day, nor Moyes', once again.
'We are disappointed after leading twice but I have to say it was a fair result,' said the West Ham manager Slaven Bilic. 'We had the momentum after the goals to frustrate them or finish them off but towards the end they were throwing strikers on the pitch and playing risky football.
'There will be no pointing of fingers. Darren has been in good form. We win, we lose, we draw, we score and we concede as a team.'
Join our new commenting forum
Join thought-provoking conversations, follow other Independent readers and see their replies