The Independent's journalism is supported by our readers. When you purchase through links on our site, we may earn commission.
Sunderland players visit terminally-ill fan Bradley Lowery in hospital
'Bradley is doing well and has cheered up after having some very special visitors'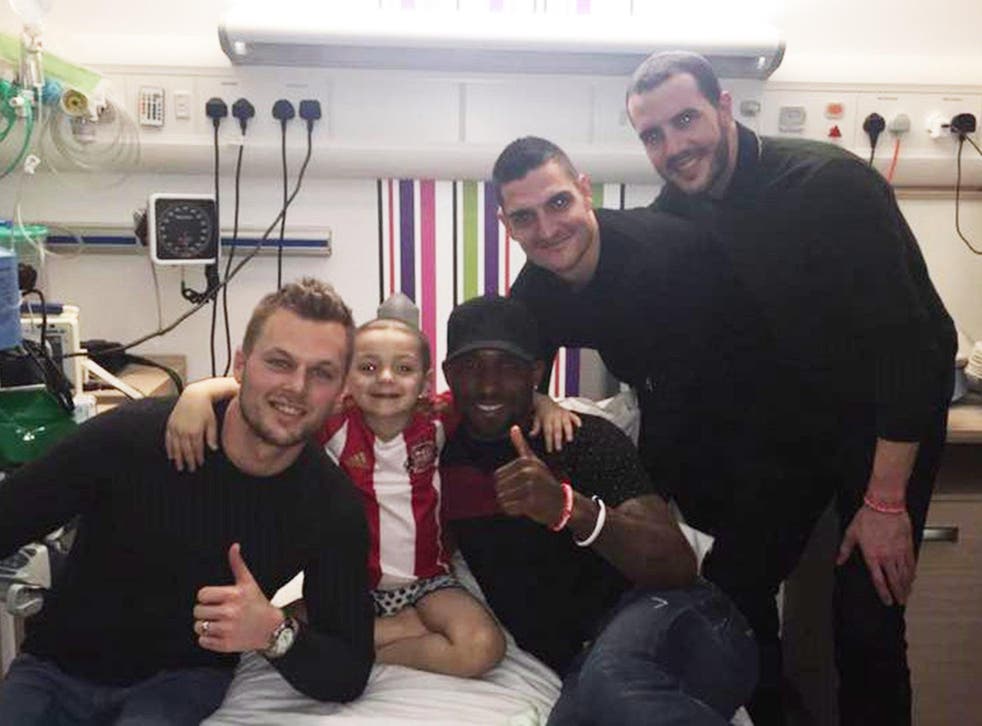 They may be involved in a scrap for relegation this season, but Sunderland's players clearly remembered there are things more important than football this week.
First-team players including Vito Mannone, John O'Shea and Sebastian Larsson paid a visit to terminally-ill fan Bradley Lowery in hospital on Thursday afternoon.
One particularly touching image shared on Bradley's social media accounts showed him having fallen asleep in the arms of the club's top scorer Jermain Defoe.
"Bradley loves Jermain Defoe," a message on his Twitter account read. "He didn't want him to leave today and fell asleep cuddling into him. #specialbond #bestfriends."
Defoe then responded to the tweet on his own account with the words "Love you little man. #bestfriends".
Bradley, 5, was diagnosed with Neuroblastoma – a rare form of cancer that affects nerve cells – in 2013.
Although he initially recovered, he went into remission in July last year and his mother says he now has just months to live.
Nevertheless, Bradley and his family have been raising money to fund alternative forms of treatment than those available in the UK.
As part of the campaign he appeared as a mascot when Sunderland's hosted Everton at the Stadium of Light in September.
The Toffees donated £200,000 to him after that game and he hit a fundraising target of £700,000 at the end of last year.
After taking part in the warm-up at Sunderland's home game against Chelsea, where he scored a penalty, Bradley was awarded the Premier League's goal of the month for December.
Following the visit by Sunderland's players on Thursday, a message on his Facebook page explained that he was "doing well" and the visit had cheered him up.
"Thank you to Sunderland AFC you have been amazing for Bradley. Bradley had lots of fun with the boys and then fell asleep cuddling Jermain. #specialmemories #grateful."
In response, the club shared photos of the visit with the caption: "The lads loved catching up with him!"
Join our new commenting forum
Join thought-provoking conversations, follow other Independent readers and see their replies