Premier League 2020 calendar-year table: Liverpool on top as Manchester United close the gap
Southampton were among the Premier League's top six in 2020 while Aston Villa also improved dramatically, but there was a big drop off at Crystal Palace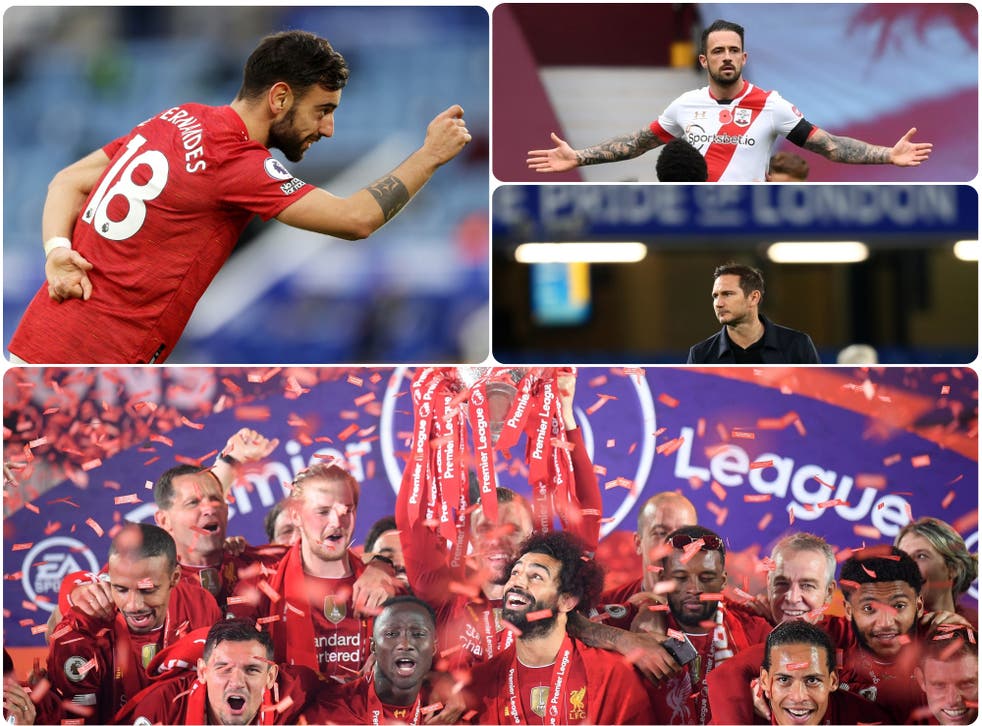 On the face of it, yes: spending time to work out a calendar-year Premier League is a pointless pursuit. A 2020 table counts for nothing, after all, because the only thing that matters is where they fall come May. But a 12-month tally does reveal a few things. It paints a fuller picture of a club's standing right now, beyond the current season, and more importantly it can indicate where they might be heading in the New Year.
The 2020 table is a messy affair, shaken up by the pandemic to the point where Liverpool played 35 games and Manchester City only 32. Straight comparisons would be a little unfair then, but ranking by points per game gives a fair reflection and also allows comparison with 2019 to see who is trending in the right direction.
Champions: Liverpool (2.20 ppg) 🏆
Liverpool's lead at the top shows they remain the best team in the land. This is no surprise given they won the title in the summer, but what is eye-catching is their contrast to the previous year: they collected 98 points (2.65 per game) in 2019, but that fell to just 77 (2.20 per game) this year.
Why did their standards of near-perfection drop? First, it's worth considering the timeline of that league triumph. Liverpool may have lifted the trophy in July but the title was ultimately won in that opening spell of 26 wins from 27 games until mid-February. From that point onwards, the end of their 30-year league drought was inevitable, so it is understandable if a little motivation slipped away and form tapered off. More recently injuries have hampered attempts to recapture that immaculate phase at the end of 2019, and so perhaps as players return and trophies come into view, 2021's standard will fall somewhere between the previous two years.
Despite the drop off, Liverpool remain on top of the 2020 pile partly because Manchester City have suffered a similar fall in ppg, from 2.42 to 2.06. City's slip feels more complex to explain but it is notable that leaders like Vincent Kompany and David Silva have departed since the start of 2019, while Sergio Aguero has struggled to stay fit. We may be seeing the glow of Pep Guardiola's coaching fading a little too, the natural result of the demand on mental and physical energy of his players over time.
The Big Three? 🥉
Another shift is that the clear top two of Liverpool and City in 2019 has become a blurry big three in 2020. Manchester United have closed the gap significantly with a jump to almost two points per game, and it's no coincidence that their improvement has fallen in line with Bruno Fernandes' arrival last January, who has carried over his prolific attacking output for Sporting into English football. The data suggests United still have a way to go to reach Liverpool's level even if they may be within touching distance in the actual league table, but the direction of travel is certainly encouraging for Ole Gunnar Solskjaer. Chelsea are the best of the rest with little change in ppg from 2019, just ahead of an improving Tottenham, but both are well behind the top three.
Greatest climbers: Southampton 📈
Southampton are fifth in the 2020 table for points, and sixth for points per game. Their ppg of 1.65 is almost on a par with Chelsea and Spurs, and that in itself illustrates what a remarkable 12 months it has been at St Mary's.
Ralph Hasenhuttl arrived in 2018 and immediately transformed Saints into a high-pressing machine, then watched as they gradually capitulated, culminating in the nadir of that 9-0 defeat by Leicester at the end of 2019, before rebuilding them once more. If they can sustain their 2020 levels into the New Year then there is the real prospect of a top-six finish and European football next season.
Right direction: Aston Villa 🔜
Aston Villa's improvement this year has been impressive, growing their ppg by almost half a point from 0.90 in 2019 to be tracking at a far safer 1.34. Dean Smith got Villa clicking at just the right moment to stay up during Project Restart. Since then he has found a balance between attack and defence and crucially recruited well, with Ollie Watkins, Ross Barkley, Matty Cash and Emi Martinez all significantly improving the starting XI, and they finish the 2020 table in 13th place. Leeds' impressive return to the Premier League also deserves a notable mention here: they have tracked at the same ppg as Leicester's year-long level, and that is some achievement straight from the Championship.
Biggest fallers: Sheffield United 📉
Sheffield United's ppg has fallen off a cliff, dropping from 1.45 in that sensational period when they arrived in the Premier League in 2019 to just 0.79 across 2020 – certified relegation form. Incredibly, the Blades picked up more points over four and a half months of 2019 than they have done in the entirety of 2020. Perhaps their unique style coached by Chris Wilder caught opponents off guard as they lost only five times in their opening 20 matches. Now the huge deficit in actual goals compared to expected goals (xG) this season suggests there is a lack of confidence and quality in the final third, rather than any lack of invention or effort, but it will need to change drastically, very quickly, to prevent relegation in 2021.
Worrying trend: Crystal Palace 🔙
The second-biggest dip in points per game is Crystal Palace, who have fallen from an admittedly impressive figure of 1.50 in 2019 (solid top-half levels) to only 1.03 in 2020. Palace lost half of their Premier league games this year and their goal difference of -24 is the worst of the 17 teams to have been in the top flight throughout 2020. Four current Premier League clubs have a worse ppg in 2020 so it is not quite relegation form, but it is a worrying drop from the level Roy Hodgson's side had reached and a major trend in the wrong direction.
Register for free to continue reading
Registration is a free and easy way to support our truly independent journalism
By registering, you will also enjoy limited access to Premium articles, exclusive newsletters, commenting, and virtual events with our leading journalists
Already have an account? sign in
Register for free to continue reading
Registration is a free and easy way to support our truly independent journalism
By registering, you will also enjoy limited access to Premium articles, exclusive newsletters, commenting, and virtual events with our leading journalists
Already have an account? sign in
Join our new commenting forum
Join thought-provoking conversations, follow other Independent readers and see their replies