The parachute payments to clubs relegated from the Premier League can be a lifesaver – but is it fair to all the other teams?
The Weekend Dossier: Is the parachute a reward for failure?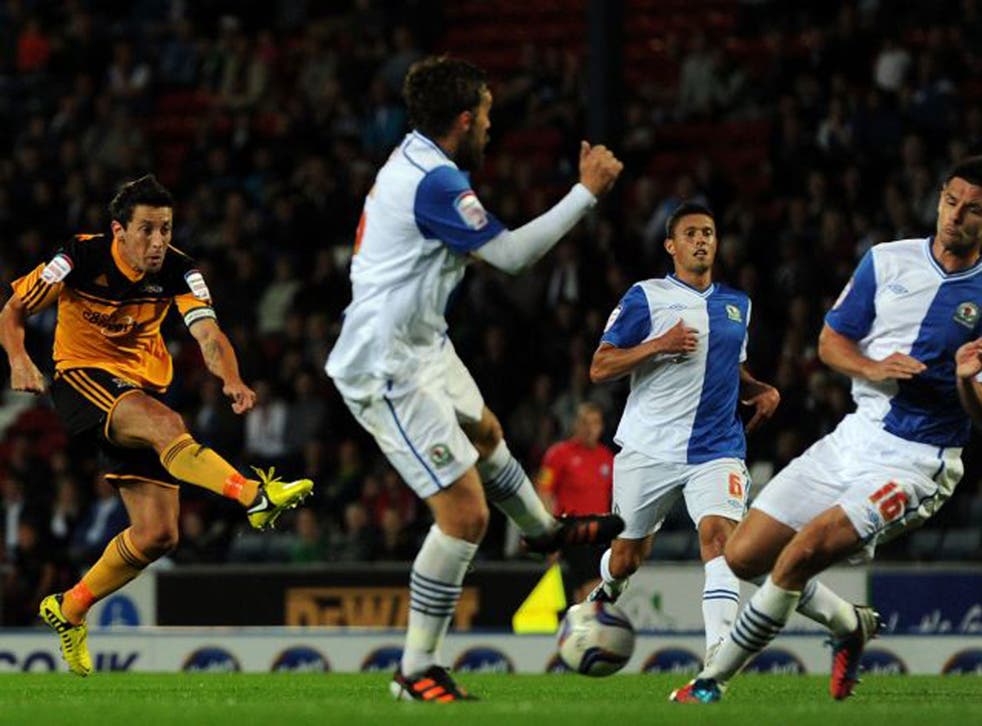 They are, said Keith Hill earlier this season, "an unfair advantage" and "a reward for failure". Hill, then Barnsley manager, was talking about parachute payments, the bail-out provided to clubs relegated from the Premier League to soften the financial consequences of going down. The payments (paid from Premier League coffers) are worth from £8m to £16m a year and Hill, operating on one of the smallest budgets in the division, was understandably aggrieved, given that his team had just lost to a goal from Jordan Rhodes, on whom Blackburn had spent £8m of their £16m first annual payment.
Hill, who has since been fired with his club bottom, added: "A long time ago teams like Bradford and Barnsley overspent when they were in the Premier League but it's not like that any more. Teams don't need these solidarity payments. It angers me."
Currently relegated clubs get £48m over four seasons (£16m in the first two seasons, £8m in the next two – payments cease if they go back up) . This contrasts with the £2.1m annual "solidarity payment" every other Championship club receives from the Premier League. Given that the Football League's own hand-out from central funds (primarily the fruits of TV and sponsorship income) is only £1.8m following a decline in the value of the Football League's TV deal, the parachute payments would seem to create an uneven playing field.
It looked that way last season when three of the four clubs in the promotion play-offs had received payments, including eventual winners West Ham. But if that suggested they do skew the competition, it is very different this season. Seven Championship clubs receive the payments (it would be nine, but West Ham are no longer eligible and Portsmouth are in League One). Only Hull City are in the top 10.
One of those clubs in receipt of payments is 12th-placed Burnley. They get £8m, having been relegated in 2010. Last season they received £12m and came 13th. Lee Hoos, the Burnley chief executive, said the payments are absolutely crucial.
"In theory they should be an advantage," he said, "but the reality of the Premier League is that you have an extremely high wage bill and even if you have relegation clauses with a 50 per cent cut written in, it is not enough [to balance the books] because the drop off in revenue is so great. If clubs did not receive parachute payments they would not just be at a competitive disadvantage, it could tip them over the edge [into administration]."
The obvious response is that it is the clubs' fault for spending so recklessly in the Premier League. Hoos accepted that clubs should be more responsible but said "when you are promoted the club and the fans want to compete, yet you have to pay these wages to have any hope in hell of competing. You are up against clubs with massive budgets. It means if you come down it is very difficult."
There is solid evidence to suggest that, if budgets are not restrained, relegation from the Premier League can be catastrophic. Nine clubs have gone into administration within five years of being relegated from the league and many others have only narrowly avoided that fate. Of clubs recently relegated, Portsmouth are in such desperate straits they are facing relegation to League Two despite a parachute payment exceeding some clubs' income in League One; Bolton carry £136m debt (£125m in the form of a loan to owner Eddie Davies); Hull were in trouble before Assem Allam bought them; and Birmingham are reliant on loans from owner Carson Yeung (who faces fraud charges in Hong Kong, which he denies).
Burnley are one of the better-run clubs and as they were only in the Premier League for one season they did not develop a large infrastructure. Yet the impact of that season can be seen in a wage bill that went from £9.8m the season before promotion to £19.4m the season after relegation.
In successive seasons Burnley's revenue exploded from £11.5m to £45.9m, then shrank to £28.2m, with the latter boosted by a £15m parachute payment. Without that the Clarets would have made a £13m loss.
Hoos added: "Just because you have Premier League players does not mean you will go straight back up; the Championship requires a different style." As Blackburn, Bolton and Wolves, last season's relegated trio have found.
Indeed, of the 18 clubs relegated from the Premier League in the last six years, only four have bounced back while in receipt of parachute payments, one of whom, Birmingham, were promptly relegated again.
What does this mean for this season's strugglers? For Queen's Park Rangers the drop could be disastrous because of their huge wage bill; Aston Villa would also suffer because outgoings are high after many years in the top flight. Being newly promoted, Southampton and Reading should cope but Wigan, though Dave Whelan keeps wages tight, rely heavily on TV income.
However, on the horizon is a re-negotiation of solidarity and parachute payments in the wake of the new £5.5bn TV deals. These could well increase to £25m a year, which would surely tilt the balance in favour of relegated clubs. Championship clubs hope the settlement will be generous, but more equitable.
"We understand they generate the revenue and want to keep it, but the game needs a strong Football League to supply players to the Premier League," said Hoos.
Is the parachute a reward for failure? "It is very hard to get into the Premier League and even harder to stay there," said Hoos. "I'd say it is a reward for the success of going up in the first place."
Drop bail-out: Who gets what
Parachute payments 2011-12:
Club Payment Position
West Ham £15.5m 3
Birmingham £15.5m 4
Blackpool £15.5m 5
Middlesbro £4m 7
Hull City £12m 8
Burnley £12m 13
Portsmouth £12m 22
Parachute payments 2012-13:
Club Payment Position
Hull City £8m 2
Burnley £8m 12
Blackpool £13m 14
Blackburn £16m 13
Bolton £16m 16
Wolves £16m 18
Birmingham £13m 20
Portsmouth £8m 22(L1)
Five Asides
1. City ticket-price protest is in a different league
It will be interesting to see whether Manchester City fans' protest at the £62 asked by Arsenal to watch tomorrow's match heralds a real change in attitudes or, as is more likely, it is just a one-off. Like most producers in a market economy, clubs will charge whatever the market will stand, so only when fans refuse to pay will they cut prices. Personally I continue to be amazed at what fans will pay, which is why I'll be at a League Two match today (adult and two children for £37) and not a Premier League one. We'll be watching that on television.
2. Claims for La Liga's global supremacy are over the top
La Liga may have the best two clubs in the world, but reputation appears to have triumphed over achievement for the entire Fifa World XI to be named from its players. As one of the (110-strong) judging panel I may be biased, but 'World Soccer's' world XI was more representative of 2012 form. From the Fifa selection Dani Alves, Gerard Pique, Marcelo and Xabi Alonso were omitted in favour of Philipp Lahm, Vincent Kompany, Jordi Alba and Andrea Pirlo.
3. Wigan's 'proper' Cup tie lacks box-office appeal
While the viewing figures will probably justify ITV and ESPN choosing Manchester United v West Ham and Arsenal v Swansea respectively – even though the matches are both on Wednesday – it is a shame neither had the courage to show a "proper" FA Cup-tie replay. Bournemouth v Wigan on Tuesday has a genuine chance of being a giant- killing; the problem is that in the modern Premier League, some of the giants are not very big when it comes to national appeal.
4. Administrative chaos at the heart of African problem
As the confusion surrounding Emmanuel Adebayor's African Cup of Nations participation underlines, in too many cases African football administration has let down its players and fans. Until this improves no African team will win the World Cup.
5. Flagging standards forget to benefit the attacker
The official who ruled Demba Ba's goal offside for Chelsea against Swansea on Wednesday had to be guessing – it was too close for him to be sure. Yet the benefit of any doubt is supposed to go to the attacker (as it did Coventry's Leon Clarke in an identical situation on Thursday). The eager flagger needs reminding.
Join our new commenting forum
Join thought-provoking conversations, follow other Independent readers and see their replies