Tottenham 4 West Ham 1: 'To try to win the title we need more, step by step,' says Spurs manager Mauricio Pochettino
Spurs ran out clear winners against the Hammers at White Hart Lane
Jack Pitt-Brooke
White Hart Lane
Sunday 22 November 2015 21:14 Comments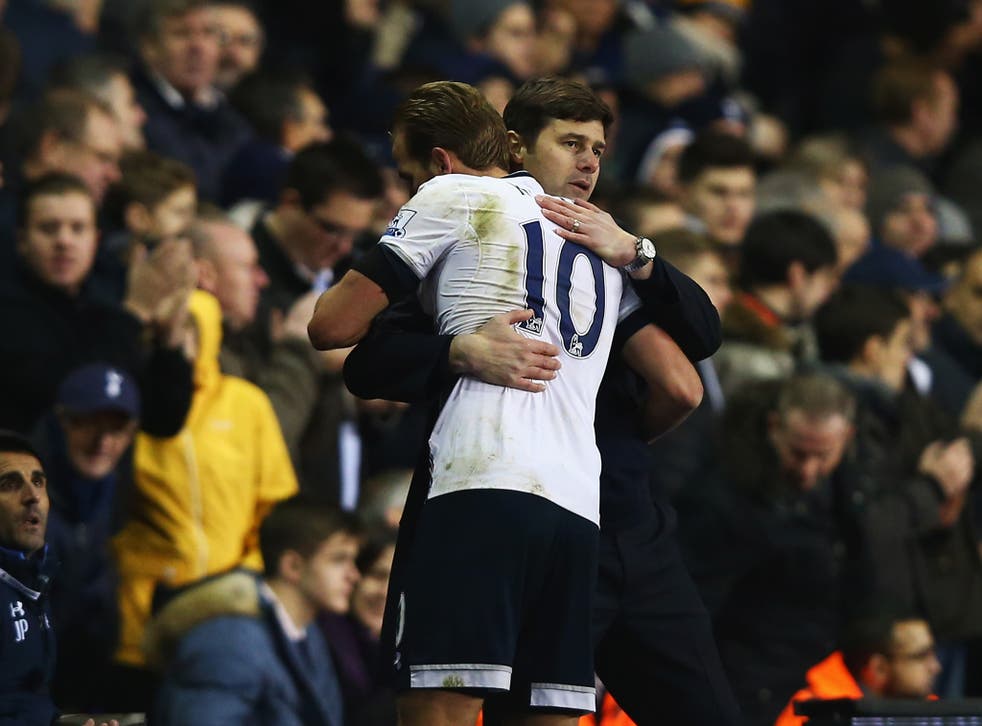 Mauricio Pochettino spoke with a sense of vindication after seeing his side continue their 12-game Premier League unbeaten streak, moving within two points of the top four. The Tottenham head coach described the 4-1 defeat of West Ham United as "one of the best performances of the season" and pointed to the enthusiasm and commitment with which his players carried out his instructions.
"In particular, you can feel from the touchline how the players believe in the way that we play, that it is the best thing for us," Pochettino said, when asked what pleased him the most. "We are very proud of the players, pleased with a lot of positive things we saw today."
Pochettino would not discuss the title, saying it is "too early", and that his side still need to improve. "For us to try to win the title, we need more, step by step," he said. "In football we cannot stop, ever. There is always something to improve in football, to try to play much better in the next game. We need to keep working hard and keep our feet on the ground."
Spurs' development, and the players' faith in the manager, gave Pochettino belief that they would continue to improve. "Tonight we are very proud," he said. "Today you saw how the players believe in the way that we play. We share the same philosophy, the squad is convinced that the way that we play is the best. This is why we feel very proud of them."
Tottenham 4 West Ham 1 player ratings

Show all 22
Pochettino was especially pleased with how his team kept trying to score even when the win was assured. "We always look forward and want to score," he said, "like in the last 10 minutes, at 3-0. In football, I like to look forward, try to play and score goals."
Pochettino said that Dele Alli "needs to be calm" and "needs to improve" after the 19-year-old picked up a needless booking that will keep him out of next Sunday's game with Chelsea.
The West Ham manager, Slaven Bilic, admitted that had it not been for Adrian's performance in goal, the result would have been even worse. "This was a shock, to be fair," Bilic said afterwards. "We deserved to be beaten, we deserved to lose 4-1. We prepared for a big game and in training we looked really good. But we couldn't put it on the pitch.
"The third goal just killed the game. After that it was all Spurs, we played really badly but we have to admit that they played a really good game. They played good, quicker than us, physically stronger than us. They scored goals, grew in confidence and were really skilful."
Adrian made two good saves in the first half and four in the second, earning Bilic's praise. "He is a good goalkeeper, a top-class goalkeeper," Bilic said. "We have to thank him. Of course, 4-1 is a massive defeat, but we have to admit that after 3-0 it could have been more."
Register for free to continue reading
Registration is a free and easy way to support our truly independent journalism
By registering, you will also enjoy limited access to Premium articles, exclusive newsletters, commenting, and virtual events with our leading journalists
Already have an account? sign in
Join our new commenting forum
Join thought-provoking conversations, follow other Independent readers and see their replies