Ben Davies flourishing under Mauricio Pochettino's magic touch to push Danny Rose further out of thought
The Welshman's time at Spurs since arriving from Swansea in 2014 has been slightly frustrating but the youngster is finally reaping the rewards after years of patience
Nick Miller
Monday 02 October 2017 10:23 Comments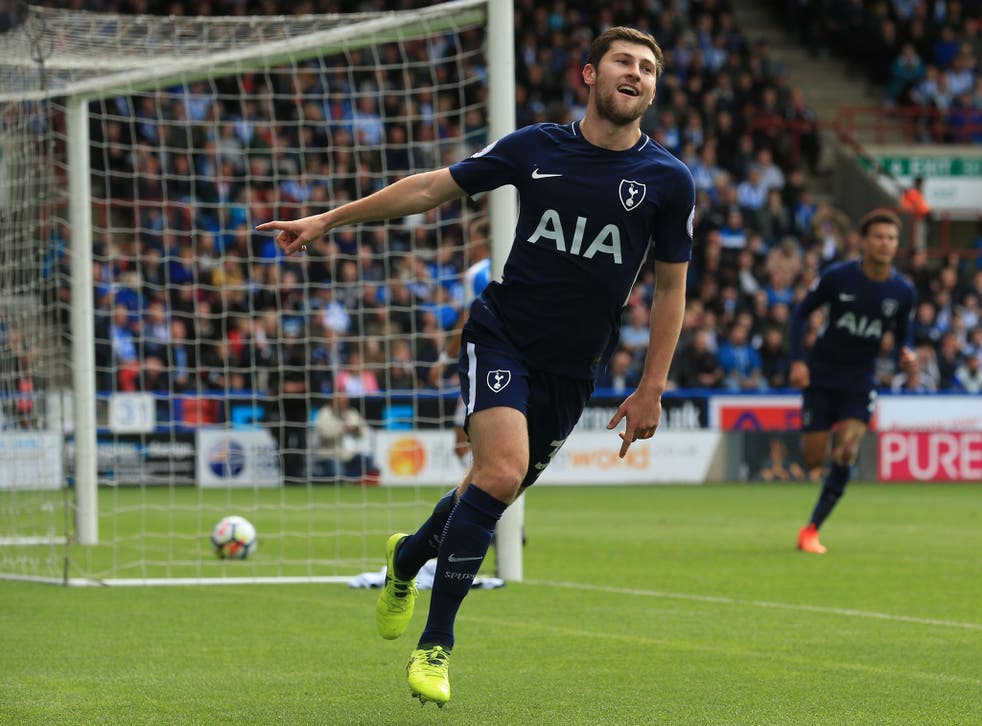 When Danny Rose gave an interview a few days before the start of the season, making clear that there was life outside Tottenham and he wouldn't hesitate in moving should it benefit him, it was widely agreed that he had a point, but the timing was bad. At that stage, most people meant bad timing for Tottenham, it coming about 48 hours before their first game and a few weeks after Kyle Walker was sold to Manchester City. As it turns out, the timing was worse for Rose.
If you're going make grand statements you know will upset people, the best time to do so is when you're in the form of your life, indispensable to your current team and wildly attractive to others. Rose, who subsequently apologised and found his August pay packet a little lighter, was injured at the time, and indeed remains injured. He hasn't played a minute for Spurs this season and when Mauricio Pochettino was last asked, he was reluctant to set a date for his return. Not that, even if Rose was fit, he would walk back into the side at the moment.
And the reason for that is Ben Davies. The Welshman's time at Spurs since arriving from Swansea in 2014 has been slightly frustrating, having made 41 league starts in the three seasons before this one. Davies has broadly been limited to cameos as cover and cup games. Before Rose was injured in January, Davies's longest run of consecutive league starts was four.
But this term he has missed just one game, and if it's possible for a team like Spurs to have an unsung hero, he is it. So far this season, they haven't missed Rose, who was the best left-back in the Premier League last season.
In the 4-0 against Huddersfield Davies was a constant threat, and while it helped that the opposition was perhaps not what you'd call menacing, a lot of Tottenham's game-plan involved attacking down the left. He made smart runs and put in some fine crosses, and if you worried that Spurs would miss Rose's relentless work rate, Davies' general match contribution was summed up in the closing minutes when he provided Moussa Sissoko with the assist for Tottenham's fourth.
His goal was a combination of attacking anticipation, to be in the right place to capitalise on a defensive error, and delicate finishing, dinking the ball over an onrushing goalkeeper. But his creativity elsewhere stood out: as well as the assist for Sissoko's goal, he swung over a brilliant cross that Harry Kane volleyed home, albeit from an offside position. No defender in the Premier League has created more chances this season.
After the game Pochettino fielded the expected and understandable questions about Kane, but it was interesting that when someone asked about Christian Eriksen, he quickly turned the attention elsewhere. "I think today that if we talk about one player other than Harry Kane it's Ben Davies," he said. "Sometimes we have to be honest and recognise some players that aren't the focus."
Pochettino has improved plenty of players in his time at Spurs, but he seems to have a particular talent for full-back whispering. Rose and Walker were turned from talented but inconsistent attacking defenders into a crack pair who could play in at least two different positions at the same time. Now, Kieran Trippier's improvement was at least part of the reason Spurs were happy to sell Walker, and Davies could keep Rose out of the team.
"He was so young when I arrived," said Pochettino. "He was working so hard to make his moment, and always being professional. That is why his teammates, the club, everyone is so proud of him.
"In the last three seasons he was so important for the team. For me he is one of the best full-backs in the Premier League. Today he showed a fantastic performance. Defensively and attacking, because he scored and gave an assist. His energy is fantastic."
That last part is perhaps key. In Pochettino's sides, you get nowhere without energy. And you can't play wing-back without it either. It's probably worth noting that's a relatively unfamiliar position for Davies too: he tends to play in a back three for Wales, but until Spurs adopted that formation more regularly last season, wing-back wasn't a role he filled very often. You wouldn't think that from watching him of late.
For all the outstanding individuals Tottenham have, their strength is as a collective, a frantically undulating group of players who move as one. "Their understanding," said Huddersfield midfielder Aaron Mooy, when asked what the hardest thing about facing Spurs was. "They all know exactly what they're doing. Where to move, where the space is. They've very sharp in the way they think." That was Rose, and might be again, but for the moment it's Davies.
Being a fringe player at Tottenham must be a difficult business. You have to fully integrate yourself into the system, but to do that you have to spend plenty of time in the team, which isn't always possible because the first-choice players are so good. You might have to wait for an injury to get enough of a run in the side. Davies waited, and waited, and now he's been given a chance, he's taking it.
Register for free to continue reading
Registration is a free and easy way to support our truly independent journalism
By registering, you will also enjoy limited access to Premium articles, exclusive newsletters, commenting, and virtual events with our leading journalists
Already have an account? sign in
Join our new commenting forum
Join thought-provoking conversations, follow other Independent readers and see their replies