Tottenham Hotspur 1 Chelsea 1 match report: All square in love and war for old allies
Jose Mourinho and Andre Villas-Boas share the points if not a drink as substitute Juan Mata turns the game and Jan Vertonghen does his  bit in Fernando Torres's red card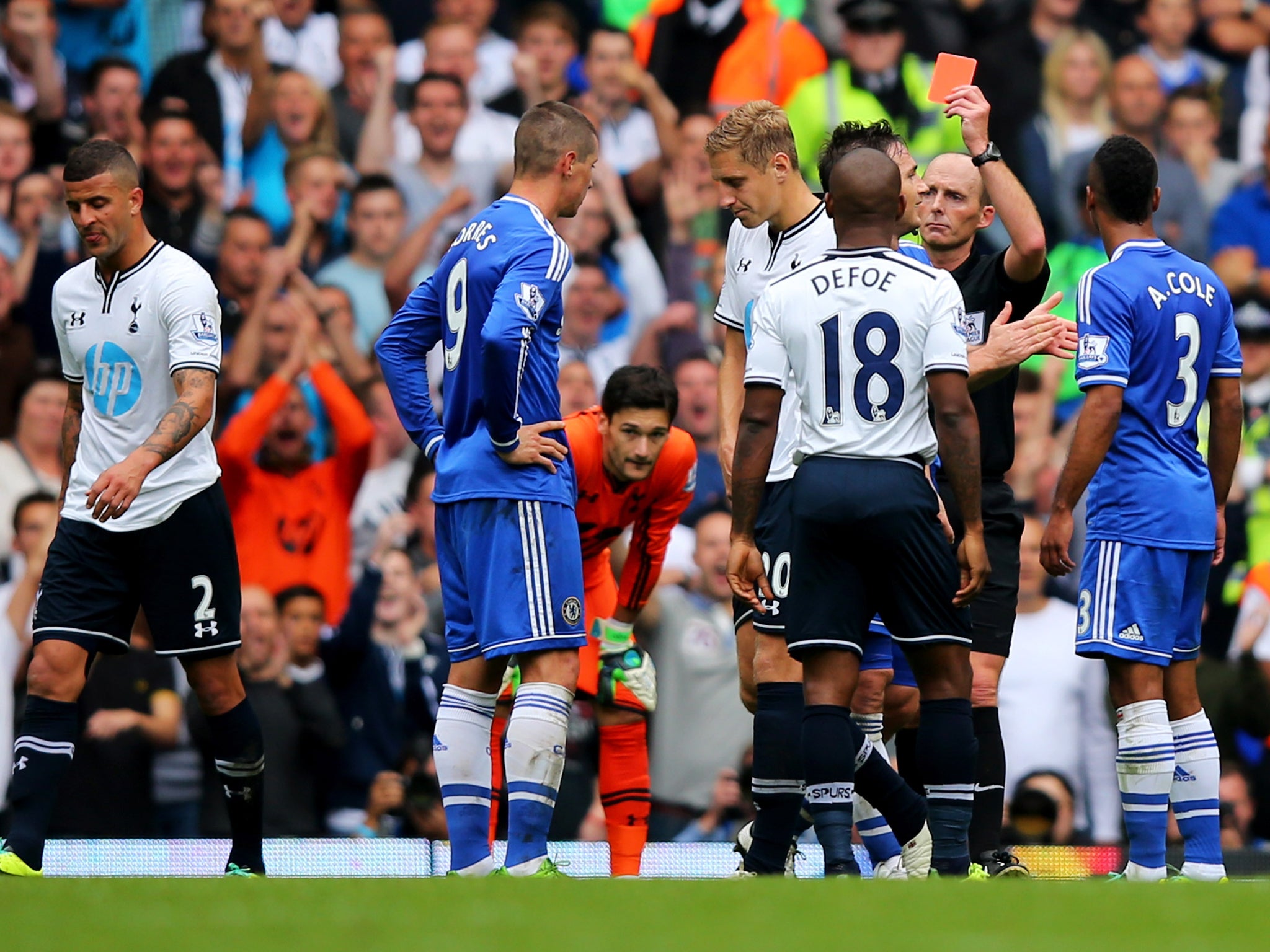 The compelling, if low-scoring, start to the Premier league season continued with all the fun of the derby fair here yesterday. It left these old rivals still up among the early leaders and both managers just about satisfied, given the controversial climax to a rollocking game. Had the Portuguese pair felt like discussing it all over a bottle of red, there would have been much to talk about, but Andre Villas-Boas's need to fly to Oporto provided him with a diplomatic way out, in every sense. He did suggest they had at least swapped phone numbers.
Before leaving, Villas-Boas admitted with justification that Chelsea were the better team in the second half, which was clear to everyone in a packed stadium.
Jose Mourinho insisted that Chelsea would have won had Fernando Torres not been wrongly sent off, although there were only nine minutes plus added time left when he was dismissed for receiving a second card encouraged by Jan Vertonghen's play-acting.
Visiting supporters pleased enough with the point against a team they never used to lose to were left to debate whether their manager had proved himself a genius of man-management or a fallible judge in his handling of Torres and Juan Mata, the latter having been omitted once again before coming on at half-time to effect a transformation.
Both players had been regularly left out until the Capital One Cup tie at Swindon in midweek, then told to go and prove themselves in Wiltshire. They did so to good effect and therefore earned a start and a substitution respectively here, in contrast to the disappointing Kevin de Bruyne and Willian, the Brazilian reported yesterday to have actually signed a contract with Tottenham before being snatched away by Chelsea.
Torres looked so sharp that it was impossible to see how Mourinho could have favoured the out-of-touch and out-of-shape Samuel Eto'o previously. Mata was brought on for Jon Obi Mikel and immediately trusted to play the role he craves in the centre of midfield, pushing the normal occupant Oscar out to the left. That gave Chelsea the attacking midfield three that had changed round the fixture last season, when their team came from 2-1 down to win 4-2. If the transformation was similar this time, the result remained frustratingly different.
Early on, Christian Eriksen, one of the three Tottenham summer signings to start the game, had looked capable of becoming the dominant figure. He had a key role as Tottenham took the lead in the 22nd minute by finding another new man, Roberto Soldado, whose equally deft ball offered Gylfi Sigurdsson a chance. The Icelander hurdled John Terry's desperate challenge and flicked his shot wide of Petr Cech.
If Paulinho, effective when going forward from midfield, had beaten Branislav Ivanovic to Soldado's low cross shortly afterwards or put his shot just before half-time inside a post instead of against it, Chelsea might have been left with too much to do.
Villas-Boas felt that second effort was "the [key] moment of the game". Chelsea had already begun to exert some pressure at last and Terry's strong header wide from a long cross by Ramires was a sign of what was to come.
From the start of the second half Torres made increasingly strong runs, often prompted by Mata. Just after the hour Vertonghen committed a blatant foul to stop Ramires bursting through and from Mata's free-kick Terry, just onside, glanced in a smart header. It was only the second goal Spurs had conceded in all competitions this season.
They would finish with five yellow cards, but Chelsea's proved more crucial. Torres picked up one for tripping Vertonghen as part of their ongoing feud, then pushed his hand down the Tottenham defender's face but escaped with no punishment. That may have been in Vertonghen's mind when the pair contested a long ball with nine minutes left and the Belgian stayed down longer after minimal contact. This time Torres was off.
From there a disgusted Chelsea settled for a draw that was the least they deserved, although it was almost denied them twice in the last few minutes. Michael Dawson set up Sigurdsson, who drove wide a ball that sat up nicely for him; Jermain Defoe, on for Soldado, had the sort of chance he often puts away but hit it straight at Cech.
A winning goal to the home side would have been unjust, however, for all the impressive briskness of their start in which Andros Townsend and Kyle Walker, both watched by the England manager Roy Hodgson, had combined especially well down the right flank.
"Chelsea had the upper hand on counter-attacks and deserved their equaliser," Villas-Boas admitted.
His former friend said: "The second half was the best we've played – a very good spirit, tactically well. Mata showed this is the way players have to say: 'I want to play'. He did that with the effort he made against Swindon and the way he changed the second half. Now we have played away to two title contenders, Manchester United and Tottenham and got two points. The start has been difficult but we won't be like the last two seasons, 15 and 20 points behind."
Line-ups:
Tottenham (4-2-3-1): Lloris; Walker, Dawson, Vertonghen, Naughton; Paulinho, Dembélé; Townsend (Chadli, 63), Eriksen (Holtby, 70), Sigurdsson; Soldado (Defoe, 77).
Chelsea (4-2-3-1): Cech; Ivanovic, David Luiz, Terry, Cole; Mikel (Mata, HT), Lampard; Ramires, Oscar (Azpilicueta, 83), Hazard (Schürrle, 69); Torres.
Referee: Mike Dean.
Man of the match: Fernando Torres (Chelsea).
Match rating: 8/10
Join our commenting forum
Join thought-provoking conversations, follow other Independent readers and see their replies