Dele Alli and Harry Kane strike for Spurs as Arsenal lose the last ever north London derby at White Hart Lane
Tottenham Hotspur 2 Arsenal 0: Spurs maintained their impressive undefeated run at White Hart Lane, easing to a comfortable victory which severely dents Arsenal's top four hopes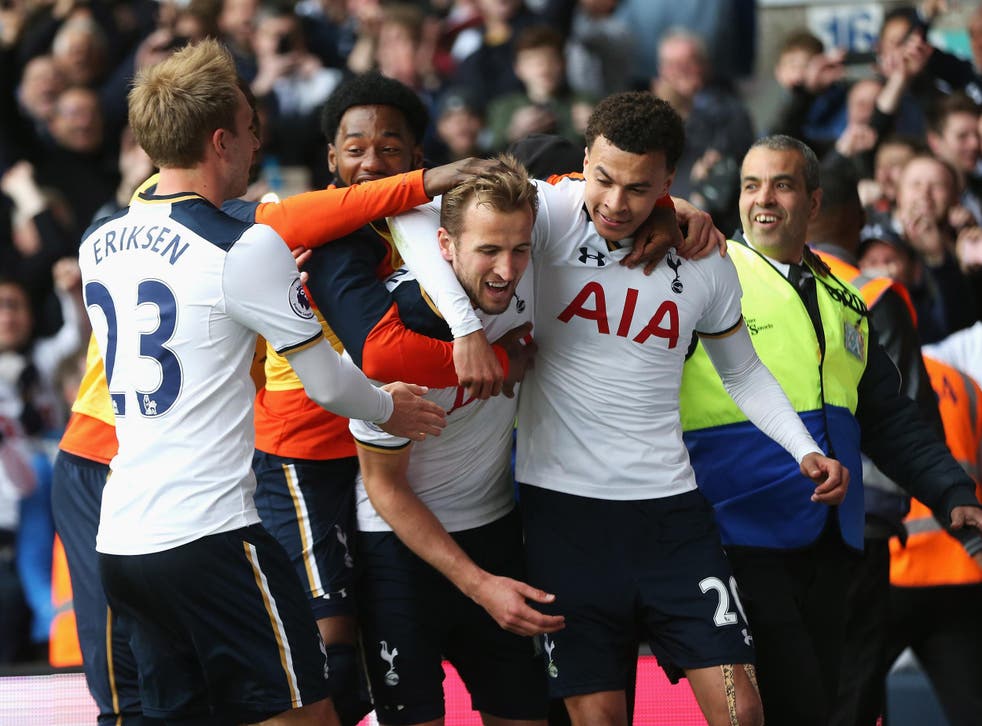 Tottenham Hotspur will finally finish above Arsenal for the first time in 22 years but it says so much about how far ahead of them Mauricio Pochettino's side are - how much greater their ambitions are - that hugely relevant and long-desired fact only seemed a minor detail in a major 2-0 victory.
While Arsenal still just continue to concern themselves with the same old debate over whether the manager is going, Spurs are simply going places. Most obviously, to a brand new stadium so symbolically rising up in view of the pitch, lending a deeper resonance to this resounding win.
The last north London derby at the old White Hart Lane really couldn't have gone much better for Tottenham in terms of what happened on that pitch. It might mean it isn't yet the last hope for the title race, either after a resilient Dele Alli strike and debatable penalty from Harry Kane.
Tottenham vs Arsenal player ratings

Show all 23
Chelsea slipping up at Everton would have obviously made it a much better day for Spurs and, although their 3-0 win at Goodison Park initially seemed to subdue both the performance and the crowd, it only ended up reflecting better on Pochettino's side that they so convincingly responded to it; that they kept going.
They look like they are going to push Chelsea all the way and at least make them work for this league title. Even if it ends with disappointment for Spurs in that regard, they can so rightfully look more optimistically at so many title challenges to come under this manager.
It's hard to know what the future looks like for Arsenal, meanwhile, as all the debate and doubt about Arsene Wenger goes on. This really was a pitiful display, especially given the stakes, the occasion and of course how they performed last week against Manchester City in the FA Cup.
It did take quite a while for the action on the pitch - and, to an extent, the atmosphere in the stands - to properly match the sense of occasion but, even then, the sense from the game was clear that Spurs are by now just a far superior team to Arsenal.
You didn't even need the obviousness of two first-half missed chances from Alli or Christian Eriksen to realise that. Even then, Spurs just looked a much better structured team, a much more sophisticated team, a much more focused side.
It could best be seen in the breaks in play. On the infrequent occasions when Arsenal did put Hugo Lloris's goal under some kind of pressure, it was usually the consequence of a bit of improvisation, and all so off-the-cuff.
Alexis Sanchez naturally personified this, and it was no coincidence that his side's best spell came from his best efforts in trying to get them going.
Arsenal couldn't really get past that brilliant bedrock of a backline, though, and it is to Tottenham's further credit that it was when they won the ball back that it was really shown how good they can be going forward.
Victor Wanyama would - as ever - be there to block the way for Arsenal and begin something for his own team, before the electrifying Heung-Min Son would change the very momentum of the game in an instant with a charge up the pitch for a another highly co-ordinated attack.
That core had already brought a fair few openings in a relatively frustrating first half for Tottenham, so it was all the more predictable that a similar move was to preface the game-breaking goal. It also showed another of Spurs' more important qualities: their sheer bloody-mindedness, as epitomised by the goal.
This team don't cave, like so many of their notorious predecessors, but only keep going.
Eriksen had forced his way into the box through sheer will and, although his initial effort was blocked, Alli wasn't going to take no for an answer and sent the ball back towards the net with base tenacity.
That was the lead, that was the moment, and this was the swift Arsenal collapse. Kane had the ball in the box within seconds, skipping past Gabriel. The Brazilian defender stuck his leg out and, although Kane clearly made the most of anticipated contact, there could be few complaints when he went down.
It was silly from Gabriel. Michael Oliver pointed to the spot, and Kane continued to point the way forward for this club. He powered the penalty home to become the Spurs player to have scored more goals against Arsenal than anyone else in the Premier League era, with the promise of so much more to come.
It was just another little significant piece of symbolism from the day.
In truth, though, this could have been so much more than a win that reflects the directions of these teams. It could very easily have been a thumping that made it painfully clear for Arsenal. There was already the barely explicable misses from Alli and Eriksen, but next came a series of barely believable saves from Petr Cech. The goalkeeper prevented this from being a humiliation, most notably from a Jan Vertonghen curled effort and then a Wanyama header.
In what is just another indictment of this side, Arsenal had almost nothing in response. Their best chance of the game had been an Aaron Ramsey effort from outside the box in the first half, something long forgotten by the time Spurs were rampaging all over them.
It feels like a lot of the old accepted truths about this rivalry can be forgotten.
The ground has shifted. Spurs are moving on, in so many ways.
Join our new commenting forum
Join thought-provoking conversations, follow other Independent readers and see their replies