Mauricio Pochettino boldly went toe to toe with Manchester City – but that is not why Tottenham were thrashed
Tottenham made crucial errors defensively while Pep Guardiola made smart tactical tweaks
Miguel Delaney
Chief Football Writer
Sunday 17 December 2017 14:02 Comments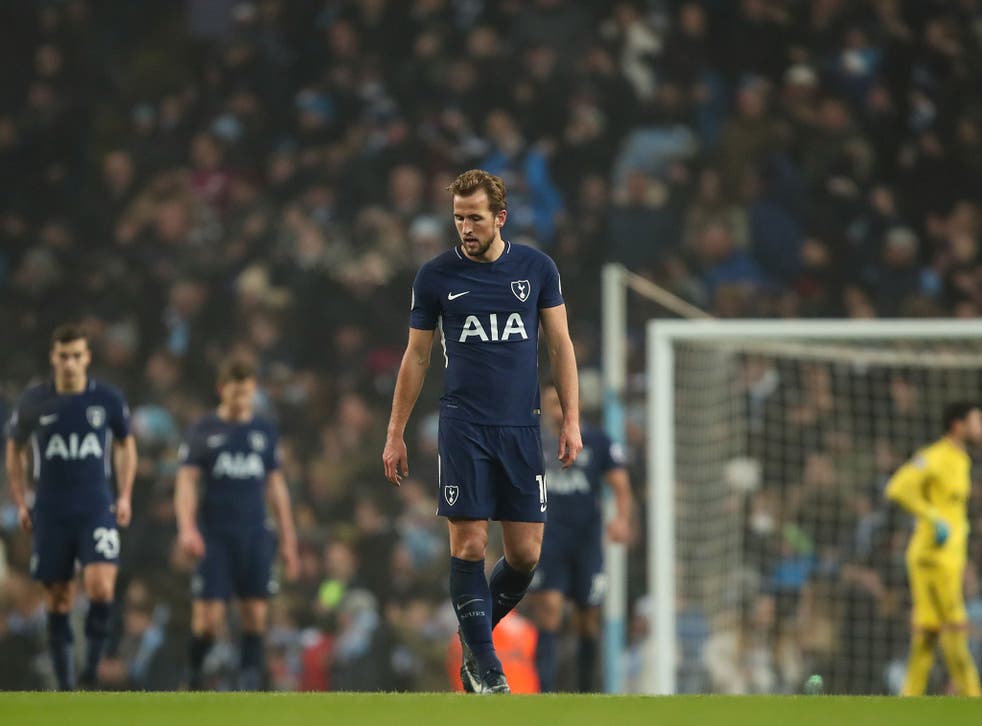 The only real question for Tottenham Hotspur after a beating like that, against a team like that, is how much their own flaws contributed to this rout.
Sure, Manchester City were absolutely magnificent, bit how much of that was Spurs allowing them to be magnificent; playing into their hands before falling apart to allow Pep Guardiola's side to play right through them.
Many might justifiably point to the fact Mauricio Pochettino refused to compromise his side's natural game against a superior side… and paid the price. This is what happens when you try to go toe to toe with a team on that kind of form.
Except, that's not quite what happened. Spurs did not lose this game because they pressed high against City and suicidally left space in behind. It is actually a tactic that has paid off for Pochettino before against Guardiola, most notably with an Espanyol that are far inferior to this Spurs against maybe a Barcelona at their best, but there was really just not enough time to see if it would pay off here.
There were two reasons for that. The first was that Guardiola spotted a pattern in the game earlier than Pochettino, and acted earlier too. As managers tend to do when they win – but not when they lose – the Catalan was fully willing to explain that after the game.
"My colleague started to play with a 4-4-2 and diamond, we adapted immediately to play and build up with three," the City boss said.
Really, there wasn't much time for that to take effect before Spurs were 1-0 down. That wasn't down to the technicalities of tactics, though. It was much more basic: marking at set-pieces. No matter the game, no matter the opposition, no matter the context, no matter the quality of the delivery, a player as small as Ilkay Gundogan shouldn't be allowed a free low header just yards from Hugo Lloris's goal.
That shouldn't happen to any side, but especially a side as defensively diligent as Spurs, as Pochettino admitted.
"When you watch the game and you assess the game and the way we conceded the first goal was a massive gift for Manchester City," the Spurs manager said.
It does maybe also point to how they need to adjust to the absence of Toby Alderweireld, and how fundamentally important he is. These are questions Pochettino has to deal with, although it was similarly a game they could have done with Davinson Sanchez.
After that, the truth was that everything was set up for City. They were at home, 1-0 up against a team that had a duty and need to come forward – unlike, say, a West Ham United more interested in damage limitation – and on full confidence. Pochettino had already mentioned before the game how City currently have an aura where they feel like they are 1-0 up before they even get out there, and here they were, actually 1-0 up, without having to work for it.
They duly played like it wasn't work at all, like it was joyful expression. It completely looked like that, especially with every link-up between Leroy Sane and Kevin De Bruyne.
Pochettino should probably have changed something at that point, rather than as late as the final stages on the game. That is on him, but it was already the case that a bit of frustration had descended on his players.
Harry Kane maybe should have been sent off for a "challenge" on Raheem Sterling, Dele Alli probably should have got sent off for one on De Bruyne. Aside from how it showed Spurs were losing control, it also made City even more focused in control. They were angry in the right way, made clear by De Bruyne's emphatic finish to make it 2-0.
That loss of control is something else Pochettino has to look into.
As for the overall look of this game? It was mostly City, but Spurs probably made it worse than it should have been – it just wasn't because of Pochettino trying to play their best football.
Register for free to continue reading
Registration is a free and easy way to support our truly independent journalism
By registering, you will also enjoy limited access to Premium articles, exclusive newsletters, commenting, and virtual events with our leading journalists
Already have an account? sign in
Register for free to continue reading
Registration is a free and easy way to support our truly independent journalism
By registering, you will also enjoy limited access to Premium articles, exclusive newsletters, commenting, and virtual events with our leading journalists
Already have an account? sign in
Join our new commenting forum
Join thought-provoking conversations, follow other Independent readers and see their replies