New-look Tottenham Hotspur find a way to win without Mousa Dembele as Moussa Sissoko steps up to the plate
Without Dembele Tottenham have a new system, effectively a 3-6-1 with wing-backs either side of a diamond midfield, which includes a brand new role for Sissoko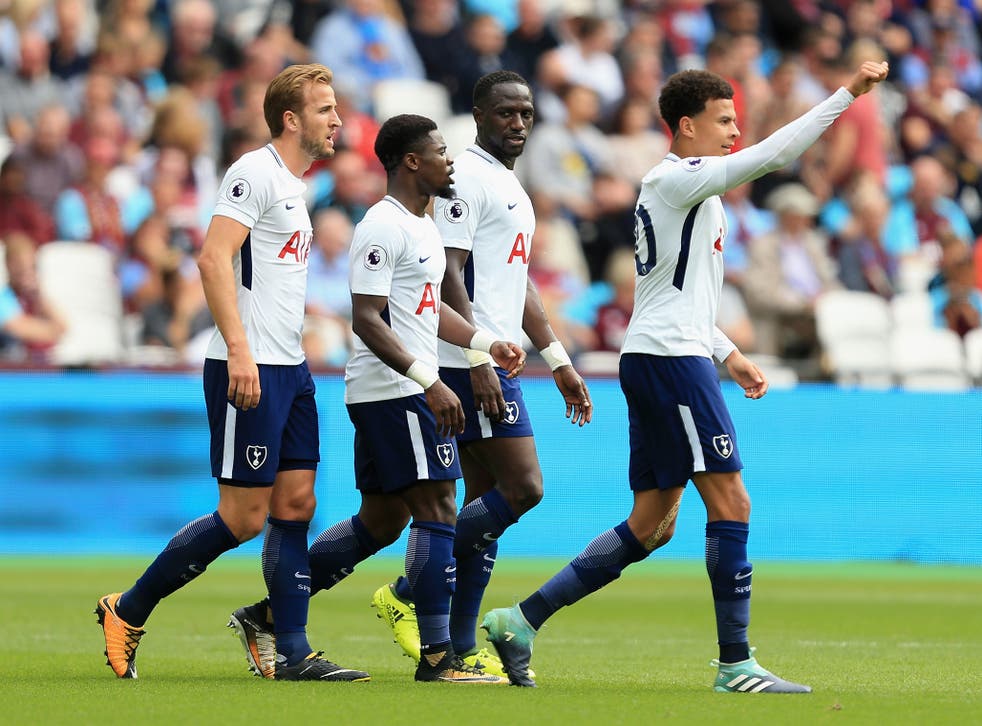 Mousa Dembele has been Tottenham Hotspur's engine for the last few seasons but they have found a way to win without him. Their football does not have the same flow – how could it – but it is more direct, more powerful, and at least away from Wembley, just as effective.
Spurs have won all three away league games this season, at Newcastle, Everton and now West Ham United, and been far superior in all three. Without Dembele they have a new system, effectively a 3-6-1 with wing-backs either side of a diamond midfield.
They have even found a role for Moussa Sissoko, playing alongside Christian Eriksen in the middle, making the most of his power and running with the ball. It is almost a new-look Spurs.
"Sissoko and Dembele have different characteristics," Pochettino explained after their 3-2 win at West Ham.
"We had Christian and Sissoko, who can go forward on the right side to stretch the opponents. I feel happy in the way we changed and played. Sissoko was fantastic today. He is doing very well, I am so happy with him this season."
It is quite the turnaround for a player who described his first season at Spurs as one of the hardest in his career. But he has another important role at Spurs too, helping to integrate his good friend Serge Aurier – they played together for Toulouse - into the first team.
Aurier made his first Premier League start on Saturday although it ended prematurely as he was sent off for two yellow cards within five minutes.
It was not very smart but he played well before then, giving Spurs the explosive power wide on the right they have lacked since selling Kyle Walker to Manchester City in the summer.
Pochettino took a risk signing Aurier but he is pleased with what he has seen so far, and there was no criticism for the red card even though it nearly cost Spurs the win. "For me, it's not a big issue," Pochettino said. "I am happy with him. He made a mistake, but I cannot blame him. When you play football sometimes, that happens. It is not easy to keep calm."
This group of players have been together for a few years now but Aurier has injected something new into the team dynamic and Pochettino is delighted with him.
"His behaviour is fantastic on the team since he arrived," he said. "The team-mates love him. He is a very good team-mate and he is very good friends with Kieran Trippier, who he competes with for the same position. I think he is doing very well. We are happy with him."
With Aurier, Sissoko and new signing Davinson Sanchez at centre-back, there is a slightly different feel to Tottenham this season. And Saturday's win was their first away at West Ham since August 2014, in Pochettino's very first game in charge.
Eric Dier scored the winner that day, on his Tottenham debut. Three years on he has evolved, with the team itself, into a powerful, intelligent, adaptable player. And he was pleased that after two painful away defeats at West Ham – one at Upton Park, one at the London Stadium – Spurs turned their record around.
"You build a history with every team and ours isn't so good with them, especially away from home," Dier said. "They've put a dent in our title hopes two years on the bounce, so it was really good for us to win here."
Wembley is another matter but away from home, this is a strong powerful Spurs side, a team that stands up for itself and should back itself to go almost anywhere in the Premier League this season and win. The days of soft-touch Tottenham, who wilt on the road, or when things are against them, have been left behind.
"That is something that has been with Tottenham for a long time, but I think this team has been changing that image," Dier said." I'm 100% certain that every team we play against, they don't look at us like that anymore."
Register for free to continue reading
Registration is a free and easy way to support our truly independent journalism
By registering, you will also enjoy limited access to Premium articles, exclusive newsletters, commenting, and virtual events with our leading journalists
Already have an account? sign in
Register for free to continue reading
Registration is a free and easy way to support our truly independent journalism
By registering, you will also enjoy limited access to Premium articles, exclusive newsletters, commenting, and virtual events with our leading journalists
Already have an account? sign in
Join our new commenting forum
Join thought-provoking conversations, follow other Independent readers and see their replies