Chelsea needed Burnley 'wake-up call' says Thibaut Courtois as he backs champions to compete for title again
Chelsea ruined Spurs' first league game at Wembley by claiming a late 2-1 win on Sunday to bounce back from last week's shock 3-2 home defeat to Burnley
Miguel Delaney
Chief Football Writer
Monday 21 August 2017 11:39 Comments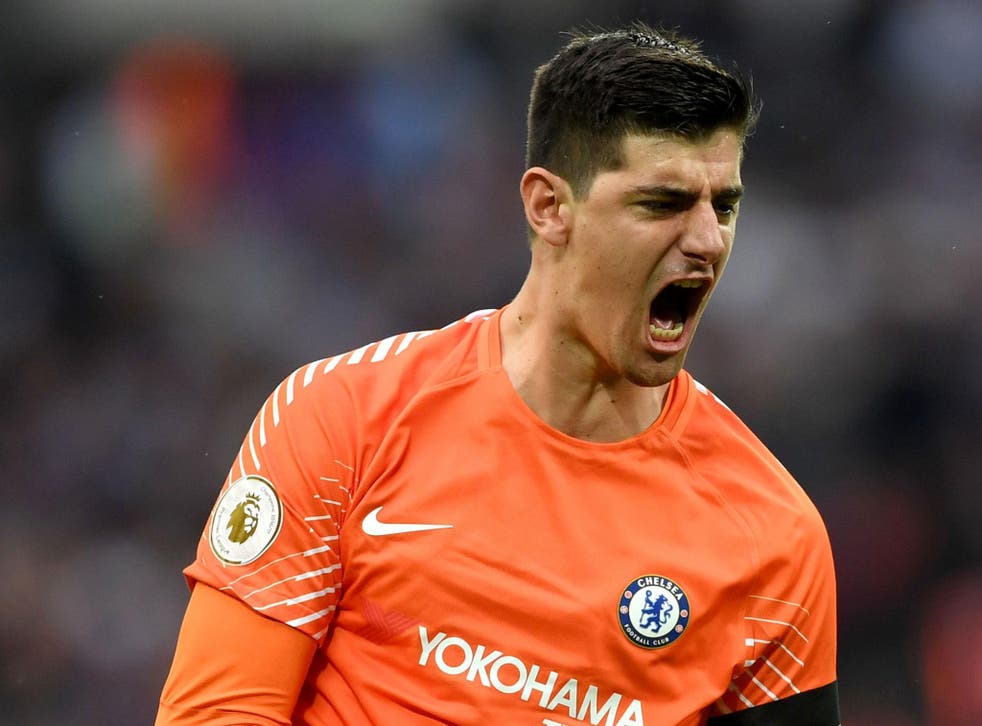 Thibaut Courtois says Chelsea's hard-fought win over Tottenham Hotspur proves that the champions do not have the same problems as 2015, and believes that last week's bad start was more a consequence of freak absences and the need for "a little wake-up call" rather than anything deeper. The goalkeeper also feels his side can win the title again, and that the Spurs game showed how hard they had worked in pre-season.
Chelsea ruined Spurs' first league game at Wembley by claiming a late 2-1 win to bounce back from last week's 3-2 home defeat to Burnley, marking a contrast to two years ago when they continued their poor start in their second game with 3-0 hammering at previous title rivals Manchester City.
"Obviously after last week, it doesn't show it was to be the same," Courtois said. "We just started bad. Maybe we need as a group a little wake-up call and say 'look, we need to give 150% this year and not 100%.' That's what we did today, I think we did very well. You see that in the end. We can win those difficult games. I remember two years ago we had to go to City and lost there, and it was a difficult start for us. Now, this victory is good. Next week we play at home against Everton, who are doing well. We don't have the easiest start but this victory is good for the confidence, to continue the hard work we are doing in training.
Tottenham vs Chelsea player ratings

Show all 22
"The Premier League is very long. Last year we didn't start very well, we won the first games then we had a difficult September. Then a lot of people said we couldn't win the league, and we did it. the Premier League is one long marathon, not a sprint of one month or two months. Let's see, game by game, and then in May hopefully we are there to win the league. If not we will try to be as close as possible."
Asked about Chelsea's resilience, Courtois said this result proves they shouldn't be written off.
"Yes, I think so. I think we are doing very well, I think we work very hard in pre-season now, it was just a bit unfortunate that we had suspended and injured players, some players left, so it's not easy for us in pre-season. I think this victory for us is good to show as a team we are working very well and in the next weeks we can continue in this way, we are working very hard in training and that shows that the work pays off. For the group this week we train very, very hard, that shows off today. That's a pleasure for us and for the manager.
"Physically we dug very deep. Spurs, especially the last 15, 20 minutes of the first half, they had a lot of pressure on us. As well in the second half. Even if you see Marcos [Alonso] in the end, he was very tired, but still he made that run to score. You see that physically we are very good and for us that is important."
The goalkeeper did admit that Chelsea have to cut out conceding free-kicks around their box, something that has led to goals in all of their first few games including the Community Shield defeat to Arsenal. Spurs' only goal on Sunday also came from such a situatio, as Michy Batshuayi headed the ball into his own net.
"Yes for us it's very important. Against Arsenal we played a good game, were a bit unlucky because we made some unnecessary fouls close to the box, fouls that are not necessary to stop an attack. And today as well, I think the 1-1 was a foul we don't have to concede. You see with the quality [Christian] Eriksen has there were a lot of dangerous crosses, free-kicks into the box, one can end up inside."
"After last week where maybe the first half we lacked some aggression, we conceded those goals too easy even with 10 men, in the second half we showed good battle last week. I think today we showed that on the pitch. We didn't have the possession but what we did with the ball was good, and we defended all together really well."

Register for free to continue reading
Registration is a free and easy way to support our truly independent journalism
By registering, you will also enjoy limited access to Premium articles, exclusive newsletters, commenting, and virtual events with our leading journalists
Already have an account? sign in
Join our new commenting forum
Join thought-provoking conversations, follow other Independent readers and see their replies