Tottenham vs Watford match report: Kieran Trippier's first goal moves Spurs into second
Tottenham Hotspur 1 Watford 0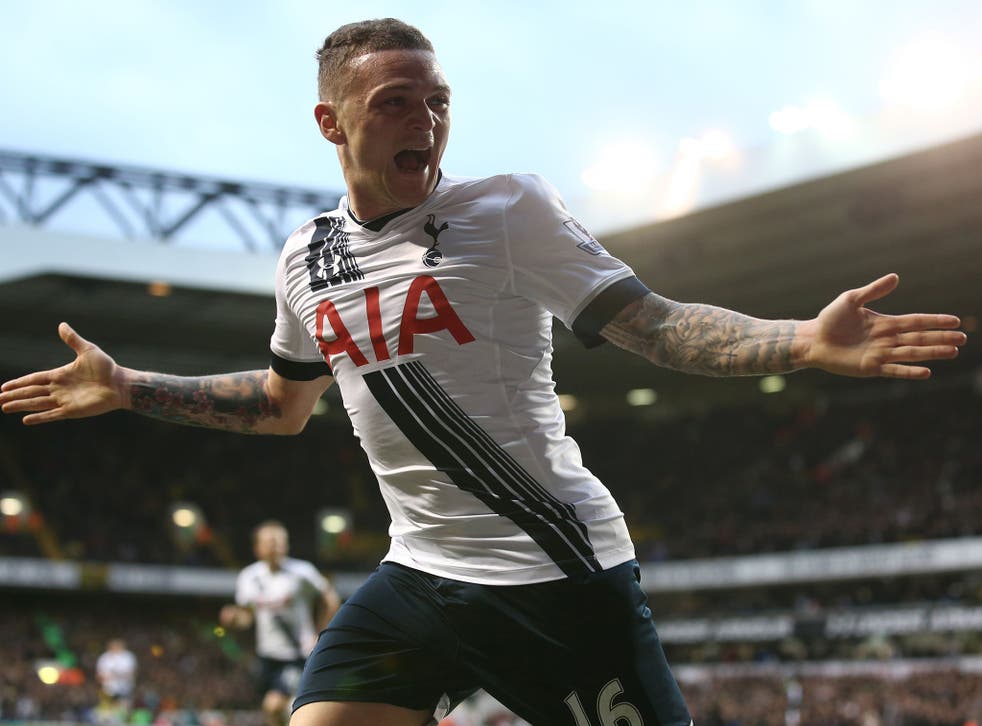 In a season when all perceptions have been skewed, is this what potential title winners look like? Defeated Watford manager Quique Sanchez Flores certainly thinks so, saying Tottenham "have everything to win" the League.
Mauricio Pochettino's side claimed the win thanks to their stand-in right-back, to move second in the Premier League table, and although that might seem fortuitous from the bare details, it was an impressively overwhelming display that spoke of Tottenham's quality and creditable core character.
Leicester may have claimed the attention this season, but Spurs have moved in just behind them with an equally admirable attitude. Tottenham could have won by so much more than Kieran Trippier's 64th-minute goal. They battered Watford by 26 shots to one, and barely allowed Flores' side any of the ball in their half, let alone around their box.
It could have been a win by three or four but, in some ways, the manner of victory reflected even better on Spurs and their manager because of the way it came about. It was a moment of decisive action from Pochettino, showing how so much is going his way, and how influential he is.
After 60 minutes, the Argentine brought on Dele Alli, who was on the bench because of a midweek stomach bug. By the 62nd minute, the 19-year-old midfielder had played the cross-field ball from which Trippier slotted in the winning goal.
Former Spurs goalkeeper Heurelho Gomes had finally been beaten, and there was no doubt Spurs would win. Flores said it was "impossible to advance" up the pitch against the relentless home side, and the wonder now is whether Tottenham can win the League. Pochettino would not go outright and say it. "It's better to not speak too much [now], only show, to work hard," the Spurs manager said. "I believe in my players, in my squad, and we'll see. It's difficult to guess what will happen in the future. In football, belief is the most important. If we believe, it can happen."
What has happened is a fine run. The victory marked four successive wins in the League and six in all competitions, stemming from the 1-0 January home defeat to Leicester. That might have been a deflating moment for a young Spurs team, but it has had the opposite effect.
In this game, they gradually built themselves into a blur of energy that Watford could not withstand. Nacer Chadli should have scored at least two chances that Alli would have taken from a similar position, and the opening goal had a sense of inevitability about it.
Watford did force some play around the Tottenham box in stoppage time. That could have been nervy due to the situation in the table, but it reflected well on Pochettino's team too. They kept strongly heading everything away. There was no doubt or hesitation, not in this game, or about this team.
Register for free to continue reading
Registration is a free and easy way to support our truly independent journalism
By registering, you will also enjoy limited access to Premium articles, exclusive newsletters, commenting, and virtual events with our leading journalists
Already have an account? sign in
Register for free to continue reading
Registration is a free and easy way to support our truly independent journalism
By registering, you will also enjoy limited access to Premium articles, exclusive newsletters, commenting, and virtual events with our leading journalists
Already have an account? sign in
Join our new commenting forum
Join thought-provoking conversations, follow other Independent readers and see their replies