Tottenham vs Manchester United: Five things we learned as Edinson Cavani completes Premier League comeback
Tottenham 1-3 Manchester United: Edinson Cavani strikes to complete United comeback and land major blow in top-four race
Jamie Braidwood
Sunday 11 April 2021 20:11 Comments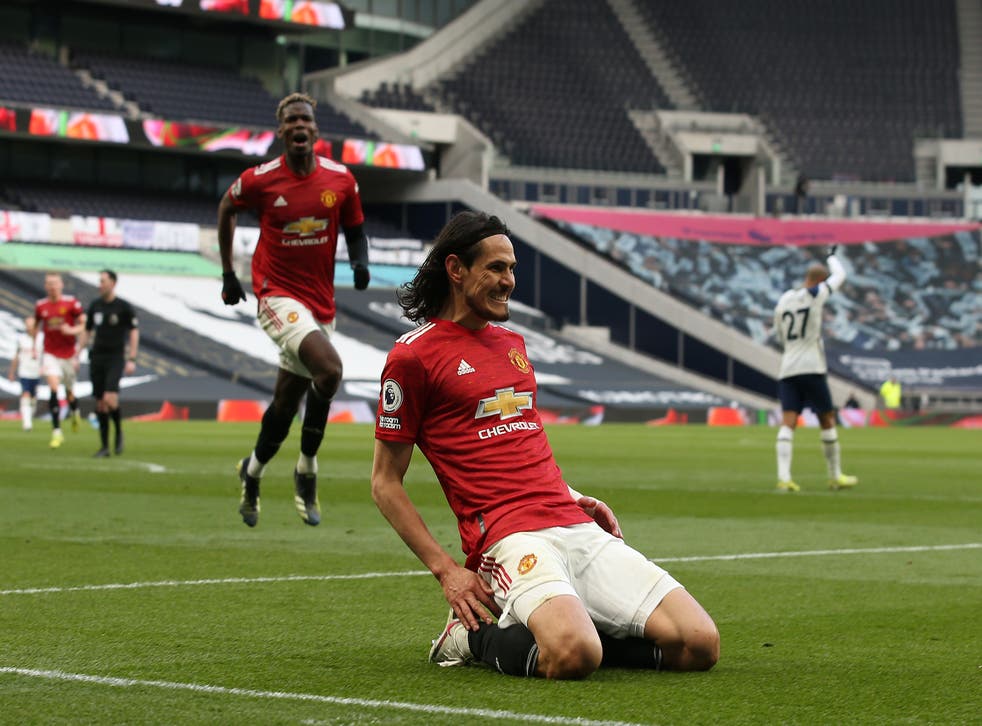 Manchester United turned it around yet again in beating Tottenham Hotspur 3-1 on Sunday.
After an uneventful opening 30 minutes, United thought they had found the breakthrough in the 33rd minute when Edinson Cavani sent the ball through Hugo Loris' legs with his side's first shot on target.
But the goal was controversially disallowed for a stray arm from Scott McTominay on Son Heung-min, and the match completely turned on its head when Son opened the scoring in the 39th minute after tucking away Lucas Moura's cross.
United levelled through Fred shortly after the restart, with the midfielder finishing a rebound off Loris from Cavani's shot. Bruno Fernandes forced a smart saved from Loris with a long-range drive, before Paul Pogba had a chance from six yards blocked.
Substitute Mason Greenwood produced a perfect cross for Cavani to nod in the winner in the 80th minute, before Greenwood smashed in a third late on as he beat Loris at his near post.
Here are five things we learned.
Cavani proves his worth
There was talk this week of Cavani leaving Old Trafford at the end of the season to return to South America but on this evidence, they should make it one of their priorities to ensure that he remains at the club this summer.
Cavani had a opening goal for his team ruled out in controversial circumstances, but he came up with the important winning goal in the 80th minute.
On several occasions, his movement in the box and final third for United was brilliant, and he offered an outlet that has been missing in games in which they've started Anthony Martial as their central striker.
It showed that Cavani can still contribute, and Ole Gunnar Solskjaer must ensure he remains at the club next season
VAR farce
United had every right to be frustrated after their opening goal was disallowed for a foul on Son.
In a statement, the Professional Game Match Officials Board [PGMOL] said that the movement of McTominay's hand towards Son was unnatural and not part of his running motion.
The incident was not a "clear and obvious" error, and it took the VAR and referee Kavanagh several replays to reach their conclusion.
Additionally, by reviewing the incident in slow motion, the contact on Son was made to seem more deliberate and impactful than it actual was.
Once referee Kavanagh was sent over to review the incident on the pitch-side monitor, it felt inevitable that the goal was going to be overturned.
And by not showing McTominay what would have been a second yellow card, the officials were essentially admitting that the midfielder's action was not deliberate.
In that case, why was it a foul? This was another example of VAR's poor implementation in the Premier League, and the fact that Son scored at the other end minutes later compounded United's frustration.
Spurs' top-four blow
After being a goal up at half time, the manner of Sunday's second-half collapse to his former team will haunt Jose Mourinho.
But Sunday's 3-1 loss has greater implications on their campaign, with Tottenham now extremely unlikely to qualify for the Champions League this season.
With West Ham, Chelsea and Liverpool all winning this weekend, Spurs simply had to claim three points in order to keep up their top-four chase. Instead, they now find themselves six points behind fourth place West Ham with only seven games to go.
A second successive season out of the Champions League will heighten the talk surrounding Kane's future at the club, and will only add to the belief that Kane has to leave White Hart Lane in order to get back to the Champions League while he is at his prime.
As for Mourinho's future, Sunday's defeat also increases the pressure on their upcoming Carabao Cup final against Manchester City, but even then, securing the club's first trophy since 2007 may not be enough after such a disappointing campaign.
United's slow starts
United may have been hard done by after their opening goal was disallowed, but their first-half performance followed a familiar pattern to their performances in big Premier League games this season.
After goalless draws against Manchester City, Chelsea (twice), Liverpool, Arsenal, United were again shutout in the first 45 minutes when playing a 'Big Six' opponent.
United may extended their unbeaten in the Premier League to 23 matches against Spurs, but in many of those games they're started passively, and it hasn't been until they've gone behind that we've seen them emerge as an attacking force.
We saw that again on Sunday, with United's best attacking play not coming until after they were 1-0 down. Solskjaer's side were much better after the break, with Fernandes and Pogba influential, but they must improve on this aspect of their game if they are to to take the next step and seriously compete for the Premier League title.
City may have lost 2-1 to Leeds on Saturday, but Pep Guardiola's side are set to break the 90-point mark on their way to becoming Premier League champions this season. If United are to challenge, they need to able to reach that figure, too, which will require far faster and more assertive displays from the first whistle.
Their response to going behind following the controversial first half was impressive, yet again, though.
Dier comeback
Tottenham's defensive performance was rightly criticised following the 2-2 draw against Newcastle United last weekend, with Davinson Sanchez in particular having a match to forget.
Sunday saw Eric Dier receive a recall to the starting line-up after a long spell out of the team due to a loss of form, and it was an encouraging performance from the England defender.
Dier contributed two key blocks in either half, the first on a Rashford shot and the second on a Pogba chance from six yards, and the 27-year-old was solid, despite being on the wrong end of the result.
It was a good time for Dier to put in an impressive performance, as he was in danger of dropping out of Gareth Southgate's squad after being the only outfield player from the 25-man squad to not feature in England's three World Cup qualifiers.
The goal-scoring return of Son to Spurs' front-line ahead of the Carabao Cup final against City later this month was also a bonus. Son's impact in offering a better balance to Spurs' attack was clear, and while this was a damaging result, he can help end their trophy drought at Wembley.
Register for free to continue reading
Registration is a free and easy way to support our truly independent journalism
By registering, you will also enjoy limited access to Premium articles, exclusive newsletters, commenting, and virtual events with our leading journalists
Already have an account? sign in
Join our new commenting forum
Join thought-provoking conversations, follow other Independent readers and see their replies