Villas-Boas rejects prospect of Chelsea spree
Blues agree £7m fee for Cahill but major overhaul would be sign of 'incompetence'
Glenn Moore
Saturday 31 December 2011 01:00 Comments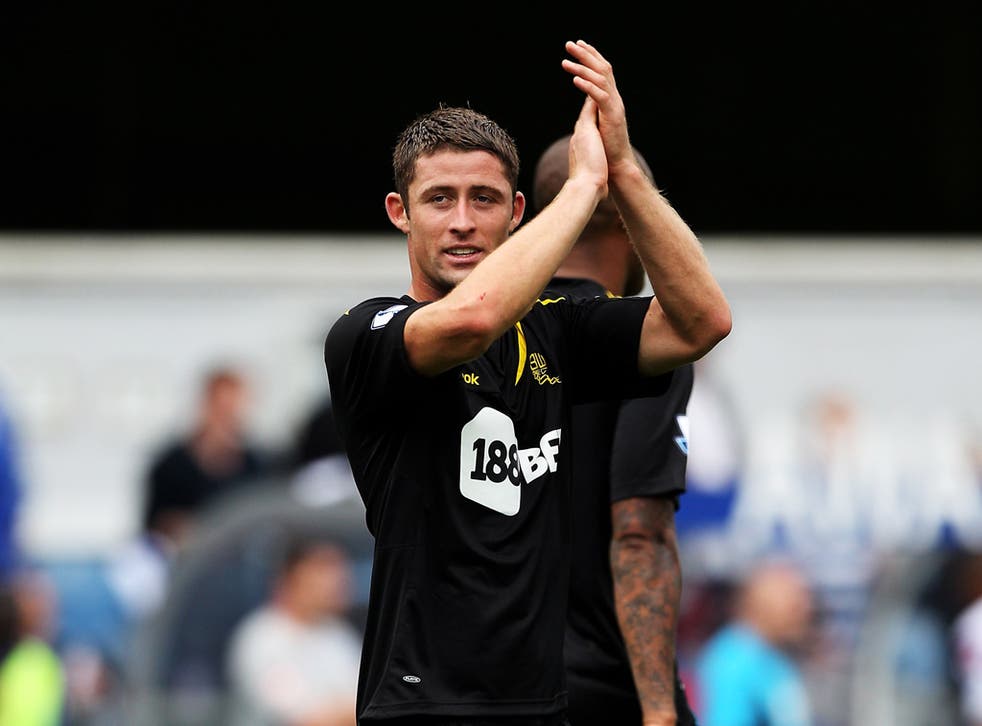 Andre Villas-Boas last night insisted the imminent arrival of Gary Cahill from Bolton would not precede another transfer window splurge by Chelsea as that would be an admission of "incompetence".
"We are looking to add to the squad, but not to the extent people are talking about," the Chelsea manager said. "Apart from a central defender, I really don't know if we will be adding anyone else. You have to bear in mind that these are the players we have set out to win four trophies [with]. We would call ourselves incompetent by making radical changes just because the market opens."
Even Cahill's acquisition is not yet certain – although a fee, believed to be £7m, has been agreed with Bolton, Villas-Boas said Chelsea and the defender are "miles apart" when it comes to personal terms. Cahill has been warned Chelsea have lined up other players and Cahill, of course, may have other suitors, notably Tottenham.
He has impressed for England, where Cahill has played alongside John Terry in four of the last five internationals, keeping three clean sheets. His form for Bolton has been less sound this season and it seems clear the 26-year-old has been affected by the transfer speculation.
Villas-Boas was unconcerned: "I think his technical attributes are immense and his pace is fantastic. You have to understand Bolton are going through a difficult time and you cannot put down to an individual the amount of problems that have arisen in Bolton's defensive organisation.
"Like us, if Bolton go into a streak of wins the level of confidence can increase to make the jump to better performances, collective and individual. No disrespect to Bolton – and I believe Owen [Coyle] is the person to turn them around – but we believe that, with our collective organisation we can improve the individual form of the player."
In other words, 'we have better players, so he will play better'. Villas-Boas may be right, although the flipside is the spotlight on Chelsea is far greater than on Bolton and any mistakes Cahill makes will be highlighted.
Villas-Boas added that Cahill's international partnership with Terry had been taken into consideration, but was not "the X-factor" in signing him. Should the pair line up on a weekly basis for Chelsea it will be beneficial for Fabio Capello, assuming Terry's forthcoming court case does not remove him from international contention.
Villas-Boas said he was not anticipating selling any of his players apart from Alex, though "if any club comes in with an interesting offer, we'll have to consider it". He added he still hopes Didier Drogba, out of contract in the summer, will sign a new deal.
Carlo Ancelotti's instalment at Paris Saint-Germain may lead to offers for Drogba and Florent Malouda but Villas-Boas insisted they "were not for sale", adding, "it can happen that a manager goes back to a club, but Carlo did not sign anyone from Milan for Chelsea".
Chelsea play Aston Villa today with their manager seeking more consistency from his players. The advantages won in good performances against Manchester City and Tottenham have been neutered by lesser ones against Wigan and Fulham. "Villa are well-organised, compact and show great competence defending away from home where they've had a lot of draws," Villas-Boas said.
After his side drew with Fulham on Monday, Villas-Boas declared the title was out of reach but Manchester City were then held at West Brom. With City playing Sunderland away and Liverpool over the new year he now believes the race is back on – but, he said, "we need a run of solid wins". Starting today against Villa.
Register for free to continue reading
Registration is a free and easy way to support our truly independent journalism
By registering, you will also enjoy limited access to Premium articles, exclusive newsletters, commenting, and virtual events with our leading journalists
Already have an account? sign in
Join our new commenting forum
Join thought-provoking conversations, follow other Independent readers and see their replies