Watford snatch last-gasp winner against desperately disappointing Arsenal to move into the top four
Watford 2 Arsenal 1: The home side have scored some celebrated late goals recently but none as important as this, with the upset victory moving Watford into the top four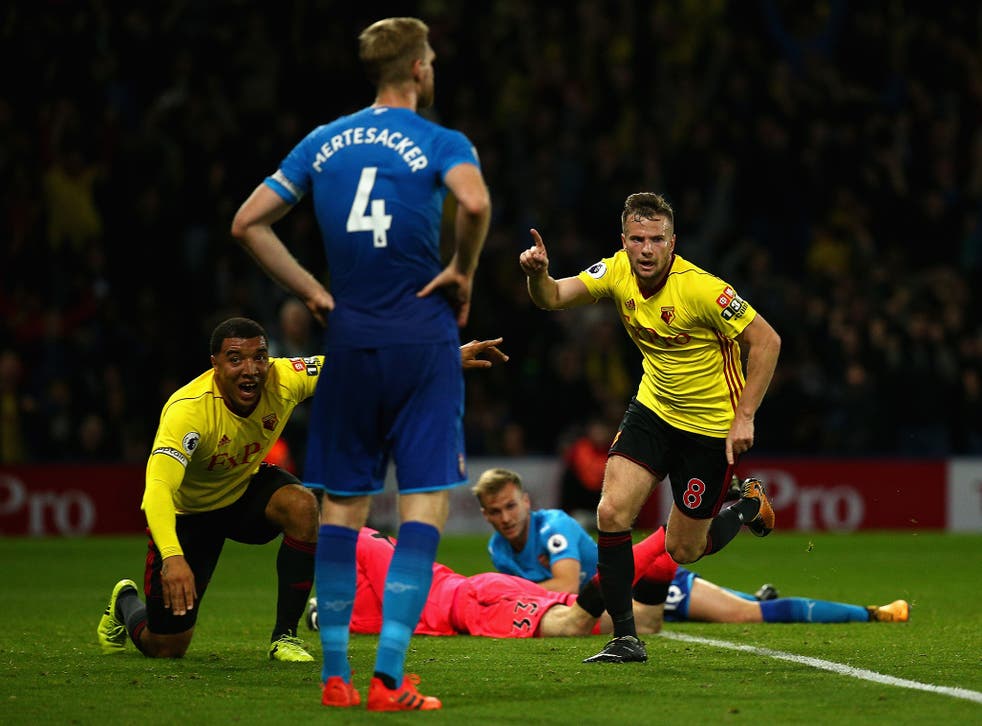 Richarlison's late winner at Swansea City was good, and his equaliser at the death at West Bromwich Albion too was important too. But this Watford fight-back, sealed by Tom Cleverley's 90th minute winner, sparking carnage at Vicarage Road, was the best of the lot.
1-0 down to Arsenal with less than 20 minutes left, Watford never stopped believing, never stopped throwing everything they had at Arsenal, even after Mesut Ozil missed an inviting chance to make it 2-0 and kill the game.
And Watford were rewarded as the ripped the game away from Arsenal in the final minutes. Troy Deeney's came on as a substitute and converted a penalty won by the brilliant Richarlison. Then, in the final minute, Cleverley smacked the ball into the roof of the net, taking the roof off Vicarage Road in doing so.
Marco Silva had said before this game that he did not need to convince his players that they could beat Arsenal, because they had been proving to him all week that they had conviction and belief. This was an emphatic vindication of that and also of the growing reputation of Silva's side. To keep changing games like this in the final minutes says so much about the ambition and drive of this team and also of their manager.
This win moves Watford up to fourth after eight matches, two points ahead of Chelsea, Arsenal and Liverpool. They are unlikely to finish ahead of those three – although stranger things have happened -- but they are certainly the best of the teams outside the big six. It helps that of those 14 – with all due respect to Rafa Benitez – they have the best manager.
Silva changed his formation for this game, matching Arsenal's 3-4-3. But while the details can change, the ambition does not. Watford did not do much in the first half – Abdoulaye Doucoure hit one sharp cross to Roberto Pereyra – but in the second half they were electric.
Watford's hero again was Richarlison, the Brazilian winger who has taken to English football far quicker than anyone could have imagined. When he runs with the ball he is difficult to stop and he soon realised he had the beating of Hector Bellerin. He did him on the inside and fired a 20-yard shot just wide of the far post. Then he beat Bellerin on the outside, and as Bellerin stretched to tackle, Richarlison went down.
Deeney had just come on as a substitute as part of a switch of formation and he stepped up to take the penalty. He sent Petr Cech the wrong way and celebrated his first goal of the season by pointing to his name on the back of his shirt.
Watford found yet another level of energy and drive once they were level, thanks to substitutes Deeney and Etienne Capoue. His shot deflected off Mertesacker and went on to hit the post before Richarlison volleyed over from close range.
Then just as the board went up for four added minutes the winner came. Deeney charged into the box, causing havoc. Capoue's shot was blocked by Mertesacker and it fell to Cleverley who picked his spot and found it.
The defeat is especially painful for Arsenal to take, ending their run of four unbeaten in the league since they lost 4-0 at Liverpool. They had started solidly enough and even took the lead through the unlikely form of Per Mertsacker five minutes before the break. This was Mertesacker's first Premier League start since April 2016 and he marked it with his first league goal since December 2013. Holding off Cleverley, getting a run on Adrian Mariappa, he used his height advantage to head in Granit Xhaka's inswinging corner to put Arsenal 1-0 up.
But Watford started to turn it up in the second half and Arsenal started to wilt. Mesut Ozil came on for Danny Welbeck, who limped off with a muscle strain after an hour. With Ozil's first action he slid through Alex Iwobi, whose shot was saved by Heurelho Gomes. With his second action he took a pass from Iwobi and had more than enough time and space to make it 2-0 and kill the game. But Ozil, who has not scored in the league all season, shot straight at the goalkeeper. Watford went down the other end and equalised.
With Laurent Koscielny limping off with a muscle injury of his own, Arsenal will likely be diminished for their next league game at Goodison Park next Sunday. They will have to put up more of a fight than they did here, although they are unlikely to face an opponent this good.
Register for free to continue reading
Registration is a free and easy way to support our truly independent journalism
By registering, you will also enjoy limited access to Premium articles, exclusive newsletters, commenting, and virtual events with our leading journalists
Already have an account? sign in
Register for free to continue reading
Registration is a free and easy way to support our truly independent journalism
By registering, you will also enjoy limited access to Premium articles, exclusive newsletters, commenting, and virtual events with our leading journalists
Already have an account? sign in
Join our new commenting forum
Join thought-provoking conversations, follow other Independent readers and see their replies