Watford punish 10-man Chelsea as late implosion raises further questions over Antonio Conte's future
Watford 4 Chelsea 1: Eden Hazard hit an equaliser in the 82nd minute before the visitors were blown away by a late flurry of goals from the Hornets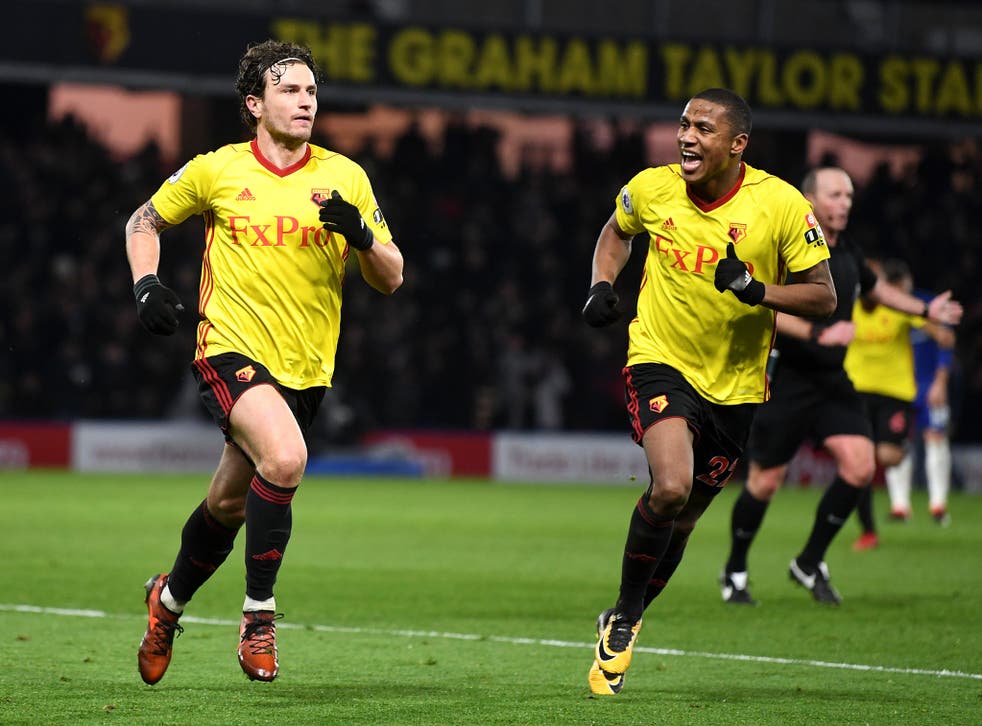 Antonio Conte pursed his lips and pushed his chin firmly into his chest, like a man trying to protect himself against a torrent that threatens to engulf him whole. The fallout from this stinging and comprehensive defeat, coming on the heels of their capitulation against Bournemouth last week, will be ruthless, and rightly so. And the Chelsea that emerges from the wreckage of this game may not be the same Chelsea that began it.
After a performance like this, what is becoming increasingly clear is that business as usual is not an option. Not with one win in five league games and one of the world's richest clubs on the brink of falling out of the Champions League qualification places. Not with morale at such a bone-crushing low. Not when you concede three goals in the last seven minutes. Not when your fans are so shorn of enthusiasm that they are barracking one of their own players and ironically chanting, "Barcelona, we're coming for you." Gallows humour is all well and good, but everyone knows what comes next.
A few words for Watford, who played magnificently from start to finish, barring a weird 10-minute period in the second half when they lost their nerve and almost lost two points. But their reaction to Eden Hazard's late equaliser was just as spectacular as the 25-yard strike itself. First Daryl Janmaat, and then Gerard Deulofeu, and then finally Roberto Pereyra in injury time, ripped 10-man Chelsea to shreds. "Champions of England?" the disbelieving Watford fans sang. "You're having a laugh."
There could have been more goals for Watford, whose gleeful fans were baying for five by the time this match wound to a conclusion. Head coach Javi Gracia was graced with towering performances all over the pitch. Abdoulaye Doucoure and Etienne Capoue dominated the midfield. Richarlison took Cesar Azpilicueta out for breakfast. Troy Deeney scored a first half penalty and performed an essential role up front, part battering ram, part talisman, like the carving on the bow of a warship.
Chelsea, meanwhile, were disjointed and distracted, vague and vaguely awful. Hazard, their one player of substance, spent most of the game toiling without the ball up front. Olivier Giroud's debut from the bench was not one he will remember with any great nostalgia. Meanwhile, a knock to Pedro in the second half added injury to insult.
It was a game notable also for Tiemoue Bakayoko's uproarious half-hour cameo - honestly, Tom Cruise in Tropic Thunder had nothing on this - in which he proved himself utterly incapable of performing any of the basic functions of a professional footballer. Trapping the ball, passing the ball, marking an opponent, and ultimately even staying on the pitch. Trudging off after a second yellow card, the fans serenaded him with the words "you're f---ing s---". The Chelsea fans, that is. Bakayoko's relationship with them is as broken as his own fragile confidence, and if Conte still has any fight left in him, dragging his midfielder out of his trough must be one of his priorities.
Bakayoko's two yellow cards each followed a similar pattern: losing the ball with a heavy touch, and then piling in illegally to win it back, first on Capoue and then on Richarlison. The second was probably one of those challenges that looked worse than it was, but given the nightmare he was having, the dismissal felt almost like an act of clemency.
Willian was sacrificed to make way for Cesc Fabregas, returning from a short injury break. But just as Chelsea would have been hoping to limp to half-time and regroup, their night was about to take a turn from the worse. Janmaat played a smart ball up the line, releasing Deulofeu, who had cleverly curved his run. And from the moment Deulofeu got his toe to the ball before the advancing Thibaut Courtois, events unfolded with a mundane predictability: the dying swan dive by Deulofeu, the penalty award by Mike Dean, the outraged protestations from Courtois, the bullet shot by Deeney that put Watford a goal to the good.
You looked for any sort of a reaction from Chelsea: the stirring of wounded professional pride that might turn around first this match and then perhaps the season. Instead, Watford were as excellent in the second half as they had been in the first, even if the nerves and the fatigue inevitably began to set in as the match reached its climax. Chelsea's three centre-backs had stood tall amid the first-half carnage, but now even they began to subside. Gary Cahill charged out of defence to make a clearance and was put on his backside. Twice David Luiz, restored to the team for his first start since October, lost the ball near his own goal, leading to Watford chances.
Yet somehow Chelsea found a second wind, the 11 men of Watford dropping deep and letting the 10 men attack them. At one point, Deeney urged his team forward to chase down a long ball, only for nobody to react. Seconds later, Hazard committed Janmaat, darted inside Adrian Mariappa and curled an unstoppable shot around Orestis Karnezis from 25 yards. Deeney, the haze of disappointment as visible on him as the condensation from his breath, looked angriest of all.
At which point, Watford seemed to remember they were a man up, and set about recapturing what they had lost. Janmaat barrelled in from the right, realised no Chelsea player was going to challenge him, played a neat one-two with Pereyra and finished neatly with his left-foot. With the game opening up and Chelsea flagging, Deulofeu ran through to tuck home two minutes from time, and with the minutes leaking away Pereyra smashed home from a tight angle.
In a way, it was no less than Watford deserved. Conte, meanwhile, simply tucked his hands in his pockets and turned sadly away. His fate, you feel, remains in the balance.
Join our new commenting forum
Join thought-provoking conversations, follow other Independent readers and see their replies