Nicolas Anelka gesture: Striker's two goals overshadowed by controversial celebration after alleged anti-Semitic gesture
Anelka bagged his first goal for West Brom since joining in the summer but has become embroiled in a racism row after an alleged anti-Semitic celebration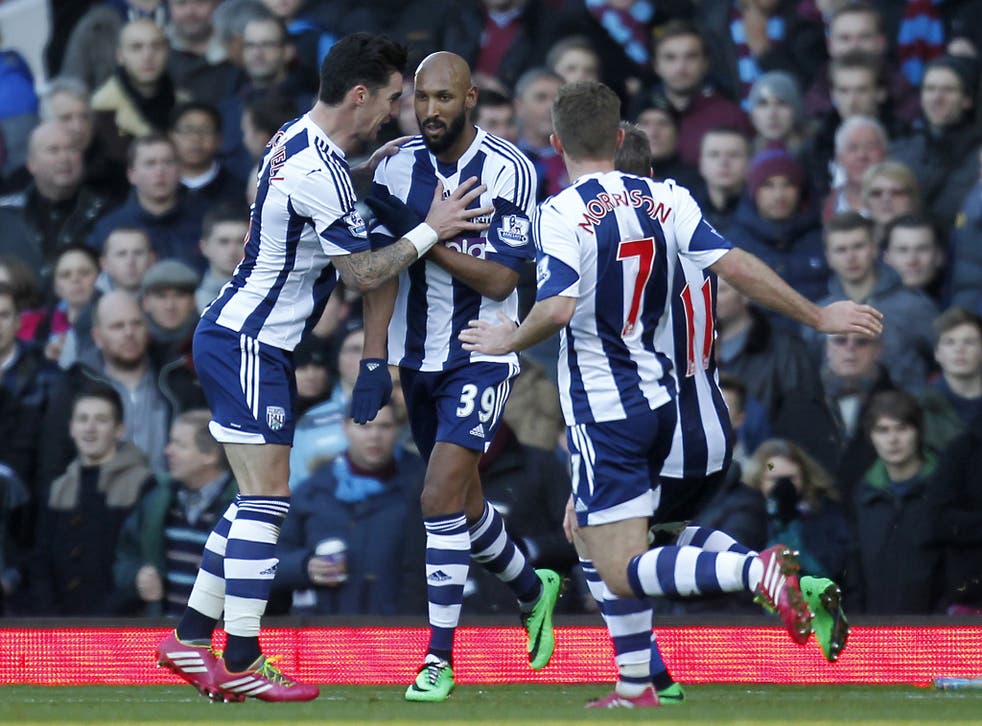 The much-travelled footballer Nicolas Anelka faced an FA inquiry today after bringing a raging French racial and political controversy onto the pitch during a Premiership match in London.
After scoring for West Bromwich Albion against West Ham, Anelka is alleged to have performed the "quenelle", a provocative hand gesture invented by the anti-semitic, black French comedian, Dieudonné M'bala M'Bala.
The "quenelle" (literally the meat-ball or fish-cake) involves pointing to the ground with one flattened hand while placing the other hand on the opposite shoulder. It is accused of being a cross between an inverted Nazi salute and a traditional, obscene French hand-signal.
Anelka said in a Twitter message that his gesture during the match at Upton Park in east London was a statement of support for "my friend, the comedian Dieudonné", who faces a possible ban by the French government. The footballer denied that his action was political or anti-semitic.
The French sports minister, Valerié Fourneyron, described Anelka's gesture as a "shocking and sickening provocation". The European Jewish Congress called on the FA to suspend Anelka if he did perform the "inverted Nazi salute".
Read more:
From Dieudonné to Anelka: Hands signal new French race row
The "quenelle" was invented by Dieudonné when he ran an anti-zionist campaign during the European elections in 2009. He said at the time that he wanted to "slide a little quenelle into the a**e-hole of Zionism". In French slang, a quenelle can also mean little finger or penis.
The gesture has spread like wildfire on the French-language internet in the last couple of years. It has been adopted by young people, ranging from the Far Left to the Far Right, from anti-semitic blacks to anti-Israeli North Africans. To some it is just a symbol of revolt against the establishment. To others it signifies belief in the anti-semitic conspiracy theories peddled by Dieudonné, who accuses jews of being responsible for everything from the African Slave Trade to poverty in modern Africa.
Thousands of examples of people "doing the quenelle" have since been posted on YouTube or Dailymotion or other parts of the internet. Disturbingly, two French soldiers in full uniform were shown doing the "quenelle" outside a synagogue whilst on an urban, anti-terrorist patrol in September.
Over the Christmas holidays, the "quenelle" was accused of provoking three vigilante attacks by gangs of young, jewish men on a hotel, a disco and a young muslim man in Lyon.
The French interior minister, Manuel Valls, is considering whether to ban all public appearances by Dieudonné, 47, including his popular one-man show in his own theatre in eastern Paris and a French theatre tour due to start on 9 January. This follows a remark made by the comedian-politician during one of his shows when he said that a jewish radio journalist, Patrick Cohen, "always reminds me of gas ovens".
In an interview at the weekend, Mr Valls said : "When Dieudonné insults the memory of victims of the Holocaust, that is intolerable. We must break this machinery of hatred."
Mr Valls is to send a circular to senior government officials around France asking them to consider whether Dieudonné's one-man show could provoke violence in their area. In practice, lawyers say, it is extremely difficult under French law to ban performances of this kind.
Dieudonné has several convictions for stirring up racial hatred and owes the state tens of thousands of euros in unpaid fines. He is also extremely litigious.
The president of the French league against racism and anti-semitimism (Licra), Alain Jakubowicz, said last month that the quenelle signifies "the sodomisation of victims of the Holocaust". Dieudonné started a legal action against Mr Jakubowicz for libel.
His lengthy legal statement of complaint turns into an anti-semitic provocation in its own right, say his critics. Dieudonné accuses Mr Jakubowicz of libel on the grounds that "sodomy cannot be practised on burned bodies when they come out of crematorium ovens, still less after they have been converted into soap."
Jean-Yves Camus, a French academic who studies the extreme Right, said yesterday that the "quenelle had become the emblem of "people who take refuge in a posture of pseudo-rebellion which reveals an immense brainlessness".
Dieudonné, Mr Camuse says, has become the hero of a movement which sprawls across the traditional boundaries of right and left – anti-system, hungry for conspiracy theories, convinced that the world is run by Washington and Tel Aviv. The "spinal column" of the movement is the conviction that "the jews pull all the strings".
It is against this background that three gangs of young jewish men decided to take matters into their own hands in Lyon last weekend. One gang attacked a young man of North African origin accused of putting a photograph of himself "doing the quenelle" on Facebook. The other gangs attacked a hotel and a discotheque, alleged to be places where the quenelle was performed regularly.
Six young men face prosecution for "premeditated gang violence".
Register for free to continue reading
Registration is a free and easy way to support our truly independent journalism
By registering, you will also enjoy limited access to Premium articles, exclusive newsletters, commenting, and virtual events with our leading journalists
Already have an account? sign in