West Ham: Karren Brady insists club did 'everything in our power' to avoid fan trouble caused ahead of Chelsea clash
Brady insists that West Ham did everything they could to avoid the violent clashes that marred the EFL Cup victory over Chelsea on Wednesday night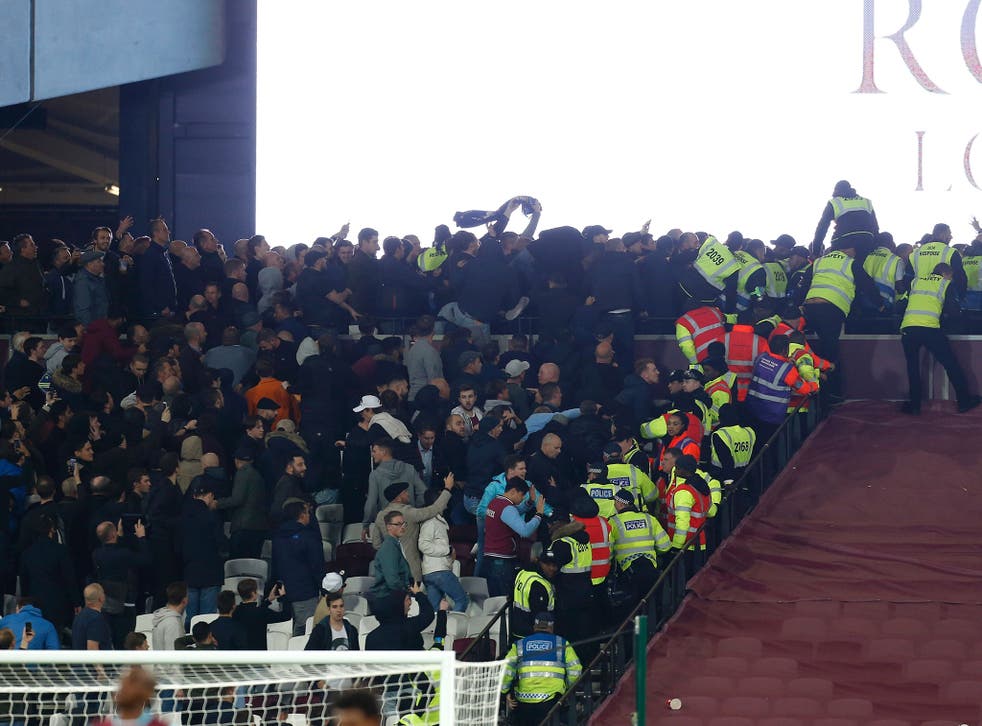 West Ham vice-chairman Karren Brady says the club did all they could to prevent any trouble in their EFL Cup game with Chelsea on Wednesday night.
Police made six arrests after skirmishes broke out towards the end of the stadium's first London derby. Three of the six arrested have been charged, the Metropolitan Police said, while up to 200 people are facing banning orders.
Police and stewards battled to maintain segregation behind the goal being defended by West Ham as coins, seats and other objects appeared to be thrown between rival supporters.
The Hammers and Chelsea condemned the unsavoury scenes which are now under investigation by the Football Association - and swift and decisive action is being taken after the CCTV footage was pored over on Thursday.
Brady said in her Sun column that the Hammers' pre-match planning was meticulous but they were undone by "completely unacceptable behaviour".
"Ahead of the game, as a club, we did everything in our power to restrict and minimise potential problems," she said.
"We worked tirelessly day and night with the safety and security teams at London Stadium and the Metropolitan Police Service to ensure that every potential risk was assessed and prepared for.
"Without question, we could have sold out the stadium twice over but the safety of our supporters is always our primary concern.

"And as a result we made the correct decision to impose strong restrictions on tickets, which were limited to supporters with a level of recorded purchase history - who could only access one ticket each.
"Other avoidance measures, such as the restriction of alcohol sales around the stadium, were taken.
"While the line of segregation between both sets of supporters was never actually broken - and supporters never made contact with one another - the baying behaviour that we witnessed is completely unacceptable to everyone at West Ham United and Chelsea Football Club and we will be taking the most severe action possible against individuals involved."
PA
Register for free to continue reading
Registration is a free and easy way to support our truly independent journalism
By registering, you will also enjoy limited access to Premium articles, exclusive newsletters, commenting, and virtual events with our leading journalists
Already have an account? sign in
Register for free to continue reading
Registration is a free and easy way to support our truly independent journalism
By registering, you will also enjoy limited access to Premium articles, exclusive newsletters, commenting, and virtual events with our leading journalists
Already have an account? sign in
Join our new commenting forum
Join thought-provoking conversations, follow other Independent readers and see their replies