Liverpool and Manchester City were both consumed by a need for speed this summer, and Saturday's clash should be fast and furious
Pep Guardiola and Jurgen Klopp renew a rivalry that dates back to the Bundesliga, and once again it will be the German's 'crash, bang wallop' against Pep's laboratory-tested attacking patterns for a headstart in the title race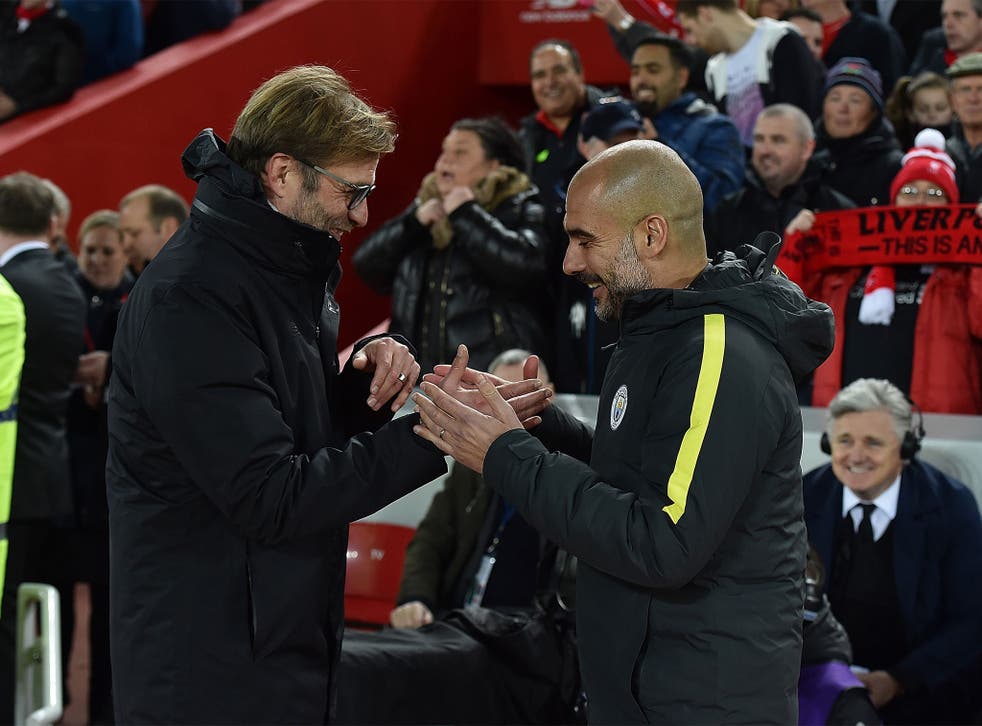 Both Pep Guardiola and Jurgen Klopp would willingly and respectfully say that they have very different ideas on how to play football, but they shared a concern over one core quality of the game this summer, and it conditioned a lot of their work and transfer business.
That quality is speed.
Guardiola has been determined to get his Manchester City squad to the point where they understand his approach so deeply that they can execute it at the kind of blinding pace that makes them unplayable. To further facilitate that, he has signed or prioritised a collection of fleet-footed attackers and full-backs, with Alexis Sanchez supposed to have been signed to complete the kaleidoscope. The Chilean didn't come, but there is still a confidence this squadron of attackers has made significant progress, that they can properly pull opposition apart this season.
Klopp had already got Liverpool playing at the kind of speed he wanted, but the issue was dealing with the disruptions that slowed them down. If they were missing Sadio Mane, or some of the certain starters so central to setting the rhythm of the team, they were just so conspicuously more cumbersome. Mohamed Salah should go a long way, and run a long way, to making sure that isn't such a problem and Liverpool are a consistently more electric force.
These concerns have set up what could be a helter-skelter game at the Etihad on Saturday, but the reality is that would only continue a trend of the Premier League, that was itself conditioned with surprising speed by the new 'league of managers' last season. All of Guardiola, Klopp, Mauricio Pochettino and Antonio Conte essentially forced speedier football through the specific styles they demanded. The matches between their clubs - and particularly City 1-3 Chelsea, Chelsea 2-0 Tottenham Hotspur and Liverpool 2-0 Tottenham Hotspur - were simply some of the fastest games the Premier League has seen, and light years away from the trudging trench warfare of the last time the competition had such a defined top band of clubs, the 'Big Four' era of 2004 to 2009.
They were, in short, refreshingly relentless; almost impossible to turn away from because there was just so much action.
It was also impossible to escape the fact that Klopp got the better of Guardiola in those two games last season, with Liverpool beating City 1-0 at home and then claiming a good 1-1 draw at the Etihad.
There is an argument that could be do with speed, too, albeit in a different way and one that adds further intrigue to this match.
Leaving aside any subjective debate about whose football style is better, it is an objective truth that Klopp's approach can be instilled much more quickly than Guardiola's. That could be seen in how Liverpool actually eviscerated Manuel Pellegrini's City 4-1 in only his second month in the job, how they took a such a gigantic stride in the first half of his second season, and then how evolved they looked in levelling Arsenal 4-0 two weeks ago.
By contrast, while there are still periods of every single game where Guardiola's attack looks scintillating, they still don't seem to so deeply comprehend his approach enough for truly complete displays. There are still dips and disconnections, and thereby moments when the movement between the backline and midfield isn't yet slick enough so they can so easily pass their way out of defence.
That is especially relevant to this game because Klopp's attack press defences like no-one else in the Premier League, and it feels like the key will be how Guardiola and City handle this. Will he really allow those defenders to play their way out in the same manner… or go a different direction?
For his part, Guardiola quickly got up to speed with Klopp's approach in the Bundesliga. After their first game against each other in the 2013 German super cup ended with Borussia Dortmund beating the Catalan's Bayern side 4-2, he realised even that backline couldn't play through the press - so they went over it. Jerome Boateng began to launch balls up for a creatively positioned Javi Martinez and Robert Lewandowski.
The issue now is that City don't have those kinds of players, and there certainly isn't a forward with the height of the Pole. How Guardiola tackles should be as enthralling as some of the intense play.
Those close to the City training ground however say that the manager is confident his side can also cause Liverpool sufficient problems of their own. The feeling is that - in players like David Silva, Bernardo Silva, Leroy Sane, Gabriel Jesus and still so many others - Guardiola now has enough spritely creators darting around different areas of the pitch that pressing there will be much more difficult, and could help disorientate an already suspect Klopp defence.
It is of course the flipside of the German's own approach, and why Jamie Carragher and other figures close to their training ground say that Virgil van Dijk would never have solved every issue. One of Klopp's strengths is in fostering the kind of all-action mindset that allows such havoc-wreaking attacking, but that very approach will naturally require greater movement from the team as a whole - and the type of movement that will leave defensive lapses. Some who know the German also feel that he is best suited to getting the best out of attackers - but not necessarily defenders; that they need coaches who are more "educators" in that way, rather than his type of inspirational figure.
That is not meant as a slight on Klopp by them, but merely an explanation for the contrasts in his teams, and the excessive action at both ends in their games.
It is a by-product of the speed they play at, and a hugely entertaining match this Saturday is likely to be another.
It could well be decided, however, by who figures the other team out quickest.
Join our new commenting forum
Join thought-provoking conversations, follow other Independent readers and see their replies