Why Slaven Bilic was little more than a dead man walking at West Ham
After two and a half years of his stewardship of the underachieving club, Bilic did not look like a man with the answers – or even the energy to seek them anymore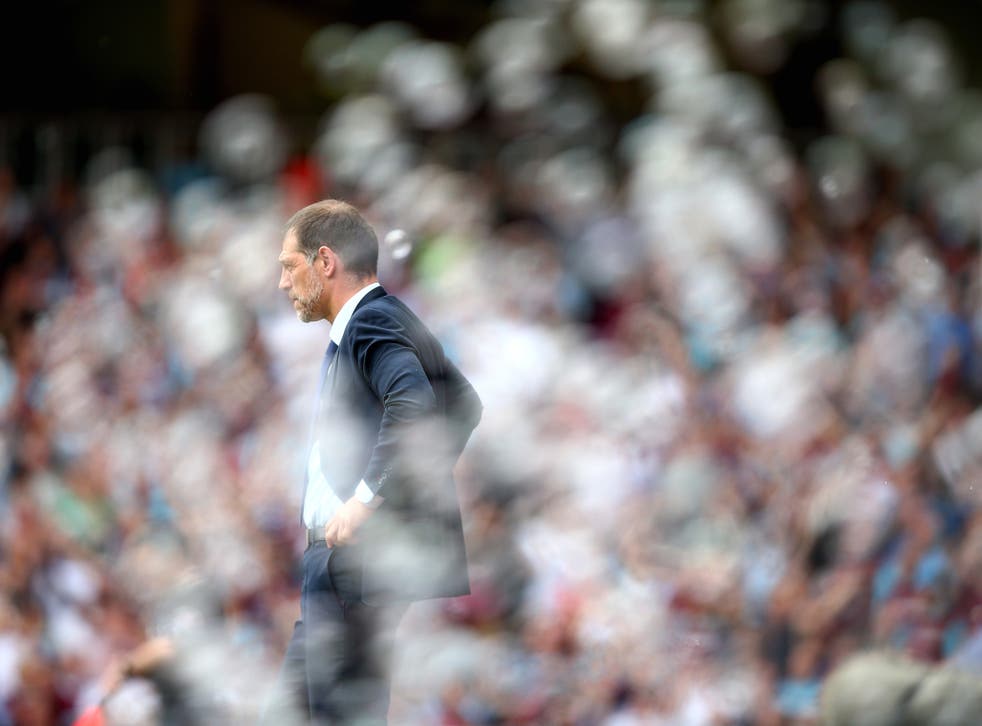 On the page, it reads like fighting talk.
"I'm a strong man and a big believer in myself," he said. "I came so far, from a small county, first as a player, then as a manager. I'm very, very strong. I definitely don't feel a broken man."
The problem for Slaven Bilić was that he looked and sounded like one. Delivery matters just as much as content in football management and the Croatian bore a hangdog grimace that told you everything you needed to know about his own take on his West Ham future.
Some 45 minutes had passed since his side's capitulation at the hands of Liverpool and while the boos that rung around the London Stadium at the final whistle had long since faded, more sombre mood music had begun to play: whispers of P45s and David Moyes waiting in the wings.
"I don't know," was his assessment when asked whether he will be given time to turn things around, but it turns out he was the only one.
We have been here before, of course: Bilić clung to this job through so many crises that the skin of his teeth must be made of titanium. Yet while as recently as a fortnight ago, the feeling was that he would be given until the end of the season – chalk that down to some nebulous morality claim on West Ham's part – things looked oh so different after the twin horrors of that Crystal Palace collapse and Saturday's defeat.
West Ham vs Liverpool: Player ratings

Show all 23
Asked when he would speak to West Ham's owners, he replied: "When they call me."
There is a temptation to feel some sympathy for Bilić. Certainly, considered in isolation, the crass individual errors that have blighted the season so far were out of his hands. Michail Antonio's brainless dart into the box at Selhurst Park is the main attraction here, but there have been other lapses, many of them from players of greater experience.
Yet these are symptoms of a broader malaise, the blame for which lies at Bilić's door. A former centre-back – an excellent one at that – might reasonably have been expected to forge a solid defensive unit, but West Ham's backline has been a hotbed of indecision for longer than most fans would care to remember.
There have been back fours, back threes and endless square pegs in round holes, but not much by way of conviction, this season especially. No side in the division has conceded more after 11 games.
Further forward, too, the lack of a clear plan has been evident. In Bilić's first season, he did a reasonable impression of an attacking witch doctor, coaxing a world-class season out of Dimitri Payet and reaping the benefits as West Ham finished seventh. But that now looks like a freak accident, Payet's inevitable departure having exposed a muddle of half-strategies and back-up plans.
The uncertainty was laid bare in August by Robert Snodgrass, now at Aston Villa, who revealed that Bilić had insisted on playing him out of position for the majority of his brief time at the club.
"I was coming on against [Manchester] City and he said, 'Where do you want to play, on the left or right?' That was my debut and alarm bells were ringing right away. I found it very strange. Every time I played, I was on the left. I don't know why he did it. I hate that position."
Up front, Bilić could argue that a fit Andy Carroll might have changed everything. But a fit Andy Carroll is like a pet unicorn or world peace: nice to dream about but a ultimately bad choice of thing on which to pin your football club's hopes. The sheer number of other strikers who have sunk without a trace in east London is damning not just to Bilić, but he has had a fair crack of the whip and not solved the problem.
Nor is it the case that he has not been backed in the transfer market. £40million was spent in the summer, and more than that last season. Of those who have come in, only Manuel Lanzini could be said to have been an unqualified success.
Offer most sane people a choice between £38million and the combined forces of a 33-year-old José Fonte, Snodgrass and a laughably disinterested Marko Arnautović and you wouldn't find many opting for option B.
Bilić did not act alone in the transfer market, of course, no one is arguing that West Ham's problems do not run deeper than the dugout. There is a very palpable sense of drift here, of a club groping for a future it cannot quite identify, let alone grasp. But Bilić, now almost two and a half years into his stewardship of the club, does not look like a man with the answers – or even the energy to seek them anymore.
"I don't like to talk about myself like I'm dead," he said on Saturday, but others are doing just that. Some of them might even be in the board room, preparing to make that phone call.
With Moyes hovering just off stage, Bilić was always a dead man walking.
Join our new commenting forum
Join thought-provoking conversations, follow other Independent readers and see their replies